Pools in the Sky: A World Tour
Dubai, Melbourne, Zambia, and Bali are among the places with the most impressive cantilevered or otherwise exceptionally suspended water-based workout/hangout venues.
If the Holiday Inn Shanghai Pudong Kangqiao's swimming pool is to be believed, people aren't content with lounging on inflatable creatures in their backyard pool anymore. They want a truly unique -- and dizzying -- experience.
We spotted the 24-story high indoor pool on Geekologie , but the hotel isn't alone in this gravity-defying trend. These "hanging" pools allow swimmers to soak in the world around them, and they're particularly handy for architects that want to provide swim-friendly amenities for clients short on space -- especially in big cities. Take a dip in the Holiday Inn Shanghai Pudong Kangqiao's swimming pool past the break , and see other amazing, floating pools that require an adventurous spirit.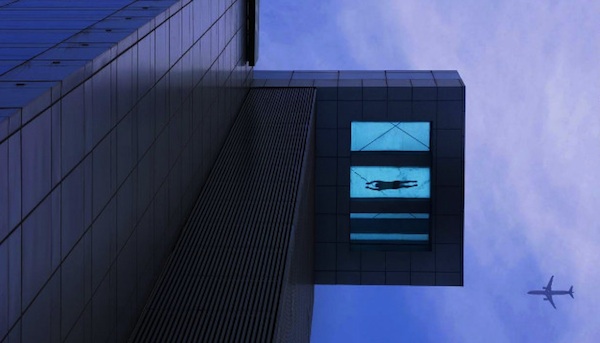 Sky-high, glass-bottomed pool
The Holiday Inn Shanghai Pudong Kangqiao's indoor swimming pool is perched atop the 24-story building. While that itself is not so unusual for a big city natatorium, the part of the pool that protrudes from the building and suspends swimmers in mid-air, is. Singapore firm Chan Sau Yan Associates constructed the glass-bottomed pool, which allows swimmers and pedestrians to gaze at each other. The view is incredible -- if you don't have a fear of heights.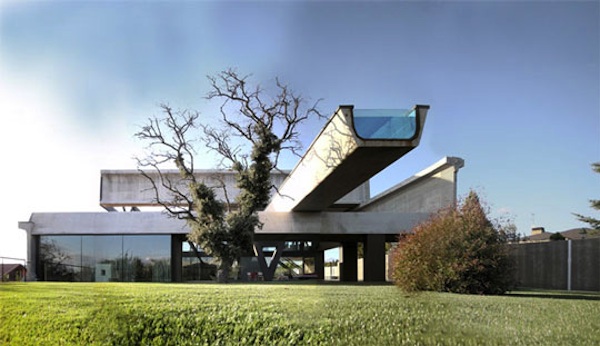 Residential, cantilevered pool
This Spanish residence is made entirely of precast beams -- it's cantilevered lap pool that rests on top of the house, included. The elongated swimming pool was inspired by a Hemeroscopium, which defies physical limits. As the designers explain it:
"For the Greek, Hemeroscopium is the place where the sun sets. An allusion to a place that exists only in our mind, in our senses, that is ever-changing and mutable, but is nonetheless real. It is delimited by the references of the horizon, by the physical limits, defined by light, and it happens in time."
Watch the YouTube video below to see how the residential wonder was erected.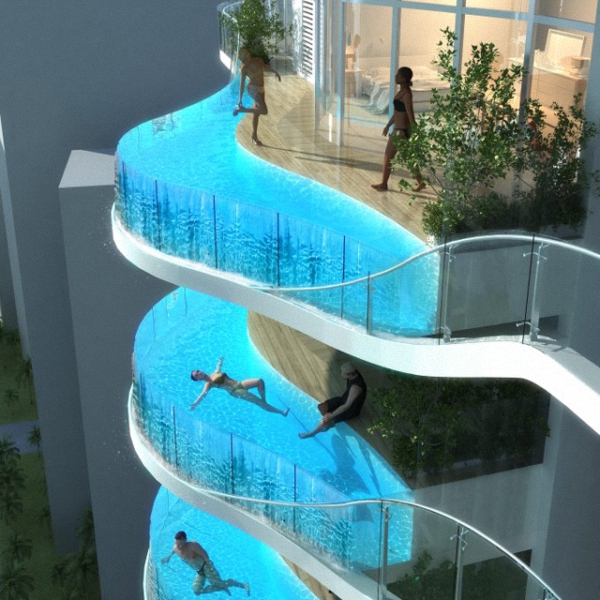 Floating balcony pool
Mumbai's twin residential towers, dubbed the Aquaria Grande, isn't building its balconies so people can feel the wind through their hair on a warm summer night. The 37-story building will feature the outdoor patios so residents can practice their backstroke. The planned complex is currently undergoing construction, which includes these amazing, three-sided balcony pools.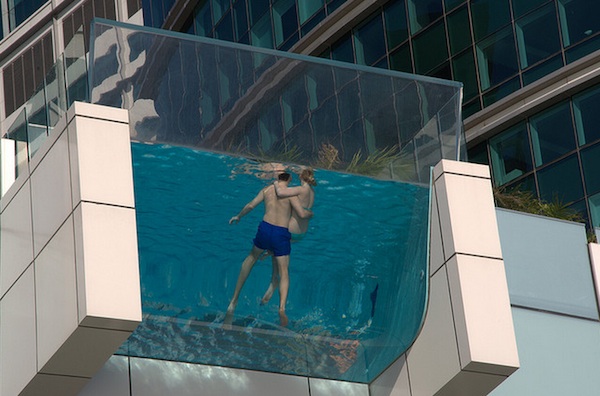 Curvy, transparent pool
The InterContinental Dubai Festival City is home to a curvy, transparent pool that extends beyond the edge of the hotel, overlooking Dubai's skyline -- full of incredible, contemporary architecture. If you want to feel like a vacationing Spider-Man, this is definitely where you should book a room.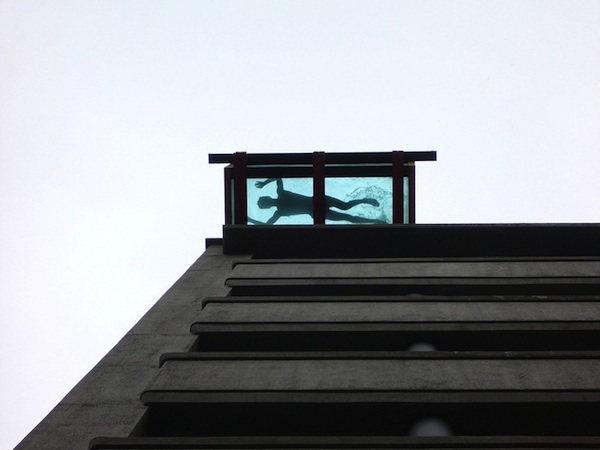 Rooftop, saltwater pool
Melbourne's Adelphi hotel provides guests with a 9-story, 25-meter, heated, saltwater pool that allows swimmers to peer down at the street through the clear Perspex floor. It juts over Flinders Lane in the Australian city's central business district. To get another view of the rooftop pool, watch the video below (appears around 1:04).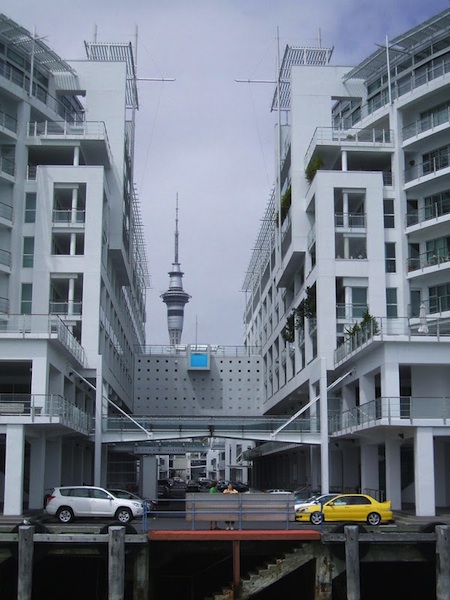 Suspended, urban pool
The Hilton Hotel in Auckland, New Zealand has a pool that is dramatically suspended between two buildings. The heated, outdoor lap pool features an underwater viewing point for adventurous swimmers and spectators. It's a lovely, aqua oasis in the midst of the city's concrete jungle.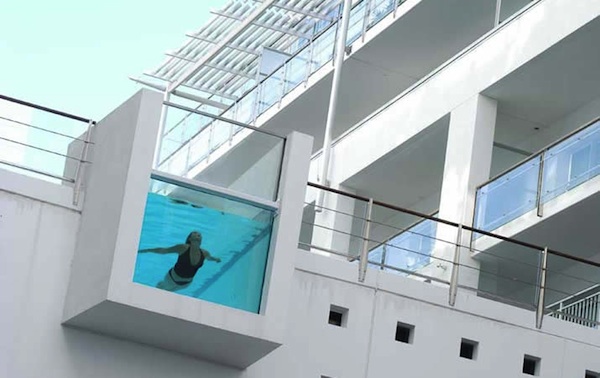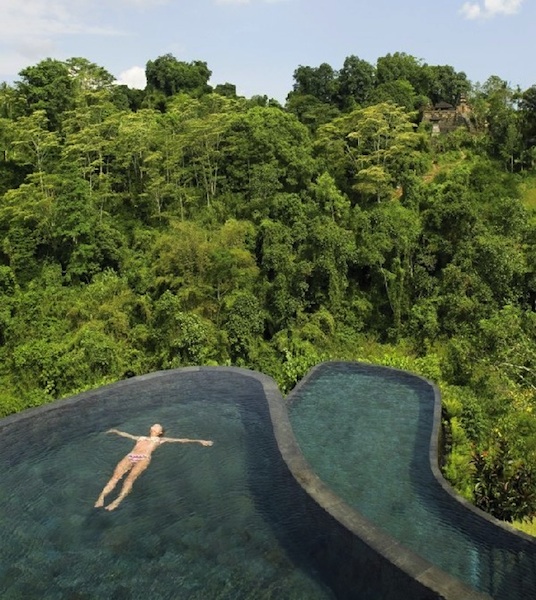 Hanging infinity pool
These stunning Indonesian infinity pools are located at the Ubud Hanging Gardens resort in Bali. The large-scale, multilevel, curvaceous pools mirror the surrounding hills, making it a peaceful, tropical retreat. Guests even have a scenic view of the ancient Pura Penataran Dalem Segara temple. There are 38 private pools in total, each one accessed via an aerial ropeway. It sounds a little frightening, but the panoramic, nature-filled view seems totally worth it.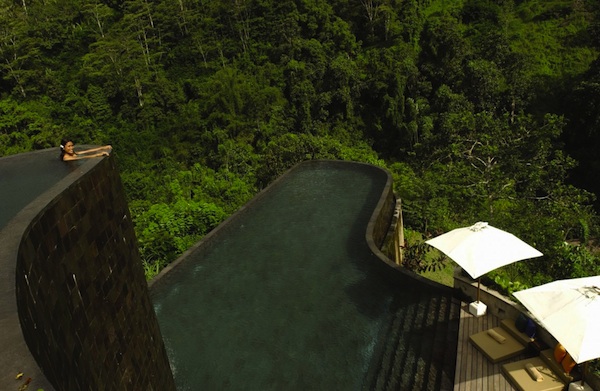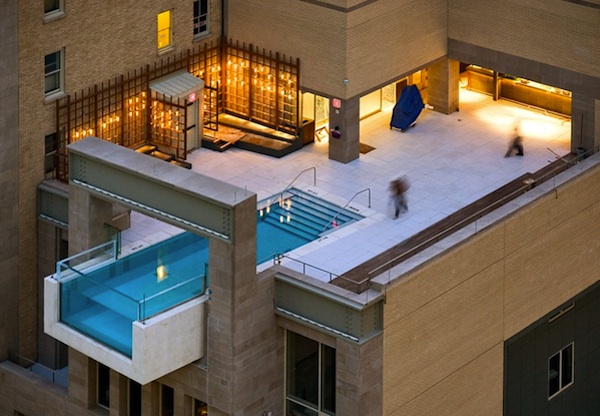 Breezy, cantilevered pool
They say everything's bigger in Texas, and this Dallas pool at the Joule Hotel is no different. It extends eight feet over the side of the building, on the tenth floor. A Plexiglas wall provides a killer view of the city. The hotel describes it as "breezy sophistication," although we know a few fraidy cats who might disagree.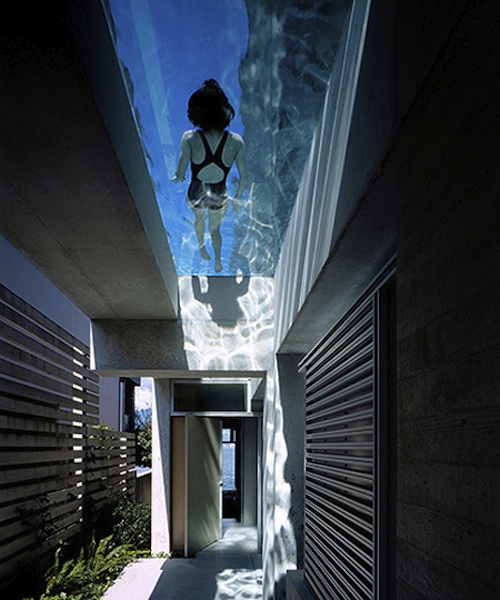 Ceiling pool
If you're finding it hard to imagine yourself diving into a stories-high, hanging pool, why not make waves in this transparent swim tank? You probably won't master walking on water any time soon, but walking on the ceiling is totally possible with this one.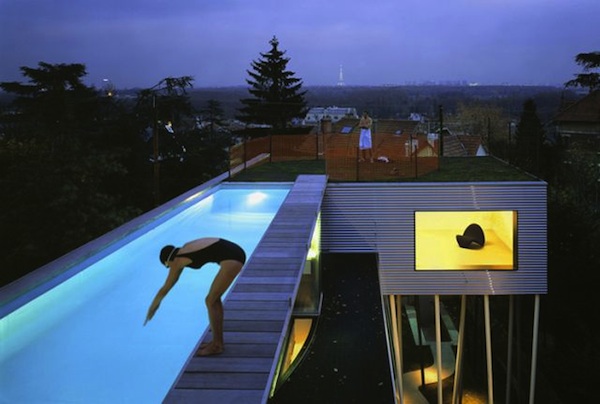 Suspended diving pool
Having a green roof wasn't enough for these homeowners. They took swimming to the next level by adding a cantilevered pool with a walk-the-plank-style diving board. If you're a wobbly sort, we suggest living vicariously through these daredevil occupants instead by looking at the nifty picture.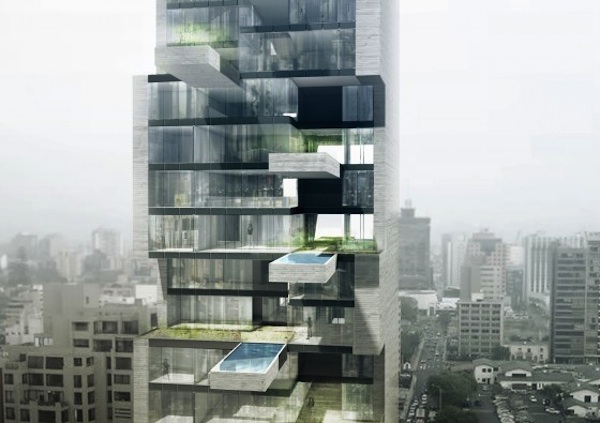 Sky pool
DCPP Arquitectos designed the Sky Condo for a developer who hasn't started constructing yet, but their plans for the 20-floor tower in Lima immediately caught our attention. The Mexico City-based firm wanted to create transparency between the interior and exterior, so an entire facade of the building is see-through. "We believe that an apartment shouldn't lack exterior spaces; this is why our main space in each apartment is the exterior public area which contains the pool and a series of terraces that bring dynamism to the whole tower," the architects indicate on their website.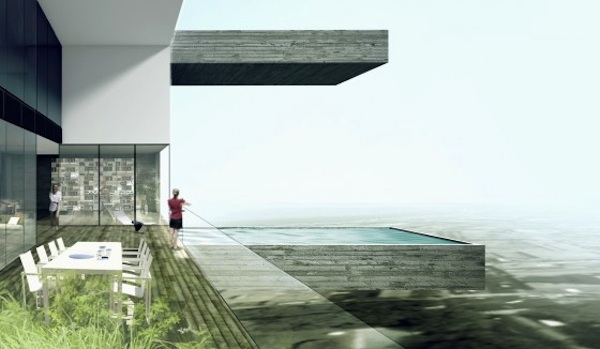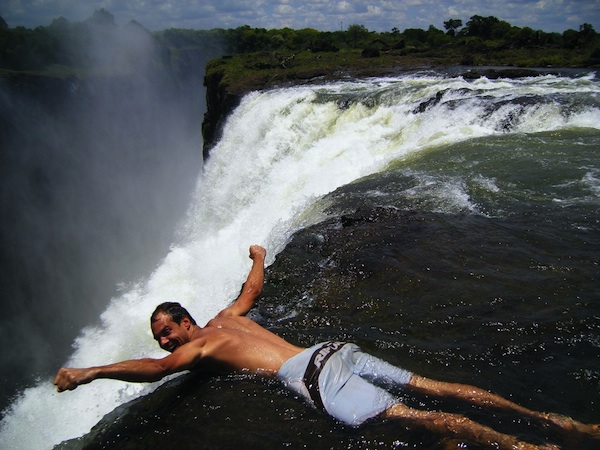 Death-defying pool
The Devil's Pool in Victoria Falls -- between Zambia and Zimbabwe -- was created the old fashioned way: by Mother Nature. Hundreds of feet above the Zambezi River, this terrifying, naturally formed swimming pool creates a cringeworthy illusion. Swimmers appear as though they'll be carried over the edge of the cliff by the current, but there's a trick to the madness. Mirror writer Clive Andrews explained it in his 2003 account:
"I'm perched precariously on a slippery rock jutting out of the Zambezi. Just a few feet in front of me the mighty river cascades over the Victoria Falls, plunging 100 metres into the gorge below.
No matter how many times my guide, Vincent, insists that it's safe to dive in, I just can't see what's going to stop me being swept over the edge and pureed on the jagged rocks at the bottom.
But it's taken me nearly an hour of stumbling over boulders in temperatures of more than 40oC to get to Devil's Pool and I'm not going to give in. So I grit my teeth and take the plunge -- after Vincent jumps in first, of course.
The current takes hold immediately, carrying me towards the edge. But, before I can be dragged to a watery grave, I'm stopped by a natural rock wall just beneath the surface. As well as saving my life it allows me to peer over the edge and down into a deafening explosion of rainbow-coloured spray. A truly incredible sight."
To answer the question in your mind right now: yes, sadly there have been some casualties. Watch crazy tourists at Devil's Pool in action on YouTube.
This post also appears on Flavorpill, an Atlantic partner site.