How to Put a Child in a Car: A Simple Chart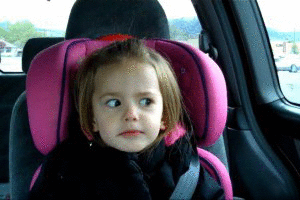 In light of the buzz surrounding the findings in the article we published this morning as our Study of the Day, "We Are Pathetically Failing at Safely Putting Children in Cars" -- only 3 percent of children aged 1-3 remain in rear-facing car seats, only 2 percent of children over 7 remain in booster seats, etc -- it seems we would all benefit from passing along the complete recommendations on how to put kids in cars.
According to the National Highway Traffic Safety Administration, proper use of safety restraints can reduce the chances of fatal injury by 71 percent for infants and 54 percent for toddlers.
The authors of the study make three main suggestions:
Parents should be encouraged to keep their children in rear-facing car seats beyond their first year. 
Children should remain in booster seats until they are 4 feet 9 inches tall, which is when they will fit properly in an adult seatbelt. 
The front seat should be off-limits to all children under the age of 13.
For more specific information on what's best for your child, the most helpful and digestible recommendations come in this flow chart from the American Academy of Pediatrics: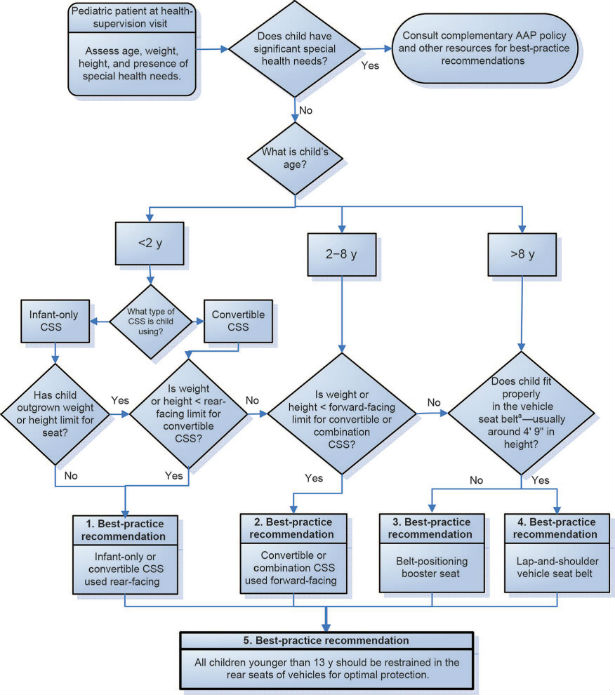 If that's too overwhelming, or you decide adult-sized cars are just too dangerous, the other option is to never put your child in a real car. Here's a bonus flowchart for choosing which campy Power Wheels brand electric dune-buggy is right for your (grossly gender-stereotyped) little one:
I had an 18-Volt Porsche 911 and I turned out just fine.