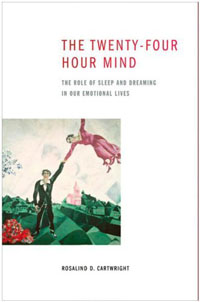 Exploring decades of sleep research on everything from disorders like sleepwalking and insomnia to the role of sleep in knowledge retention, ideation, and problem-solving.
For the past half-century, sleep researcher Rosalind D. Cartwright has produced some of the most compelling and influential work in the field, enlisting modern science in revising and expanding the theories of Jung and Freud about the role of sleep and dreams in our lives. In The Twenty-four Hour Mind: The Role of Sleep and Dreaming in Our Emotional Lives (public library), Cartwright offers an absorbing history of sleep research, at once revealing how far we've come in understanding this vital third of our lives and how much still remains outside our grasp.
One particularly fascinating aspect of her research deals with dreaming as a mechanism for regulating negative emotion and the relationship between REM sleep and depression:
The more severe the depression, the earlier the first REM begins. Sometimes it starts as early as 45 minutes into sleep. That means these sleepers' first cycle of NREM sleep amounts to about half the usual length of time. This early REM displaces the initial deep sleep, which is not fully recovered later in the night. This displacement of the first deep sleep is accompanied by an absence of the usual large outflow of growth hormone. The timing of the greatest release of human growth hormone (HGH) is in the first deep sleep cycle. The depressed have very little SWS [slow-wave sleep, Stages 3 and 4 of the sleep cycle] and no big pulse of HGH; and in addition to growth, HGH is related to physical repair. If we do not get enough deep sleep, our bodies take longer to heal and grow. The absence of the large spurt of HGH during the first deep sleep continues in many depressed patients even when they are no longer depressed (in remission).

The first REM sleep period not only begins too early in the night in people who are clinically depressed, it is also often abnormally long. Instead of the usual 10 minutes or so, this REM may last twice that. The eye movements too are abnormal -- either too sparse or too dense. In fact, they are sometimes so frequent that they are called eye movement storms.
But what has perplexed researchers is that when these depressed patients are awakened 5 minutes into the first REM sleep episode, they're unable to explain what they are experiencing. This complete lack of dream recall in depression has showed up in study after study, but it's been unclear whether it's due to patients' reluctance to talk with researchers or to truly not forming and experiencing any dreams. That's where recent technology has helped shed light:
Brain imaging technology has helped to shed light on this mystery. Scanning depressed patients while they sleep has shown that the emotion areas of the brain, the limbic and paralimbic systems, are activated at a higher level in REM than when these patients are awake. High activity in these areas is also common in REM sleep in nondepressed sleepers, but the depressed have even higher activity in these areas than do healthy control subjects. This might be expected -- after all, while in REM these individuals also show higher activity in the executive cortex areas, those associated with rational thought and decision making. Nondepressed controls do not exhibit this activity in their REM brain imaging studies. This finding has been tentatively interpreted....as perhaps a response to the excessive activity in the areas responsible for emotions.