Curing the Physician Shortage: Systemic Change to Breed the Doctors We Need
When it comes to financing medical education, it's time the taxpayers demand their money's worth.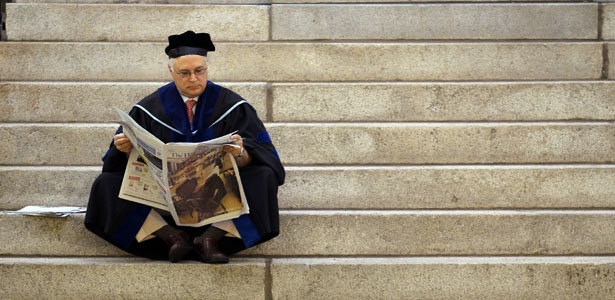 Thomas Michel, a professor at Harvard Medical School, waits for the start of the 360th Commencement Exercises at Harvard University. (Brian Snyder/Reuters)
Last month, The New York Times reported that President Obama's Affordable Care Act will worsen America's already steep shortage of doctors, particularly in the valuable field of primary care. With an estimated 30 million people set to gain insurance coverage under the law in 2014, there won't be enough physicians to serve all these new patients. Because it takes about ten years to train a new doctor, little can be done to reduce this deficit in the short term. But Congress can begin to address the problem in the coming decades if it alters its investment strategy in medical education.
As a medical student myself, I see it simply: In exchange for footing most of the bill for my medical training, the government should try to control how and where I practice in the future.
Today's average medical student spends four years paying nearly $50,000 in tuition per year and can expect to graduate with upwards of $150,000 in debt. While students stop paying tuition and begin making salaries as medical residents, their earnings tend to be insufficient to make ends meet, especially with loans to repay. By the time they become board certified in their chosen specialties, their friends from college who opted for careers in law or finance will have been pulling in six-figure salaries for the better part of a decade.
Though it isn't uncommon for young physicians to complain about these overwhelming costs, the truth is their plight could be much worse. That's because taxpayers heavily subsidize both medical school tuition and resident salaries. U.S. medical schools count on substantial support from state and local governments to break even. And were it not for Medicare, which pays $9 billion dollars annually to the teaching hospitals that train new doctors, residents would be working practically for free.
Despite such significant investments in physician education, the government asks very little in return. Doctors are free to choose what type of medicine to practice, where to set up shop, how many hours to work per week, or whether to practice medicine at all. It should come as no surprise, then, that physicians' choices so often diverge from what legislators have in mind. In a country with a scarcity of primary care doctors and with many regions suffering shortages of health care providers, this situation is untenable.
Politicians and voters should insist on a fix to this system. An initial approach might be to raise awareness of government spending on medical education among current students. The topic was never broached when I was applying to medical school in 2010, and has not been discussed by my school's administration since I was admitted. If more students knew that their government was making an expensive investment in them, they might strive to become the kinds of doctors their country needs.
But medical students are only human, and we're more likely to follow financial inducements than civic callings. State and federal lawmakers should begin considering policies that would force more doctors to go into primary care, work in underserved communities, and work full-time.
A good place to start would be reforming how Medicare and Medicaid reimburse doctors from different specialties. Incentives for young doctors to choose primary care -- including loan forgiveness -- already exist, and have been expanded by the Affordable Care Act. Yet these programs are funded by charging taxpayers more, not by paying specialists less. Unless that changes, it will always be more profitable to become a dermatologist than a general internist.
One of the reasons European countries have more primary care doctors than we do is that they have smaller pay gaps between general practitioners and specialists. The U.S. could easily follow suit, and in addition could pay doctors working in resource-poor areas more per visit and doctors not working full-time less.
These measures may sound punitive, but they are exactly what the tens of thousands of Americans who can't find a doctor need. If young people contemplating careers in medicine are turned off as a result, plenty of qualified applicants who are denied admission to medical school each year would happily take their places. A dire problem requires a harsh cure. When it comes to financing medical education, it's time the taxpayers demand their money's worth.