America's Most Livable State: ... Utah
The ten best and worst future places to live in the United States, and why the Beehive State tops the list

kla4067/Flickr
I seriously might move to Utah. You should think about it, too -- although not all of you, because then Utah would be so full of people, it'd no longer be the most future-livable state in the union.
In a new Gallup report out this month, Utah bests all comers in a 13-point contest to determine the best places to live five years from now. Among the findings that make it a winner? Hardly anyone smokes there. Clean, safe drinking water is plentiful and easy to get to. And the state also tops the charts when it comes to workplace culture: bosses often treat their subordinates like partners, survey respondents say -- and not as underlings.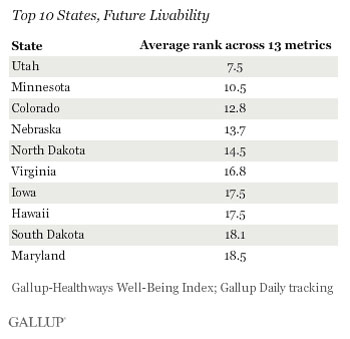 The study touches on familiar indicators like job creation and economic confidence. It also includes more human metrics, such as an index for "optimism" and the opportunity to learn something new every day. Utah ranks at or near the top for those metrics, too.
Unfortunately, lists tend to mean that someone or something winds up coming in last. If the top 10 states were mostly Midwestern states, the bottom 10 are by and large located in the South: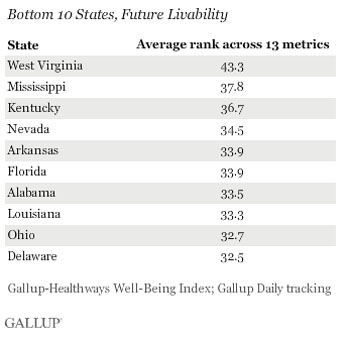 But lists are meaningless, you say? They dress themselves up in definitive ways to conceal weaknesses in the data? The statistics are too dry, the evidence for Utah's superiority uncompelling? Fair enough: here's seven more reasons Utah totally wins:
It's got the nation's youngest population, with a median age of 29.2.
The state's official snack is Jell-O. State residents eat more lime-flavored Jell-O than anyone else on the planet.
Utah became the second state to embrace women's suffrage, after Wyoming, in 1870.
The Sandlot -- that quintessential summer movie from which we all learned how to be rescued by a lifeguard -- was filmed in Utah.
In 2011, Utah became the first of just two states in America with an official state firearm (the other one is Arizona). USA! USA!
Utah is the single biggest consumer of paid porn in the nation, with 5.47 of every 1,000 people paying for a subscription (their honesty about it is to be admired).
It's got a dinosaur named after it. If that doesn't convince you, I don't know what will.