America's Hand in Chinese Drug Detox Prisons
Examining the role of U.S. scientists in research conducted at China's historically abusive treatment centers 
Inmates take an oath to resist drugs at a mandatory rehab center in Wuhan, China. (Stringer Shanghai/Reuters)
Fu Lixin, an exhausted Chinese woman, made a momentary bad decision. A friend had offered her a "special cigarette," and instead of saying no, she took it. But the next day, she told the New York Times, policemen arrived at her door. "My friend had been arrested and turned me in," she said. "It was a drug test. I failed on the spot."
Drug use in any context carries risks, but users in China face a unique set of challenges. Even though it was Lixin's first time, and she didn't have a record, she was immediately taken to a detention center.
At any given time, over 300,000 people are locked up in mandatory drug detention in China like the one where Lixin was held. Police often pick people up off the streets and take them immediately into custody, keeping them in "treatment" for years at a time. Although it's difficult to track down standard practices -- many of the centers allow neither rights monitors nor press -- it's believed that these programs offer no clinical care and don't conduct patient evaluations.
"All drug detention is, is work. We get up at five in the morning to make shoes. We work all day and into the night. That's all it is," a former Chinese drug detainee told Human Rights Watch (HRW) in 2009. Du, another patient of a Chinese treatment program, echoed the complaint, saying, "The detox center is a factory. We work every day, until late in the night, even if we are sick, even if we have AIDS."
In fact, treatment often contributes to unsafe behaviors; another former detainee told HRW, "I'm sure I was infected [with HIV] while I was in detention. We would all use one needle; this needle would go around the whole place."
So it came as a surprise to Joe Amon, Director of the Health and Human Rights Division at Human Rights Watch, when a recent issue of Science magazine published a study conducted in China in two detention centers without mentioning this context. The paper, titled "A Memory Retrieval-Extinction Procedure to Prevent Drug Craving and Relapse," was conducted on rats as well as human drug-users in Beijing.
The findings themselves were quite interesting, demonstrating a mental technique that could be used to help prevent relapse in former addicts. The authors state that the participants gave informed consent, gaining approval from the Peking University Health Center review board, but Mr. Amon questions the validity of the claim, noting that the Beijing Ankang Hospital and the Tian-Tang-He Drug Rehabilitation center have historically been compulsory programs staffed with more police officers than doctors. Amon began to question the researchers' description of detained drug users as "patients" and the detention centers as "hospitals." It's difficult, Amon says, to determine if "informed consent" in such a setting can be truly voluntary.
Although in the past few years China has dramatically increased the availability of methadone in community-based treatment centers, treatment options remain inadequate. Amon explained, "In China, police can pick up anyone based on profiling, and force them to take a urine test." If the sample comes back positive, he said, "People are then taken straight to a detention center, where they are usually kept for two years or more." Previous detainees' ID cards -- used in China for many common activities, like checking into a hotel -- are marked, and police, seeking to meet strict quotas, are allowed to track former addicts' IDs and demand urine samples at any point.
Patients in these centers do not have basic human rights protections, including the right to due process, the right to privacy, and the right to be free from compulsory treatment. In closed settings such as administrative detention centers, Amon reiterated, research deserves more than the usual amount of oversight -- not, as in this case, no independent monitoring at all.
---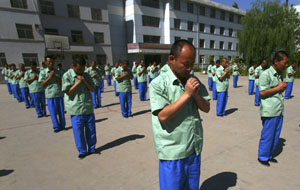 Stringer China/Reuters
---
The Chinese authors of the study defend their work in Science, saying in a written response, "We saw no indication of the abuses Amon describes." They explain their work used subjects who they say were "court mandated" -- but as drug abuse in China isn't considered a criminal offense, drug users are usually sent to detention centers without any formal trial, never seeing the inside of a courtroom. The scientists don't specifically describe the care the study's subjects received, simply stating that all detention centers provide comprehensive care and citing a state media news account quoting a detention center official. Without independent monitoring, it is uncertain what the facts may be.
But the Chinese can't take all the blame: It turns out that U.S. taxpayers were also inadvertently supporting this work. Two of the co-authors on the original paper were scientists at the National Institute on Drug Abuse (NIDA), which is congressionally funded. In response to voicemails left at the offices of all five of NIDA's media relations' spokesmen, I received the following two-sentence email: "Good afternoon. In response to your voicemail, the study you referred to was not funded by the National Institute on Drug Abuse."
Unfortunately, that's not the whole truth. In a statement released to the Associated Press on April 22, NIDA explained that its scientists "advised on the experimental design of the preclinical studies, and were involved in the data analyses and in the preparation of the manuscript." While NIDA didn't provide direct funding for the study, they did contribute financial support for the paper by paying the salaries of David Epstein and Yavin Shaham, who provided technical assistance and whose names are on the published paper. NIDA's claim that their only support was technical, though, would be in violation of Science magazine's guidelines -- which state that all co-authors are responsible for the sum total of any article published in its pages -- their own code of conduct, and standard scientific protocol. By allowing their names to be published on the study, NIDA's scientists took responsibility for the entire contents of the article, including the ethics of the research.
Sadly, this is not the first such study supported by NIDA in Southeastern Asia with questionable rights abuses; it appears to be an ongoing, and under-reported problem. In 2011, Human Rights Watch reported that compulsory detention centers in Vietnam, where other NIDA studies were conducted, were engaged in similar kinds of arbitrary detention and forced labor.
Global disapproval over such lax standards has been increasing. In March, 12 U.N. agencies went on record condemning mandatory treatment centers in Asia, and calling for the release of detainees. But as recently as June, the United States has continued to fund compulsive drug programs, sending $400,000 to the Lao National Commission for Drug Control and Supervision for use at a detention center that Human Rights Watch had previously called out for human rights abuses.
NIDA justified its approach in a press release, saying, "NIDA's mission is to bring the power of science to bear on the devastating, global problem of drug abuse and addiction, and to advance research and disseminate knowledge that can help its prevention and treatment in many nations, including the U.S. and China." It continued, "We can only accomplish this goal by working with those who provide treatment to the people who need it -- wherever they are -- and engaging those providers and their patients in research to develop and improve evidence-based practices." But Joe Amon takes issue with the notion of bending ethical rules to provide at least some care to the most needy. "NIDA seems to be saying that they are willing to ignore human rights abuses and support misleading and even unethical research to fulfill a mission of advancing knowledge on drug addiction." He continued, "Is there really nowhere NIDA won't go, no type of research they won't support? Individuals in these centers are being held illegally, abused, and denied care."
NIDA declined to comment further. So far, NIDA has not taken any independent investigations into the rights abuses performed under their auspices.