When Public Beats Private: Community Clinics That Keep Costs Down and Do a Better Job, Too
Federally funded health centers are at the heart of the Affordable Care Act. Now, new research suggests they work just as well -- if not better -- than private practices.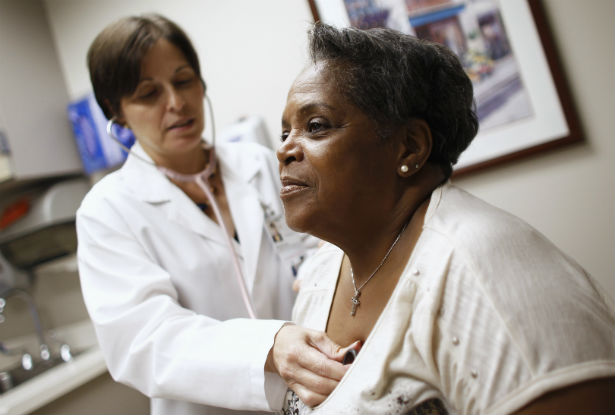 Jim Young/Reuters
The ability to provide effective healthcare rests in large part on the availability of primary care. As a first stop before emergency rooms and specialists, primary-care providers focus on disease prevention, health maintenance, and education, catching health problems before they become more serious -- and more expensive. For low-income patients and the uninsured, this function is often fulfilled by government-funded community organizations called Federally Qualified Health Centers (FQHC). Though skeptics might regard these and similar outfits warily, new research published Tuesday in the American Journal of Preventive Medicine indicates that these facilities provide care on par with, and in some cases superior to, that of private practices.
The report bodes well for implementation of the Patient Protection and Affordable Care Act, which is banking on community health centers' ability to step up and provide high-quality care for a sizeable portion of the anticipated 32 million newly insured. More than ever, primary care facilities will be expected to get patients seen and treated in a timely manner. The incentives offered to private practices to take on more Medicaid patients will vary from state to state, but community health centers, many of which are supported by the federal government, are already recognized as important sources of treatment for the underserved: they operate in poor, urban areas and remote rural locations where as many as 40 percent of their patients are uninsured. Meanwhile, the ACA has allotted $1.5 billion to the reconstruction and renovation of existing community health centers, and $9.5 billion to the creation of new sites and the expansion of services over a five-year period beginning in 2011.
Dr. Randall Stafford of the Stanford Prevention Research Center, a co-author of the published study, believes health-care providers in federally funded clinics adhere to screening, treatment and counseling best-practices a higher percentage of the time compared to private practices. The study shows that federally funded health centers performed best in treating conditions with well-defined standard guidelines, and the public facilities scored higher than private practices in areas such as chronic disease management and screening procedures.
These results may seem counterintuitive, as community health centers serve needier patients who often only pay for as much health care as they can afford. Because the outlets are less profit-driven, however, the study suggests community health centers may have less incentive to turn to costly, and perhaps unnecessary, procedures. The researchers speculate as well that the presence of so many healthcare providers in one place creates a collaborative environment in which doctors are able to discuss and debate their practices.
While he warns against assuming that one method of care delivery must be the best, Dr. Stafford said that his team was surprised by the ways in which community health centers measure up. He's optimistic about their ability to effectively serve both newly- and privately insured patients.