This Is Your Life Expectancy as a Subway Map
Compared to those near stations in poorer areas, residents near some London Tube stops are likely to live 20 years longer.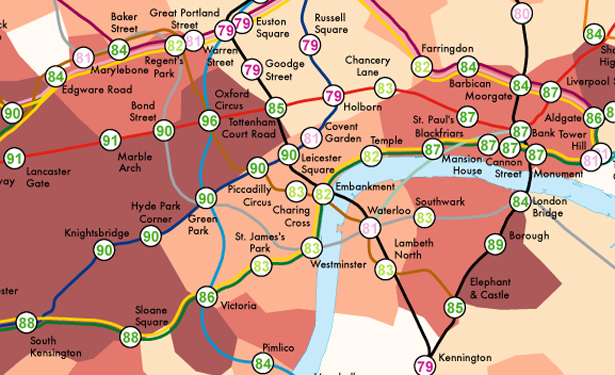 MappingLondon.co.uk
Last year's dystopian action flick In Time has Justin Timberlake playing a street rat who suddenly comes into a great deal of money -- only the currency isn't cash, it's time. Hours and minutes of Timberlake's life that can be traded just like dollars and cents in our world. Moving from poor districts to rich ones, and vice versa, requires Timberlake to pay a toll, each time shaving off a portion of his life savings.
Literally paying with your life just to get around town seems like -- you guessed it -- pure science fiction. It's absolute baloney to think that driving or taking a crosstown bus could result in a shorter life (unless you count this). But a project by University College London researchers called Lives on the Line echoes something similar with a map that plots local differences in life expectancy based on the nearest Tube stop.
The trends are largely unsurprising, and correlate mostly with wealth. Britons living in the ritzier West London tend to have longer expected lifespans compared to those who live in the east or the south. Those residing near the Oxford Circus Tube stop have it the easiest, with an average life expectancy of 96 years. Going into less wealthy neighborhoods in south and east London, life expectancy begins to drop -- though it still hovers in the respectable range of 78-79.
Meanwhile, differences in life expectancy between even adjacent stations can be stark. Britons living near Pimlico are predicted to live six years longer than those just across the Thames near Vauxhall. There's about a two-decade difference between those living in central London compared to those near some stations on the Docklands Light Railway, according to the BBC. Similarly, moving from Tottenham Court Road to Holborn will also shave six years off the Londoner's average life expectancy.
Michael Marmot, a UCL professor who wasn't involved in the project, put the numbers in international perspective.
"The difference between Hackney and the West End," Marmot told the BBC, "is the same as the difference between England and Guatemala in terms of life expectancy."
While we're on the subject of global comparisons, here's hoping the folks behind Life on the Line turn to plotting life expectancy on top of the subway maps of other major cities. As a resident of Washington, D.C., I know which one I'd want to see most. Which metro areas would be at the top of your list?