This at-Home HIV Test Looks Simple, but Is It Accurate?
For the first time, the Food and Drug Administration has approved over-the-counter HIV tests for consumer use. How effective are they, really?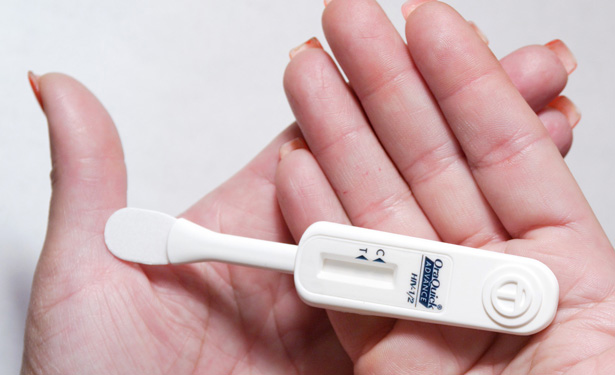 The OraQuick HIV test promises to deliver results in as little as 40 minutes. (John Gress/Reuters)
Last week the FDA approved the first at-home HIV testing kit for direct sales to consumers. With OraQuick, in a matter of minutes, most any adult might check for antibodies to the virus that causes AIDS. Already the device is in widespread use by health care professionals in the United States and some 35 other countries. The FDA's decision didn't follow a recent advance in medical science or technology. Rather, it reflects a shift in officials' attitudes about the disease -- and the capability of ordinary individuals to handle medical information.
"I'm definitely in favor of people knowing their HIV status," said Dr. Joel Gallant, an AIDS specialist at Johns Hopkins University. "This test will make it easier for people to find out if they're infected."
The CDC estimates that 1.2 million people are living with HIV in the United States. Nearly 1 in 5 of those infected -- over 200,000 individuals -- are unaware. Each year, some 50,000 become infected. "Those who don't know are much more likely to be spreading the virus," Gallant says.
When HIV testing first became available in 1985, there were no anti-viral medicines to offer those who tested positive. There were no examples of long-term survivors. Back then, just getting the test was a big deal. In New York state, there'd be paperwork and required counseling before and after the procedure. Blood tubes were coded to avoid exposure of patients' names to laboratory workers. Many patients and their doctors perceived HIV as a death sentence. Those affected feared discrimination and social isolation. Anxiety about infection could be so nerve-wracking that some tested individuals didn't return to the clinics to learn of their results.
Times have changed: "Come October, you might check if you have the virus in the comfort and privacy of your living room," said Douglas Michels, CEO of OraSure Technologies, the device manufacturer. The product will be available on-line and in 30,000 stores including Walgreens, CVS, Rite Aid and Wal-Mart. The price of the retail kit isn't set yet. It will be over $17.50 -- the current cost of the professional product -- but "substantially less than $60," he said in a phone interview.
The OraQuick assay looks easy. From a technical standpoint, it resembles a home pregnancy test. Following the manufacturer's instructions, users swab the inside of the mouth with an absorbent pad provided. Next, they insert the applicator into a liquid buffer, also provided in the package. An answer, appearing in the form of one or two reddish lines, arrives in 20 to 40 minutes. If just one line, marked "C" for control appears, the result is negative. If two lines develop, including the control, the result is positive. To assist consumers in interpreting and knowing what to do with at-home results, OraSure has arranged for a call center with bilingual (English- and Spanish-speaking) support.
This OraQuick assay checks for exposure to HIV-1 and HIV-2. Infection with either of these retroviruses can lead to full-blown AIDS, but HIV-2 is less common in the United States. "When we do see cases linked to HIV-2, it's usually in people from West Africa," says Gallant.
Gallant's enthusiasm for the at-home test is tempered by his concern about its limited sensitivity. Typically, HIV tests in laboratories are over 99 percent sensitive. "When people use at-home testing kits, there's a greater chance they'll wind up with a false negative test result than if they're tested in a medical center," he said. Good follow-up is critical, he said. "A person with a positive result should always go to a medical center to have it confirmed," he said.
When the FDA's Blood Products Advisory Committee met in May, it reviewed a company-sponsored trial of 5,000 unskilled people at risk who'd never previously tested positive for HIV. Participants carried out OraQuick assays using saliva and also submitted blood samples for evaluation in a laboratory. The saliva tests captured approximately 92 percent of positive HIV results as determined by blood measurements. In other words, the sensitivity was 92 percent: on average, among 100 HIV-infected consumers using OraQuick at home, 92 will get correct (positive) results and 8 will get false negatives. In the same study, the oral test's specificity was over 99.9 percent; false positive results were rare.
The FDA panel voted 17-0 in favor. The overriding concern, as articulated by specialists and representatives from AIDS advocacy organizations at the meeting, was to reduce barriers to testing so that a greater proportion of infected people might get anti-viral treatment and modify their behavior. Despite limitations of the test in consumers' hands, a general sense of obligation, and respect, for their needs and preferences dominated the discussion and ultimate decision for approval.
"I think the disadvantage is small compared to the potential benefit of more people finding out," Gallant says. "The CDC recommends that everyone be tested for HIV. This test offers a new option for many who wouldn't otherwise be tested. It will allow infected people to start lifesaving treatment earlier, and will help prevent transmission to others."