The World's Impending $1.2 Trillion Drug Bill, in Two Charts
The United States is the single largest consumer of prescription drugs on the planet. Over the next several years, Americans will still pay more for their treatments than any other nation. But the share of American drug consumption will also be shrinking against the backdrop of a rapid expansion in prescription and generic drug use among developing states like China, Brazil, and other growing targets the drug industry has dubbed "pharmerging" markets.
That's the forecast from the IMS Institute for Healthcare, whose report on the global drug business predicts pharma to become a $1.2 trillion industry by 2016. The full report comes along with a handful of charts, but here's one: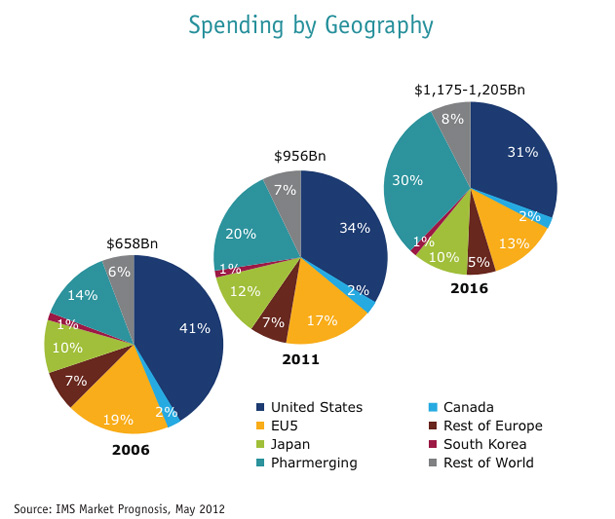 Meanwhile, a drug patents expire, people in low-income countries will begin to benefit from greater access to generic drugs. That's particularly true for Brazil, whose spending on brand-name drugs will plummet by over 75 percent in the next four years. In China, the dollar value spent on brands will stay roughly the same, but spending on generics, branded over-the-counter remedies, and other similar products will drive a 13 percent jump in overall drug spending: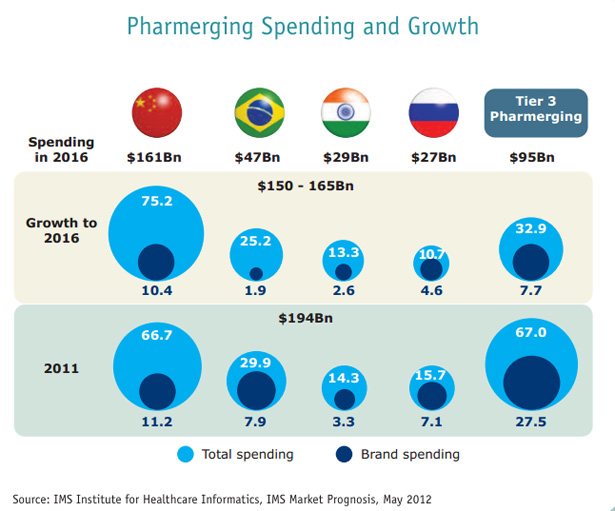 The news ought to be worrying for Big Pharma, which stands to lose the most from patent expiration. Of course, drug manufacturers may simply respond by unveiling new versions of the branded drug just as the old version slips into the world of generics.