The Evolving State of Physician-Assisted Suicide
Massachusetts voters soon will decide whether to become the third state to legalize the contentious end-of-life care option for the terminally ill.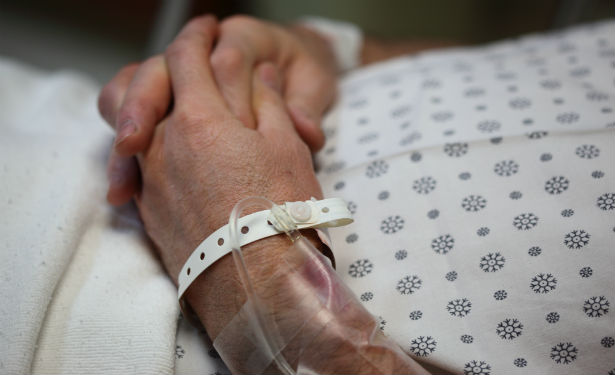 Pink Sherbet Photography/Flickr
Should terminally ill patients have the right to kill themselves? Voters in Massachusetts will soon decide. Last Wednesday, the Secretary of the Commonwealth announced that on November 6, 2012, when Bay State voters go to the polls to pick the next President, they will also have their say on a ballot measure called the Death with Dignity Act. If passed, the law would make Massachusetts the third state to give adults diagnosed with six months or less to live the option to end their lives using a lethal dose of doctor-prescribed medication.
Last year, advocates from across the state began a petition drive to collect the 68,911 signatures needed to introduce the act for consideration by the state legislature; by the time they were done, they'd gotten more than 86,000 voters to sign on to show their support. Lawmakers had until the beginning of May to address the issue, but they declined to do so. In response, *volunteers and people retained by advocacy organizations fanned out for a second wave of signature gathering. An additional 21,000 people from the state's 14 counties signed on to support the Act. That's nearly double the number needed to bypass the statehouse and bring the issue directly to voters via ballot measure.
Oregon and Washington were the first states to enact Death with Dignity laws. (In Montana, the state's Supreme Court ruled in 2009 that physician-assisted suicide could be defensible; however, the subject remains hotly contested.) Since 1997, when Oregon's Death with Dignity Act went into effect, more than 900 people have received prescriptions to their end their lives. Not all have used the drugs. The Oregon Public Heath Division reports that more than 600 individuals have taken the dose, while the remainder either decided against using the prescription, or succumbed to their diagnosed illness.
In Oregon and Washington, patients must first make two requests of their doctor for medication, fifteen days apart. The patient then has to make the request in writing. In order to prevent potential abuses, patients are required to sign consent forms in the presence of two witnesses, to at least one of which they are not related**. Once approved, patients must self-administer the drugs. Typically, it's a deadly dose of Seconal, a barbiturate often prescribed by doctors to treat insomnia or to calm patients before surgery. The contents of the capsules are stirred into a glass of water or a serving of applesauce, to dull the taste. Statistics compiled and released annually by the Oregon Department of Health show that in the majority of cases, people lose consciousness within five minutes of swallowing the drugs. It can take anywhere between one minute and four days to die, but for most people death comes in just 25 minutes.
Ninety-eight percent of people who have made use of the law in Oregon are white. Eighty-one percent had cancer. Fifty-two percent were men. The median age of those who died using the law was 71. Most patients were enrolled in hospice and privately insured. They cited loss of autonomy, loss of dignity and the fact that they were "less able to engage in activities making life enjoyable" as the top three end-of-life concerns. In Washington State, where a Death with Dignity Act was approved by ballot initiative in 2008, and went into effect the following year, patients fit a similar profile. According to the latest figures released by the state, 135 people have died from the lethal prescription. The Death with Dignity Act that will go before Massachusetts's voters this fall is modeled after laws in place in Oregon and Washington.
A survey conducted in May by Western New England Polling Institute showed that 60 percent of Massachusetts's voters supported the rights of terminally ill patients to legally obtain and ingest life-ending drugs. Still, the measure faces tough challenges from powerful factions within and beyond the state. The Massachusetts Medical Society opposes the Act. The American Medical Association does too. "Physician-assisted suicide is fundamentally incompatible with the physician's role as a healer," the AMA states in its Code of Medical Ethics. "Patients should not be abandoned once it is determined that cure is impossible."
Disability-rights activists have also spoken out against physician-assisted suicide. So has the Catholic Church. Noting a resurgence of interest in the topic and a renewed push by advocates of physician-assisted suicide to extend the practice beyond Oregon and Washington, the United States Conference of Catholic Bishops last year issued an impassioned statement against the practice. In Massachusetts, the Roman Catholic Archdiocese of Boston, anticipating the ballot measure, created a website, suicideisalwaysatragedy.org. "Our society will be judged by how we treat those who are ill and infirm," Archbishop of Boston, Cardinal Sean O'Malley, says in a video address that appears on the site. "They need our care and protection, not lethal drugs."
But it's the people of Massachusetts who will ultimately decide the law's fate, not religious leaders, lawmakers or medical professionals. Dr. Marcia Angell, former editor of Massachusetts Medical Society's New England Journal of Medicine, and one of the Act's lead sponsors, puts little stock in what physicians have to say about the matter.
"I am less concerned with what doctors want than with what patients want," Angell said in an interview that aired on WGBH, in Boston. She continued, "I think doctors sometimes have a too-narrow idea of what their own obligations are. They feel they have an obligation to extend life even when it can't be extended significantly. And even if you have that situation, then it seems to me they have two obligations. One is to support the autonomy, the self-determination of their patients. And the other is to relieve suffering. If you can't extend life significantly, then you must relieve suffering."
A study released by the Health Research and Education Trust shows that Americans are living longer lives than ever before. As a result, more individuals and families will face difficult questions about end-of-life care. In 2011, the oldest Baby Boomers turned 65. By 2030, the number of Boomers between 66 and 84 years old will climb to 61 million, and six out of 10 will be managing chronic health conditions. For the elderly and others facing terminal illness, doctors have numerous ways to prolong life. Palliative and hospice care are available to help patients find peace and comfort in their final days. But there are some people who want another option, which is the right to end suffering by taking their own life at a time and place of their choosing.
---
*This post originally read: "In response, volunteers fanned out for a second wave of signature gathering."
**This post originally read: "In order to prevent potential abuses, patients are required to sign consent forms in the presence of two witnesses to whom they are not related." We regret this error.