Study of the Day: Using Red on eBay Pages Results in Higher Bids
In online auctions, the spoils go to the sellers who can inspire aggressive bidding wars over their products. New research shows that they can use the color red to get their buyers' blood boiling.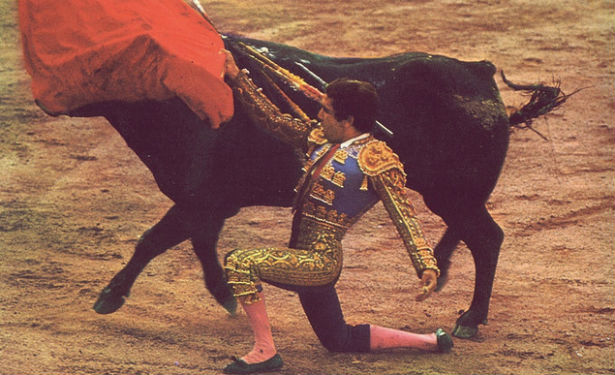 shoplifter_too/Flickr
PROBLEM: Research has already indicated that the color red induces aggression, and blue is commonly thought to have a calming effect. But can the strategic use of these colors influence the outcomes of online sales?
METHODOLOGY: For the first part of this study, the researchers put 28 Nintendo Wii's up for auction, with each sale differing only in background color (red and blue). Aggression was measured by how high bidders were willing to jump from the previous bid in making their new offer. This was then repeated, with similar results, in the lab. In the second part, they showed 89 people a vacation package set at a certain price, and then gave them one opportunity to make their best offer. Again, the background color of the postings varied between red and blue. In the third and largest part of the study, 512 participants were asked to imagine that they were attempting to purchase a Wii on eBay. A banner at the top of the web page was alternately red, blue, gray, or absent, and participants were assigned different scenarios. In one, they had to either enter a maximum bid for the Wii or decide to "buy it now" for a higher price. In another, they had to either "buy it now" or make their best offer to the seller. The remaining participants were only presented with the "buy it now" price. These participants' emotions were evaluated after the mock auctions.
RESULTS: The color red was demonstrated to increase levels of aggression in participants, and was positively associated with their willingness to pay more along with their overall likelihood to purchase the products. In other words, those shown the color red bid more and by higher increments in the first and third studies, and made lower offers in the second study.
CONCLUSION: When the competition is between potential buyers, as is the case in online auctions, sellers can use the color red to their advantage. The aggression it induces amps up the bidding war and thus the ultimate selling price. When the seller is negotiating with a buyer, however, a calming blue background is the way to go.
The full study, "The Effect of Red Background Color on Willingness-to-Pay: The Moderating Role of Selling Mechanism," will be published in the Journal of Consumer Research.