Study of the Day: Parenthood Keeps the Common Cold at Bay
New research from Carnegie Mellon University finds that parents are 52 percent less likely to develop colds compared to non-parents.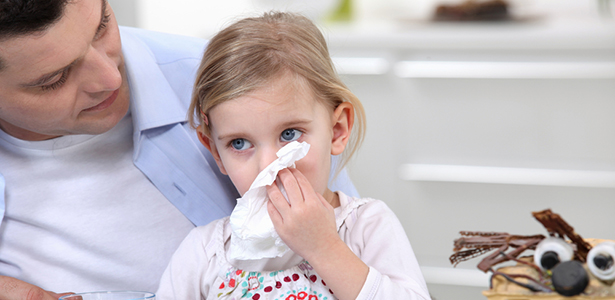 auremar/Shutterstock
PROBLEM: Compared to non-parents, are parents more or less likely to develop colds?
METHODOLOGY: Researchers led by Carnegie Mellon University's Rodlescia S. Sneed administered nasal drops containing one of four common cold viruses to 795 healthy adults, ages of 18 to 55. They asked participants about their parenthood status and monitored them for the development of a clinical cold for up to six days. In their analysis, they controlled for immunity to the experimental virus, viral strain, season, age, sex, race, ethnicity, marital status, body mass, employment status, and education.
RESULTS: Many fewer parents caught the cold compared to non-parents. Parents with one or two children were 48 percent less likely to get sick, while those with three or more were 61 percent less likely to do so. Parents with children living at home and parents whose children lived away from home showed a decreased risk of getting a cold. This association between parenthood and colds, however, was absent in parents aged 18 to 24 years but was more pronounced among older parents.
CONCLUSION: Parents are better able to resist common cold viruses than non-parents.
IMPLICATION: Further research should explore the factors behind this correlation. "Although parenthood was clearly protective, we were unable to identify an explanation for this association," says co-author Sheldon Cohen in a statement. "We expect that a psychological benefit of parenthood that we did not measure may have been responsible."
SOURCE: The full study, "Parenthood and Host Resistance to the Common Cold," is published in the journal Psychosomatic Medicine.