Study: Distortion in Rock Music 'Brings Out the Animal in Us'
New research suggests that dissonant rock music arouses listeners because its sound is similar to the ones made by animals in distress.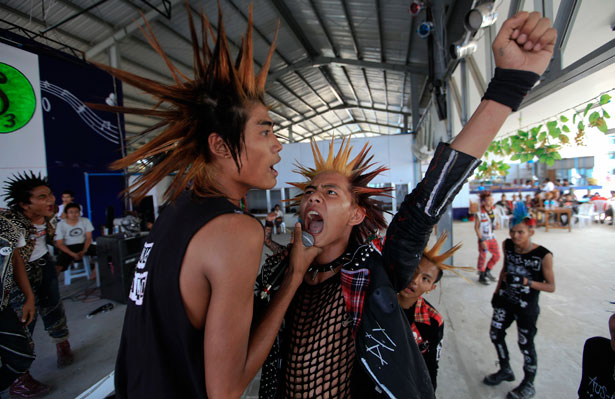 PROBLEM: Parents hate it, and radio stations hardly play it anymore. Still, why do some people enjoy metal, crusty punk, and other harsh dissonant music?
METHODOLOGY: University of California, Los Angeles, scientists led by Daniel Blumstein asked participants to rate how arousing they found a series of original 10-second music pieces and whether the emotional feeling in the music was positive (i.e. happy) or negative (i.e. fear-inducing or sad). Listeners in the control condition heard music without noise or abrupt transitions in frequency or pitch that was similar to elevator music. Those in the experimental condition listened to music that began in an easy-listening manner but then suddenly broke into distortion. In a follow-up trial, they paired the same music compositions with video clips designed to be minimally evocative.
RESULTS: The subjects were more likely to describe the unpredictable music as more exciting and negatively charged than the compositions without distortion. When the dissonant music was paired with a boring video, they still considered the emotional content of the piece negative but did not find the music as arousing.
Blumstein, an evolutionary biologist who specializes in animal communication, says that jarring rock music shares aural characteristics with the arousing vocalizations of troubled animals and may capture human attention in the same way. Crying animals sound distorted because they force a large amount of air rapidly through their voice box to communicate alarm and fear.
CONCLUSION: Listening to noisy music is similar to hearing animal distress calls. "This study helps explain why the distortion of rock 'n' roll gets people excited," says co-author Greg Bryant in a statement. "It brings out the animal in us."
SOURCE: The full study, "The Sound of Arousal in Music Is Context-Dependent," is published in the journal Biology Letters.