Shocker: Americans Are Still Confused About Health-Care Reform
In one of the first large-scale measures of voter reaction to the Supreme Court's landmark ruling, Americans remain divided on the matter -- perhaps because we still don't understand it.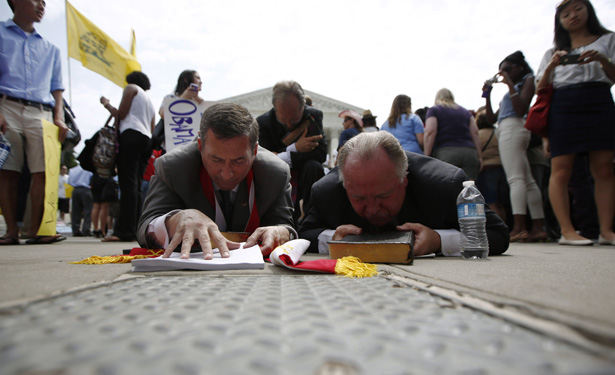 Religious leaders lay on the ground and pray over a copy of the verdict on Obama's health-care overhaul law in Washington. (Jason Reed/Reuters)

Three weeks after the Supreme Court handed down its ruling on the Affordable Care Act, Americans are still bitterly divided over President Obama's health reform law. Results from a Gallup poll released this morning show that voters' beliefs about the ACA's anticipated effects are highly colored by partisan affiliation.
Overall, 59 percent of respondents say the law will make things better for the currently uninsured. Americans are largely split, however, on the future of hospitals, doctors, and businesses: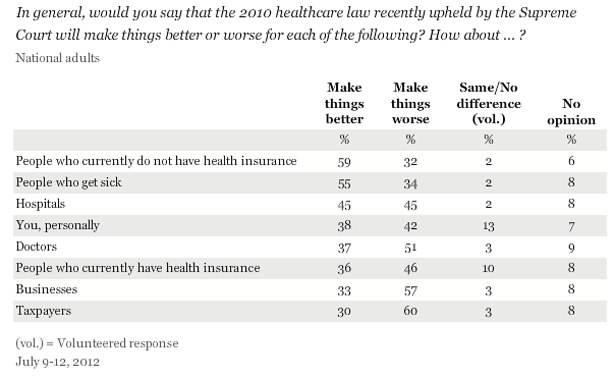 Gallup
But the topline numbers mask some other puzzling results:

Gallup
Broken down by party affiliation, 45 percent of Republicans -- and nearly a fifth of Democrats -- remain skeptical that Obamacare will help the uninsured. For a bill whose key provisions are meant to do exactly that, the ACA would have to crash and burn pretty spectacularly to prove them right.
Meanwhile, ideology has other voters convinced of totally contradictory positions, with Democrats believing ACA will help rather than hurt taxpayers by a margin of 21 points. That's compared to Republicans who mostly believe -- by a whopping margin of 80 points -- that the law will be bad for taxpayers: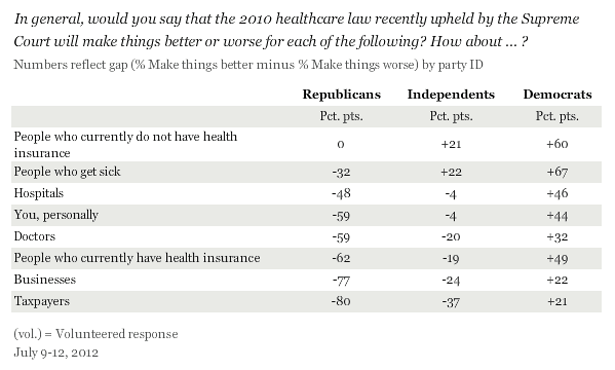 Gallup
Here's the reality: the tax burden associated with ACA isn't particularly high by historical standards. It's about the same as the rate of increase Americans saw under George H.W. Bush and Bill Clinton. The penalty that non-compliant Americans will pay the IRS for not purchasing health insurance is also relatively small, and since there's nothing the tax man can do if violators choose not to pony up, the punishment of the individual mandate is virtually toothless. The ACA carries an increase in costs to states -- a function of the Medicaid expansion that's now become a voluntary program following the Supreme Court ruling -- that could spell higher taxes for some Americans, but given the long-term benefits of better health care, it's not clear that taxpayers will be as unfairly burdened by the ACA as 60 percent of people believe.