No Money in a Dirty Kitchen: The Repercussions of NYC's Restaurant Grading System
Almost two years after his new system for grading restaurant cleanliness went into place, Mayor Bloomberg is calling victory. But some feel the stringent regulations are wreaking havoc on already overburdened restaurant owners.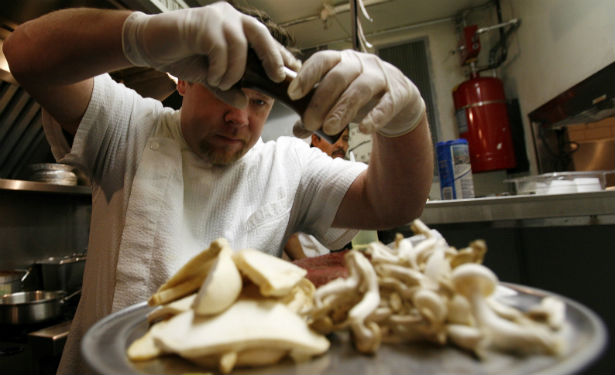 Brendan McDermid/Reuters
Iggy's is just about as close as you'll get to a neighborhood pizzeria. Located on 2nd Avenue between 10th and 11th Street in New York City's historically bohemian East Village, Iggy's is well-priced, homey, and remarkably clean on the inside. The floors are spotless, the pizza display case is free of smudges, and the steel counters glisten.
If you asked the New York City Department of Health and Mental Hygiene (DOH) however, they'd tell you that Iggy's is far from being perfectly clean. Under the department's new letter grade system, Iggy's was docked 24 violation points and given a B grade for infractions that include "Hot food item not held at or above 140º F," and "Food worker does not use proper utensil to eliminate bare hand contact with food that will not receive adequate additional heat treatment," according to the inspector's report.
Health inspections are nothing new to the New York restaurant scene, but in the summer of 2010, Mayor Michael Bloomberg announced that he was augmenting the process. Whereas the old system entailed a once-per-year pass or fail inspection, the new program would involve random examinations on an A to C scale. Restaurants would then have to pay fines for certain demerits and place their letter grade in plain sight on their front door or window. 0-13 points means an A, 14-27 a B, and 27+ a C. Anything less than an A is fined -- sometimes upwards of $1,000, depending on the type and severity of violation -- and automatically re-inspected again that year. The worst offenders are sometimes shuttered immediately if the inspector feels the restaurant is a critical risk to public health.
After almost two years of the program, the earliest quantifiable returns are coming in and the mayor couldn't be more pleased. Salmonella cases are down 14 percent and diner satisfaction is sky high, but restaurant owners aren't as enthused as the mayor is. They're saying the grade is a scarlet letter, and that the new requirements are burdensome and trifling. In the end, they say, the city is just using the system to create more fines and fill city coffers at their expense.
In tightening restrictions, Bloomberg and the DOH's main concern was the spread of foodborne illnesses in New York City restaurants, which they felt was spiraling out of control and gravely endangering the public. In 2008, the DOH reported that 1,300 salmonella cases in New York City were linked to undercooked or improperly stored food. To combat these issues, the Mayor's administration began targeting food handling, storage, and cooking, as well as sanitary negligence in the kitchen.
Forbidden practices include cooking meats at a temperature under 140º F (salmonella is often the product of raw or undercooked meats, storing cold items at over 40º F (where dangerous bacteria can grow exponentially), and improperly sanitizing utensils, such as cutting raw meat with a knife and then using it to slice vegetables, contaminating them in the process. Cracking down on infractions like these, said commissioner of the Health Department Dr. Thomas Farley to The New York Times, would "force restaurants to be diligent about good food-safety practices."
Foodborne illnesses aren't always spread due to bad handling or storage methods, however. For instance, the fecal-borne Norovirus accounts for nearly 50 percent of foodborne illness outbreaks in the US, according to the Center for Disease Control. It's normally spread when an infected worker contaminates food he or she is preparing.
One effect of a sick worker or a dangerous type of bacteria infiltrating a restaurant is called "clustering," where a certain number of reported foodborne illnesses all originate from the same restaurant. Ryan Osterholm, a personal injury lawyer specializing in foodborne illness, looks for this phenomenon when he's investigating a client's case. "Sick food handlers have a role in foodborne illnesses," says Osterholm. "Restaurant cluster cases usually lead back to specific sick food handlers."
Osterholm's firm doesn't take on minor cases involving slight vomiting and sickness. Instead, he and his associates see clients whose medical bills top $10,000 because of a foodborne illness they contracted. If it's E. coli, patients can experience extensive renal and colon damage. Even salmonella can be fatal sometimes, especially with elderly patients. In a study of US salmonella-related mortalities from 1990-2006, PL Cummings found a 25 percent mortality rate among adults between the ages of 75 and 84.
Osterholm says his job has been made easier by modern technology and advanced microbiology. The Pritzker firm he is a part of has pioneered the use of pulsed-field gel electophoresis (PFGE). This cutting edge process involves fingerprinting an individual's blood or stool and then matching individual pathogenic bacteria with the CDC's national database of PFGE patterns. Given that bacterial subtypes have unique fingerprints, it's then easy to match samples and determine if they derive from the same restaurant.
Two years into the system, the Bloomberg administration claims it has forced restaurants to clean up their acts, and they've released the data to prove it. Reported cases of salmonella dropped 14 percent in the program's first year, whereas no significant decline was reported in areas like New York State, New Jersey, or Connecticut where new systems were not implemented. Bloomberg also noted that violations most associated with foodborne illness, according to the DOH -- such as not having a trained food protection supervisor on duty, inadequate hand washing facilities for food workers, holding food at unsuitable temperatures -- were now occurring less frequently, with a ten percent drop in the number of restaurants that are penalized for signs of live mice.
Diners, he says, are especially happy with the new measures designed to keep them safe. In a study conducted by the DOH and Baruch College, 91 percent of the consumer respondents said they were satisfied with the new grading system. Then, to combat claims that the reforms were enacted to levy more fines and fund budget deficits, Bloomberg announced that restaurant revenue had actually increased by 9.3 percent to $800 million during the first nine months of the new program
Overall, the mayor says, the program has been a massive success. But do foodborne illness experts agree with him? Dr. Philip Tierno, a clinical professor of microbiology and pathology at the NYU Medical Center, believes the program has made a difference and that there is a factual basis to the DOH's findings. Any trend lower, he says, is for the better, and he feels that the new grading system has forced restaurants to take added responsibility in their kitchens. "If you look at the whole scope, it causes restaurants to pay stricter attention to vermin, temperature control, and proper food handling," he adds.
Likewise, Ryan Osterholm believes there's a plausible link between the mayor's new system and the decline in the instances of foodborne illness. "It's consistent with what we know about food handling and cross-contamination," he says.
Restaurant owners and industry leaders, on the other hand, remain largely opposed to the new method of grading their businesses. In fact, in a recent anonymous survey of restaurant owners set up by City Council Speaker Christine Quinn, nearly 66 percent ranked the system as "poor." That's not just the ones who received a bad grade however; 60 percent of owners who received an A grade likewise ranked the system as "poor," and another 68 percent said the grades significantly increased their cost of operations, forcing them to hire high-priced lawyers and restaurant consultants to appeal their grades.
"Anyone can walk into my restaurant and see it's clean," says Ignatius Sono, the owner of Iggy's, who has been given a "Grade Pending" sign from the City as he chooses to appeal his "B" in front of a tribunal. He's had to hire a lawyer and a restaurant consultant to ensure that he's ready when inspectors come to reexamine Iggy's. While he's unsure of the exact amount their services will cost him, Sono is sure it won't be cheap, and the extra costs have left him with a sour taste in his mouth. "The system is all about the money," he says.
In the summer of 2010, Mayor Bloomberg assured restaurant owners that his new system was targeting unsafe kitchens, not owners' pockets. The numbers, however, tell a different story. In 2011, according to the mayor's 2012 preliminary budget report, the city levied $42 million in restaurant fines, a 145 percent increase from 2006 when the city collected only $17.3 million. Then, despite public assurances that the fines would not be used to raise city revenue, Mayor Bloomberg stated in his 2012 environmental health budget report that he chose to reduce the budget because of "increased revenue from restaurant inspections."
The city is also cracking down on restaurants that try to hide their grade. In 2011, according to The New York Times, the DOH issued 704 citations to eateries that hadn't posted their letter grades, and another 100 to restaurants that hadn't placed theirs in a "clearly visible place."
Aside from financial concerns, opponents of the system believe it has very little to say about the cleanliness of a restaurant. Owners and industry insiders complain about the unpredictability of an inspection. For example, an inspector can come one week and find five problems. A different inspector can then return a month later and find five more problems that went unreported during the first inspection. Restaurant owners are adamant that this inconsistency is unwarranted and detrimental to their grade. Why would they stop practicing good sanitary policies, en masse, that the first inspection said they were up to par on?
Sometimes, however, the re-inspection date isn't so predictable. While DOH policy states that "B" and "C" re-inspections should occur at least a week after the initial inspection, Iggy's "B" re-inspection did not take place until seven months after its initial exam, leaving the pizzeria saddled with a dubious "Grade Pending" sign.
Prior to 2010, the inspections were numerically-based evaluations that scored for "critical" violations -- infractions that could get a restaurant shut down -- and "non-critical" violations that weren't severe enough to warrant a fine.
Under the current system, restaurants are inspected for public health violations, transgressions that can cause an immediate health threat and are serious enough for the city inspector to shut down the restaurant if the issue isn't immediately addressed, as well as for "critical violations" like the presence of vermin and the holding of food at improper temperatures, and finally for general violations, a long list of more minor no-no's such as improper thawing techniques and unclean bathrooms.
Many of the new general violations directly target the grey areas and unspoken practices that restaurateurs and staffers have abided by for decades, like not wearing gloves when serving a draft beer (few wear them) or preparing food with one's bare hands -- both of which violate the city's health code. Food workers have found ways to work around these new requirements, sometimes quietly, other times more defiantly.
For instance, restaurateur Scott Rosenberg, owner of the famed Sushi Yasuda in Manhattan, openly ignores DOH directives that say all food handlers must wear gloves when preparing food. Rosenberg is passionate about the traditions of sushi-making, and he feels that gloves impede this tradition and jeopardize the taste of his product. "Of course we want diners to be protected," he tells The New York Times. "But the craft of sushi requires a degree of precision and exactitude in making thousands of cuts -- microslicing with speed, and in quantity -- and the use of gloves makes that impossible." Despite his dedication to tradition and accuracy, Rosenberg recently experienced the culinary seppuku of having to throw away a $10,000 piece of tuna because an inspector felt it was improperly handled.
Some violations are more difficult to prevent, however. For example, section 81.20c of the state's code says, "Plumbing pipes shall be installed and maintained in a manner that prevents waste water, including condensation, from contact with food or equipment." Essentially, this standard targets any and all condensation, including accidental and natural runoff from coolers and refrigerators.
Most industrial refrigerators and coolers, despite advances in engineering, still do leak water, which may be non-existent one day, and inconveniently appear the next when an inspector is in house.
Is cooler condensation dangerous to the consumer? Most food professionals would say absolutely not, that the runoff is a natural part of operating an enormous machine that keeps food fresh. It is minute indiscretions like these that restaurant owners feel are unpreventable and unimportant to patrons.
"No consumer cares about a leaky faucet or a rag in a bucket. They definitely don't care about the lighting in a restaurant," says Robert Bookman, counsel to the New York Nightlife Association. He thinks that these non-critical violations are destroying the validity of the inspection system and wreaking havoc on already overburdened restaurant owners. "Restaurants are much more interested in keeping a clean kitchen than the health department," he says. "There's no money in a dirty kitchen."
The Mayor and the DOH, for the most part, have been unapologetic and indiscriminate in their enforcement of the new grading rubric. They've kept their pledge to protect New Yorkers, even if it means targeting New York institutions and drawing the ire of more refined diners.
Sardi's, a New York City theatre district landmark since 1927, was last year forced to stop offering its free cheese pot to revelers when a health inspector came and cited them for having "food not protected from potential source of contamination." The pot had been a tradition since the restaurant opened in 1927, and as far as management is concerned, no one has ever complained of illness.
In another high-profile incident involving the Health Department and a famous New York landmark, inspectors last year warned the Algonquin Hotel that it could no longer allow its in-house cat, Matilda, to roam around the lobby, which has been a tradition since the 1930s (with different generations of cat, of course). The cat, they say, was seen approaching areas where food and beverages were being served. The hotel installed an electric fence to keep the cat out of dining areas and avoid a DOH citation, but visitors still bemoaned the end of a tradition.
Cheese consumption has also been disputed under the new, more rigorous inspection system. The rubric strictly prohibits non-protected food being allowed to sit at room temperature where bacteria can grow, but cheese connoisseurs and chefs will tell you that the best cheese is not meant to be served cold. Instead, cheese is best when it has been left to sit out and soften up.
Like Scott Rosenberg and Sushi Yasuda, restaurants specializing in French terrine also face an ethical conflict in serving their signature dish. Do they serve it warm and soft like the tradition states, or do they keep it icy cold to stay in line with DOH protocol? Unlike Rosenberg, Table d'hôte owner William Knapp has decided to serve his restaurant's terrine cold even if it bothers customers who come in expecting it to be warm.
"The department says that's how it has to be done," says Knapp to The New York Times. Table d'hôte currently has an "A" grade and Knapp doesn't want to do anything to jeopardize that. If he was caught serving warm terrine, a seven-point temperature violation, his restaurant could be downgraded to a "B." "Some customers might think twice before dining in a B restaurant," he adds.
High-profile incidents haven't always adversely affected restaurants, however. Per se, a three-star Michelin rated restaurant whose owner is a friend of Mayor Bloomberg's, had its grade quietly (and some say underhandedly) changed from a B to an A after a call was placed by the restaurant's manager to the city's Bureau of Food Safety. Only when the story was reported by The New York Post was it explained that the Bureau's executive director decided to knock down violations for a mishandled ice tray and an employee not washing her hands after rules about ice were "clarified" and the inspector admitted to walking out of the bathroom before the employee exited.
Department officials claim that by dialing a phone number displayed on all reports and immediately protesting its grade, Per Se took a route available to any restaurant, whether it's a $1 pizzeria or a Michelin establishment. Bookman, however, told the Post that he's unaware such a provision even existed. "I've never heard of a provision where you could challenge aspects of the inspection before a hearing," he said. "I'm thrilled to learn of it because I know of hundreds -- if not thousands -- of people who will take advantage of it.
Other statistics released by The New York Times indicate another flaw in the grading system: that the differences between an "A" and a "B" are often minute. In 2011, the Times analyzed thousands of inspections and revealed that out of 2,114 restaurants that received A's, only 381 scored a perfect zero, which is the best possible score. 1,012 restaurants, on the other hand, scored 12 and 721 scored 13, which barely qualified them for an A grade. Concluding, the Times stated that the data suggests, "Inspectors may be disproportionately likely to assign restaurants a just-made-it A score than a just-missed B."
Then this year, Daniel Ho, a law professor at Stanford, studied the scores of 500,000 inspections of 100,000 restaurants from eight different states, including New York City. Ho found that the city's grading system actually shifts inspection away from the worst offenders by allocating some 14,000 inspections to B-range grade resolutions.
Additionally, Ho highlighted the great variability of the inspections and the inspectors. In 2009, an audit by the city comptroller office revealed that 67 inspectors who examined 100 restaurants in 2008 had average ratings ranging from as low as 15 to as high as 50. Along with the fact that New York's system has more inspectors (180), more violations to score, and wider point ranges for individual violations than any other city, Ho concluded that the DOH's grading program "communicates little about future cleanliness" and "diverts attention from the most delinquent."
Despite claims from restaurant owners and outside experts that the system is flawed, Mayor Bloomberg insists that it's here to stay. He's conceded little ground to restaurateurs, and he's gone to the press numerous times defending his system. "They think it's O.K. to have mice and roaches and dirt and not have people wash their hands before they come back from the bathroom. That's just simply unacceptable, and their complaints are going to fall on deaf ears, I can tell you that. We're not going to change," he said during a staged press conference at a Bronx restaurant in March.
Even if the Mayor and his administration stand behind their reforms, some health and restaurant experts would like to see the system's gradations change. Why, they ask, can losing one point, say for a small crack in your ceiling, make the difference between a B and an A? "From an industry perspective, we think the system should be pass or fail," says Bookman. "Gradations give a meaningless, non-reflective snapshot."
Dr. Tierno, who supports the idea of health inspections but disagrees with the current system, echoes the industry's frustration about the petty differences between letter grades. While Bookman would like to see a pass/fail model, Tierno instead advocates for more descriptive gradations. "There should be a range and flexibility to characterize restaurants properly," he says. "An A should be on a higher plane without the slight differences we have today."