Implications of the Drug That Can Prevent 90% of HIV Infections
Research in The New England Journal of Medicine has shown that Truvada has the ability to effectively prevent the spread of HIV infection. But will it?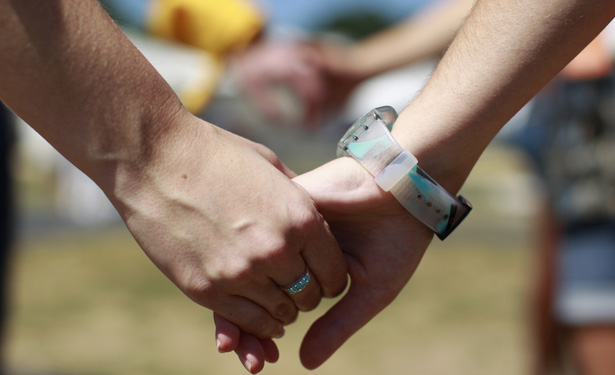 Volunteers hold hands to mark the 25th anniversary of The AIDS Memorial Quilt and the 30 years of battling the HIV/AIDS epidemic in the U.S. (Kevin Lamarque/Reuters)
In April of 1984, three years after the Centers for Disease Control first announced a spate of rare, virulent infections among gay men in Los Angeles, Health and Human Services Secretary Margaret Heckler stood before a gaggle of Washington reporters and predicted that an AIDS vaccine would be soon in coming. She was hoping to quell the maelstrom of misinformation and fear that gripped the country as landlords evicted HIV-positive tenants, hemophilic children were banned from school, and San Francisco police officers donned masks and gloves while working beats in the Castro. Give it two years, Heckler assured the assembled cameras. "Yet another terrible disease is about to yield to patience, persistence, and outright genius."
Three decades later, despite a heroic and awful patience, the maladie terrible haunts us still. The statistics belie the years of effort and billions of dollars invested in the search for a cure: 1.2 million Americans live with HIV -- as many as in Uganda and Zimbabwe -- with up to 50,000 new infections in the United States each year. The gay and black communities are hardest hit, particularly in the Deep South, and at least one in five don't know their positive status. In Washington, D.C., where the 19th annual International AIDS Conference is to be held later this month, the known rate of HIV is triple what the World Health Organization considers "epidemic." You can't walk a block downtown without passing a coffee shop that offers free condoms or a bus stop ad reminding you that real men "ask for the test." But the message has been slow to gain traction.
Welcome, then, are a trio of studies in the New England Journal of Medicine demonstrating that Truvada, an anti-retroviral drug already on the market, can prevent new HIV infections when taken daily. The findings, which were released in part last year and appear this week in final form, offer hope for men and women -- gay and straight -- who are at high risk for contracting HIV from their partners. "What we're looking at here is a new HIV prevention strategy, an approach that hadn't been tested before," said Jared Baeten, an infectious diseases specialist at the University of Washington's School of Public Health. "By having the medication already in their blood stream and in their cells, by the time they came into contact with virus, it would block the virus from taking hold. It would block them from getting infected."
Baeten's study followed 4,700 "serodiscordant" couples -- in which one member was HIV-positive and the other negative -- in Kenya and Uganda. Previous research had shown the efficacy of Truvada in reducing the risk of the disease among men who have sex with men, and Baeten's team hoped to expand the data to heterosexual partners. In addition to receiving a daily drug -- either Truvada or a placebo -- the HIV-negative subjects received STI testing, AIDS awareness counseling, and access to condoms. At the end of the trial, men and women in the Truvada arm of the study were 75 percent less likely to contract HIV than their untreated counterparts. (That figure, while impressive, is even conservative. It included every subject who was given Truvada, regardless of whether they remembered to take it.)
Later, Baeten went back and isolated just those participants who actually took the drug, as evidenced by their blood work. Their level of protection? Ninety percent.
Bottom line, says Baeten: "Compliance with this medication is the key to it working." Missed doses may be forgiving for a day or two, but physicians aren't certain, and consider the drug safe enough -- side effects include nausea and dizziness, and in some cases a loss in bone density -- to give to otherwise healthy patients on a daily basis.
"The challenge is identifying people who are at risk who will actually take the pills as prescribed," says Dr. Timothy Mastro, of FHI 360, in North Carolina. Mastro worked on a study involving 2,100 HIV-negative women in Tanzania, Kenya, and South Africa, which was closed down early after Truvada failed to protect women any better than the placebo. When researchers parsed the data, they discovered that fewer than 40 percent of the women were taking the pills given to them. The problem wasn't the drug -- it was the patients.
Mastro points out that even disappointing results offer important lessons for public health officials. In the Baeten study, which dealt with couples, the negative partner "knew that they were going to bed at night with an HIV-infected person, which was probably a great motivator to really take their pill." The women in his own study were, on average, ten years younger, not in stable relationships, and lived in rural fishing communities where HIV was rampant. They were less likely to know their partner's status, and more than ten percent had traded sex for money or gifts in the month before. Even by the end of the study, a full three-quarters of the women told researchers that they were at "no or low risk for HIV infection" despite reams of evidence to the contrary. "We have a lot more to learn about how women in these settings perceive and react to risk," Mastro says.
Here in the United States, clinicians and public health officials are buoyed by the evidence that Truvada is safe and, better yet, effective. In May, an expert panel convened by the Food and Drug Administration formally recommended that Truvada be approved for use as a prophylactic, preventative medication against HIV. (Doctors are already able to prescribe it "off-label" as such, but an annual course can cost upwards of $11,000.) The FDA will make a final ruling in September; if it agrees with the panel, Truvada will be the first drug of its kind.
Dr. Anthony Fauci, director of infectious diseases and allergies at the National Institutes of Health, and who was not involved with the NEJM trials, echoed the researchers' optimism -- and caution. "Biologically you know it works," he said. "But there's a big chasm between 'biologically working' and actually having people in the real world use it." Critics, including a vocal few at the AIDS Healthcare Foundation, worry that a preventative drug will encourage users to engage in riskier sex -- to not use condoms, or to forgo conversations about their partner's status. "Let's be really clear," Dr. Michael Horberg, director of HIV and AIDS for Kaiser Permanente in California, told Reuters in 2011. "The use of this medication is not a license for unsafe sex and it's not a Saturday night special."
There are similar fears that Truvada will lead to drug-resistant forms of HIV if used incorrectly. "It's really going to be important that people run good quality programs," says FHI 360's Tim Mastro. "We've learned from other infectious diseases that a poor quality program is worse than no program at all. We know that from tuberculosis. If you're treating people with TB and you do a sloppy job, you'll encourage drug resistance and you won't control the disease. We can see similar things with HIV."
The concern is a real one. But at this juncture, 30 years on and still without a cure, no way forward is without risk. Truvada is a corner piece -- important but solitary -- in a very complex, yet unfinished puzzle.