How Bad Is London's Smog for Olympic Athletes?
An ongoing heat wave has British officials sounding the alarm over London's bad air quality.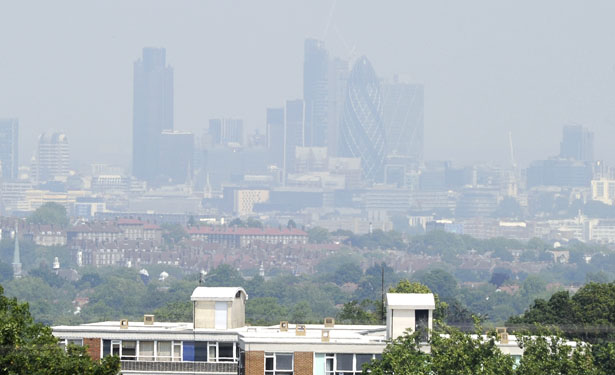 A smoggy haze covers London's financial district, which in 2010 breached government air quality objectives by recording excessive pollution levels over 36 days that year. (Paul Hackett/Reuters)
On the eve of the 2012 Olympic Games, London is being gripped by a massive heat wave that has health officials concerned about athletes and visitors alike. According to top air-quality watchdogs at King's College London, high temperatures are making any ambient pollution even worse for people's health. The situation's so bad, the city has issued an official warning urging people to caution -- something it hasn't been legally bound to do since the last major heatwave, six years ago.
Could air pollution wind up affecting Olympians in competition? That was a big question for athletes in the last Summer Games, when Beijing was covered in gray smog right up until the opening ceremony.
The good news is, London is a major improvement over Beijing for the soot and other particulate matter floating in the air. Measurements show that Beijing had more than three times the amount of large airborne particles in the run-up to the Games than London did in all of 2011. Here's how London stacks up against other recent Olympic host cities: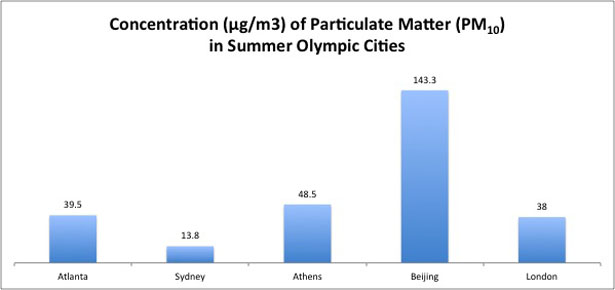 These measurements were taken one month before the Games began at each site -- all except for London, whose number reflects the yearly average for 2011.
The bad news is, particulate matter is only one measure of air pollution. Other contaminants can include ozone (O3), carbon monoxide (CO), sulphur dioxide (SO2), and other gases that are toxic to humans. Earlier this year, the King's College scientists discovered that levels of nitrogen dioxide (NO2) in London rivaled that of Beijing and were among the highest of any European capital in 2010.
While we've known that exposure to air pollutants is linked to increased mortality risk and cardiovascular disease over the long term, we don't know nearly as much about their acute effects on athletes. What we have learned shows at least the potential for poorer performance. Over the short term, breathing in particulate matter can limit the amount of physical exertion you're able to do. Other studies suggest that fine-grained particulate matter bumps up your blood pressure. Athletes with asthma, meanwhile, would be at greater risk of suffering a sudden attack.
As for the gaseous pollutants, even low levels of carbon monoxide could hinder competitors for the same reason that high levels of the stuff are so dangerous -- the substance interferes with your blood's ability to carry oxygen to the rest of your body. Ozone exposure has been shown to cause coughing, inflammation, and shortness of breath. Nitrogen dioxide inhalation has also been linked to similar pulmonary effects. None of these afflictions would help an Olympian in the race (or match, or game) of his life. And it isn't just that a competition in clean air offers athletes a more level playing field, either; over the long term, their exposure may also help determine how long they stay in the game.