Georgia's Doctors and the Ethics of Execution
The ethical dilemmas raised by Monday's execution of a mentally disabled man call attention to the role of doctors as executioners.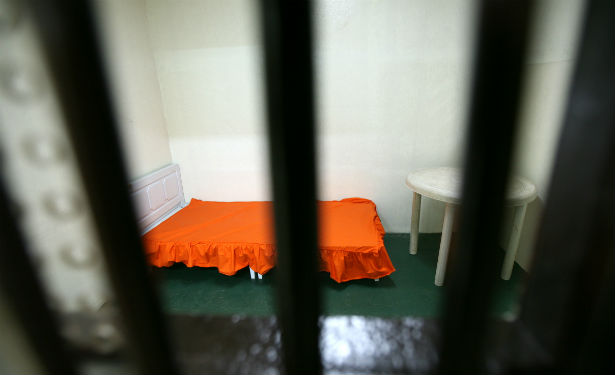 [Darren Whiteside/Reuters]
Despite
international human rights appeals
and a conflicting Supreme Court ruling, on Monday Georgia intends to execute a mentally disabled man convicted of two murders. When the lethal drug is pushed, the
Medical Association of Georgia
will be standing behind the doctor who will be making one of Georgia's most questionable executions possible. The medical association failed to enact its own membership ethics code for seven years and accredited the prison where the death will occur, leaving the organization morally linked to this grave moment.
Though the European Union has intentionally
created lethal injection drug shortages
as part of its strategy to cripple America's capacity for capital punishment, the Peach State has persevered past this pharmaceutical blockade and will instead employ a single agent, pentobarbital. Pentoparbital's lone use means a longer and more uncertain death for the condemned man, Warren Hill, who will drift into an ever-deepening coma under the auspices of Dr. Carlo Musso and his team of
team of doctors and nurses
from Rainbow Medical Associates. Rainbow Medical shares the
same address
and the same
key personnel
as
CorrectHealth
, Dr. Musso's contract correctional health care company which provides medical services to jails and prisons throughout Georgia. CorrectHealth personnel both mend prisoners and finish them off.
Doctors who participate in executions in Georgia and other states have
survived repeated challenges
to their medical licenses lodged by anti-death penalty activists. Capital punishment is legal, and death penalty states provide added immunity (and anonymity if desired) to cooperating medical personnel. Last summer the Southern Center for Human Rights decided to try another approach and
challenge Dr. Musso's importation of sodium thiopental
via Drug Enforcement Agency-unregulated back channels. Though the DEA seized Georgia's sodium thiopental supply, it appears nothing will come of SCHR's complaint to the medical board, likely due to the special immunity doctors participating in capital punishment receive.
While his medical license is safe, Dr. Musso is not a welcome character in the American Medical Association due to his violations of its
Principles of Medical Ethics
which specifically proscribe activities even indirectly associated with enacting capital punishment. Unethical conduct includes examining the condemned for mental fitness, selecting drugs and doses, starting IVs, reading EKGs, and pronouncing death. Dr. Musso and his team handle all technical aspects surrounding the procedure except for physically pushing the drug(s). There is no moral distinction in that omission, according to the AMA.
This attitude certainly fits with the experience of most doctors who are accustomed to seeing others physically carry out their orders. Though a number of press reports cite his AMA membership -- and even a 2010
Georgia state senate resolution
commending his career in correctional health states he's a member -- the AMA says otherwise. If he were on their membership rolls, the AMA would call a hearing that could lead to his suspension or expulsion.
Though AMA policy doesn't allow it to divulge the details of such proceedings, Dr. Musso himself disclosed that his AMA membership was under assault in
a 2006 interview
. "The use of a physician's clinical skill and judgment for purposes other than promoting an individual's health and welfare undermines a central ethical pillar of medicine - first, do no harm," said AMA president Dr. Jeremy Lazarus. "AMA members must remain dedicated to our ethical obligations that prohibit involvement in capital punishment."
After the last medical executionist signed off in 2004 in a wave of bad publicity and license challenges filed by anti-death penalty activists, Georgia was in need of someone new. State corrections officials asked physicians at Georgia Health Sciences University to assist with the lethal injection procedure, said university spokeswoman Jennifer Scott. The university already
provides most prison health care
. Physicians there, charged with training medical students and residents, pointed out that participation would violate their core professional ethics and jeopardize their standing in the profession. They respectfully declined.
Dr. Musso has scaffolded his own unique rationalizations around the issue. Personally, he is opposed to the death penalty. Capital punishment is just another terminal condition, he rationalizes. He joins in because he just wants to see it done right. That may very well be the case. Of note, though, doing it right does mean that his four staff members divide up an $18,000 payment for each procedure.
If Dr. Musso is indeed personally uncomfortable with capital punishment, he is probably especially tentative about contentious cases like that of the mentally disabled man scheduled to die on Monday night. But he and his team have followed through on their state contract since 2004 on quite a number of contested cases, including
Troy Davis
.
Dr. Musso may be willing to whittle down his own internal morality, but organized medicine doesn't have to submit to his logic. On a national level, medicine's covered. He's unwelcome in the AMA. But what about the Georgia state affiliate of the AMA, the Medical Association of Georgia (MAG)?
Dr. Musso's
company bio
touts his MAG membership, and MAG confirmed his active membership. Yet MAG adopted the AMA's ethics policy on capital punishment in 2005. Dr. Musso has been on the record assisting executions since that year as well, as first reported in the
Atlanta Journal Constitution
. Why has MAG stood behind Dr. Musso all these years? "MAG is not aware of any MAG members or Georgia Department of Corrections staff that are performing executions," MAG spokesperson Tom Kornegay said via email. I asked MAG to take
The Atlantic's
inquiries as official notice that Dr. Musso is involved in aspects of execution specifically disallowed in MAG's own policy.
In a tense conversation with MAG CEO Donald Palmisano Tuesday evening I requested that the organization distance itself from publicly known executionsists like Dr. Musso. Mr. Palmisano stood his ground. I've heard nothing more from the organization.
The Medical Association of Georgia is intertwined with Monday's execution in another way the organization has been unwilling to address this week: it
accredits the prison health care
at the Georgia Diagnostic and Classification Prison (GDCP) where Warren Hill will die in a medical procedure. The standard bearer of correctional health systems evaluation is the
National Commission on Correctional Health Care
. The NCCHC is the "
Joint Commission
" of the correctional health world, but they don't accredit a single Georgia prison, the NCCHC told me. Instead, MAG offers accreditation that's "consistent" with standards of the NCCHC, MAG's spokesperson told me. MAG was unwilling to state whether they accredit the GDCP, but Georgia Health Sciences University confirmed this information.
Perhaps MAG is unwilling to say more because the organization doesn't want to be unfairly linked to what medical staff do in that prison. But the link appears fair to me: the NCCHC itself is unwilling to accredit GDCP. I spoke to NCCHC Accreditation Compliance Specialist Mackenzie Bisset about it on Tuesday. Medical staff may not participate in executions, and "if a facility has medical personnel participating in executions they could not be accredited," Bisset said.
The Georgia Department of Corrections wouldn't talk this week, but a 2007 nursing magazine
depicts Dr. Musso and one of his nurse employees
providing care at the prison. MAG's NCCHC accreditation program appears to allow GDCP a way to provide accredited health care as required by the courts while maintaining its medicalized lethal injection regime.
As it stands, a member of the Medical Association of Georgia will provide his medical services as an execution specialist on Monday, just as he has publically acknowledged doing for the past seven years. This time his iatrogenically terminal patient is a mentally disabled man. MAG's seven-year-old ethics policy against doctors performing execution hasn't been enforced so far. MAG has an opportunity to declare that if Dr. Musso assists in Monday's execution, he'll be called in for a hearing and his membership may be revoked. By doing so, MAG will be issuing a statement to the world that Georgia's physicians will stand together to defend their profession's core ethical standards. Seven years of silence is enough.