Fat-free dressings make it more difficult for an important class of nutrients to make their way into your bloodstream.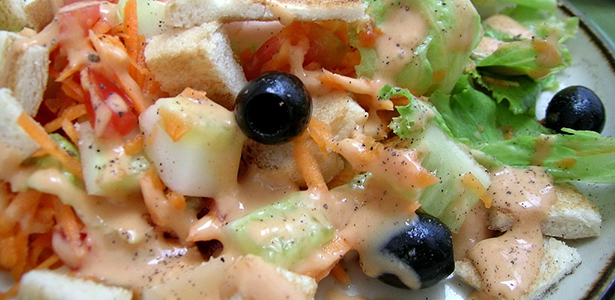 One reason people eat vegetable salads is because they are low in calories. Another reason is to reap the health-protecting benefits of the nutrients and phytochemicals found in those vegetables. Well, if you are not eating the right type of salad dressing, you may be cheating yourself out of some of that good nutrition.
Researchers at Purdue University fed 29 people salads that were topped with salad dressing made from three different types of fat: butter, a saturated fat; canola oil, a monounsaturated fat; or corn oil, a polyunsaturated fat. The amount of fat in the dressing was either three, eight, or 20 grams.
In order to get more from eating fruits and vegetables, they need to be paired correctly with fat-based dressings. While a salad with fat-free dressing is lower in calories, the absence of fat causes the loss of some of the benefits of eating vegetables.
---

MORE FROM THE DOCTOR WILL SEE YOU NOW
---
The subjects' blood levels of fat-soluble carotenoids were then tested, and the researchers found that dressings made from monounsaturated fat -rich dressings required the lowest amount of fat to get the most absorption of carotenoids. It took greater amounts of saturated and polyunsaturated fat salad dressings to get the same benefit.