Calm Down: Propecia Probably Isn't Causing Your Erectile Dysfunction
Last night's news was all about sexual dysfunction caused by the widely used hair loss drug, but the evidence is still thin. The small number of research subjects were recruited from a forum for people experiencing side effects.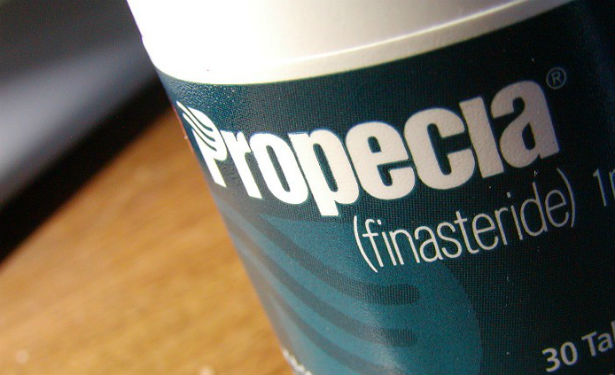 ~!/Flickr
If you tuned in to Brian Williams or Diane Sawyer last night, you probably caught the report claiming the mental and sexual side effects of Propecia, the most commonly used hair loss remedy for men, might be permanent. As MSNBC Nightly News concluded, "Now men... must decide if a full head of hair is worth the risk of sexual dysfunction."
Indeed, a dilemma.
Kevin Malley, who was featured on both programs, has found that he cannot possibly overstate the problems that his discontinued use of Propecia continues to cause him. He told ABC news, "Before, I would get up at eight in the morning, go to work, go to school, go to the gym, come home, have sex with my girlfriend. I had a lot of ambition, I had career goals," he said. "Now basically I just sit in my room all day and don't talk to anyone."
It's not that the study is the work of a hack. On the contraty, it's legitimate work coming out of George Washington University, and the researcher himself has openly acknowledged its limitations. But let's step back and take a look at what those limitations actually are.
First of all, only 54 men were surveyed, an extremely small population as compared to the millions of American men who are prescribed Propecia. Then there's the issue of how the subjects were recruited. According to the published journal article, most of the subjects were found through a site called PropeciaHelp.com, a forum for men who, like Malley, have taken the drug and claim to be experiencing side effects. Specifically those significant enough to take to the web with often dramatic first-person narratives of how "Post-Finasteride Syndrome" has destroyed their lives.
For a study like this to truly be conclusive, thousands of men, both on and off the drug, would need to be followed in a controlled, randomized, long-term study. Which should absolutely be done. Previous clinical trials have concluded that two percent of men experience some degree of sexual side effects from the drug. But for people who started taking the drug with that known risk, it's tough to say that this new report should change their reasoning.
It would seem that such risks, regardless of how small they might be, would not be worth the primarily cosmetic purposes of Propecia. But, not to be outdone by the anti-finasteride fanatics, the American Hair Loss Association reminds us, "Hair loss affects every aspect of the hair loss sufferer's life. It affects interpersonal relationships as well as the professional lives of those suffering."
If the millions of men who used Propecia became impotent, we'd have a serious crisis on our hands. But until stronger evidence is in, it's important to remember that stress can accelerate hair loss. So, worrying too much about this small report may just make things worse. While we wait for further studies, remember that there are many known, treatable causes of impotence that remain much more common than Propecia, so don't be too quick to chalk it up to the pill.