Are the Olympics in the Pocket of Big French Fry?
No chip for you!
That's what irate sports fans must have been thinking when the London 2012 organizing committee (LOCOG) bowed to pressure from U.S. fast food giant McDonald's over who could and couldn't serve chips -- fries, to us Yanks -- on Olympic grounds.
As a sponsor of the Games, McDonald's exerts an extraordinary amount of control over who serves what nosh. So much control, in fact, that other food vendors have been barred from selling french fries as a standalone item. McDonald's, which is expected to serve some 10 percent of all meals at the Games, has a lock on the french-fry business with exclusive rights to sell the stuff to spectators. The only time you'll be permitted to buy deep-fried sticks of potato from non-McDonald's outlets is with fish, as in "fish and chips":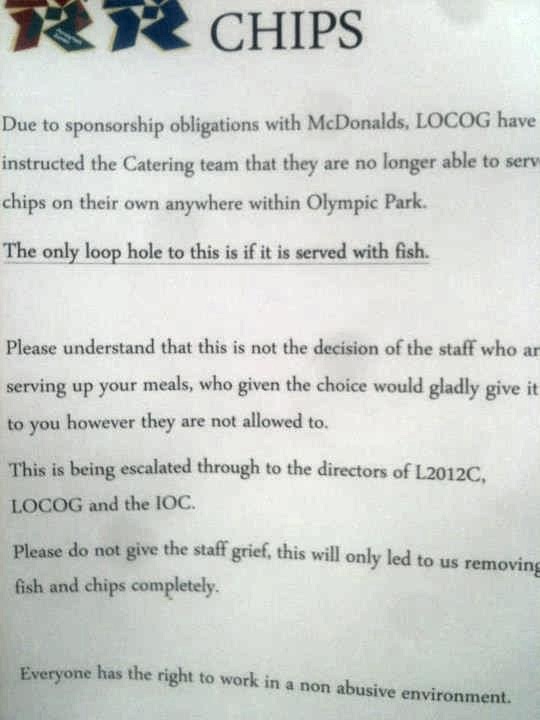 imgur
LOCOG officials say that what they're trying to do is set up an international food festival. In addition to fast food, the organizing committee plans to serve traditional British fare like Cornish pasties, Yorkshire pudding, and "bangers," as well as more international items like sushi, salt beef, and goat curry. Which makes it all the more ironic that McDonald's would hold the french fry -- a treat with universal appeal -- under lock and key. What about somebody who wants to sell poutine? Or steak frites?