A Christian Alternative to Health Insurance
Exempt from regulation, taxation, and the individual mandate, Christian collectives called health care sharing ministries are paying for the care of their neediest members -- if they approve of the morality of their needs.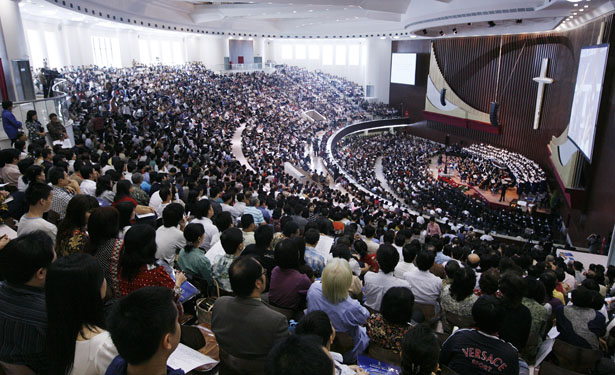 Enny Naruheni/Reuters
In 2006, Ray Carman's health insurance jumped from $600 to $1,000 a month. The reason? His first daughter was born five weeks premature. Though there were no complications during her birth, his daughter was dubbed "high risk" by his insurance company.
Carman, who is a real estate agent and auctioneer in Lafayette, TN, said the costs were simply too high. He began looking for alternatives.
A friend recommended he join a Christian health care sharing plan, a nonprofit in which members pay for each other's medical costs by agreeing to contribute a donation every month. After some research, he joined an organization called Medi-Share.
Since then, $50,000 of his family's medical costs have been taken care of. The care has ranged from an appendectomy, to health coverage for gall bladder complications and maternity costs associated with his wife's subsequent pregnancies and one miscarriage.
But to Carman and 140,000 others who have signed up for these ministries across the country, managing health costs is only part of the benefit. Patients receive notes in the mail or online from other members they have never met, but who share their beliefs, offering encouragement and prayer.
"A single mom diagnosed with breast cancer will not only be concerned about her medical bills, but also about her children and being confronted with mortality," said Tony Meggs, President and CEO of Medi-Share.
The ministries have been around for more than two decades as a creative approach to handling the growing costs of medical care. The largest players include Medi-Share, Samaritan Ministries International and Christian Healthcare Ministries. They market themselves as alternatives to health insurance, though they themselves are not insurance but nonprofits.
Christian Healthcare Ministries does not turn people away, cancel their membership or raise their monthly financial gift because of expensive illnesses, a spokeswoman said.
Medical costs are "shared," not pooled the way they are with insurance companies. Also, people can choose to leave the plan whenever they want. Members themselves vote on what medical procedures should be shared.
Medi-Share has the funds sent to a bank account, then distributed. Everything is done digitally, so members log on to see where their money is going. In the case of Samaritan Ministries, members receive a letter in the mail telling them to send a check to a specific member in need each month.
***
Exemptions from state and federal law
As nonprofits, health care sharing ministries aren't required to follow the same state and federal regulations as health insurance companies.
The Affordable Care Act has a section that exempts members of health care sharing ministries from purchasing insurance. The Amish, Mennonite, and Indian tribe communities also are exempt from the penalty that will be incurred on Americans who fail to purchase health insurance by 2014. Since the law was passed in 2010, membership for Medi-Share and Samaritan Ministries has risen by about 40 percent.
Christian health sharing ministries are largely unregulated, except by themselves. This means members cannot go to an insurance commissioner with a complaint, rates aren't reviewed by an independent regulator, and there is no way to ensure they are following anti-discrimination laws.
Rich Roesler, a spokesman from the insurance commissioner's office in Washington state, stressed members should continue to be aware of what they are paying for.
"They need to know what they're getting and what they're not getting," Roesler said. "One thing they are not getting is the same consumer protections as others."
In Kentucky, a 10-year legal battle has persisted with Medi-Share. The commonwealth's Supreme Court ruled in 2010 that the organization was considered insurance because it shifted risks from one person to another and used an intermediary to distribute the funds. This year the department of insurance has requested Medi-Share be held in contempt for the unauthorized sale of insurance.
A spokeswoman from the insurance commissioner's office said she hoped the case would be heard next month. Meggs said he was confident the judge would see that the organization had changed the way it distributed funding since 2010.
***
What's covered and who qualifies
Christian health sharing ministries aren't for everyone. Members have to follow biblical principles of behavior, including abstaining from drugs or tobacco products, staying away from alcohol abuse and keeping sex within the confines of marriage. They must make a profession of their faith and attend a church regularly. In the cases of families, if a teenager were to become pregnant or get a sexually transmitted infection, the associated medical costs would not be shared.
Meggs admits the plans are not right for everyone. "There is a statement of faith and lifestyle that you have to abide by," he said. "Some people have an affinity toward these principles and others are not a good fit."
But for those who share these convictions, being a member also can have some health benefits. In the case of Medi-Share, if someone wants to join but is obese, the organization will provide that person with a health coach to work with over several months. The organization has committed to this during the past decade because they have seen dramatic decreases in heart disease and diabetes, Meggs said. They also have a smoking cessation program.
Members are expected to budget certain costs themselves. Though they will share in expensive treatments, emergency care and surgery, patients must pay for their own routine medical visits, such as going to checkups or seeing a doctor for a cold. Those with persistent mental health conditions, who need expensive prescriptions and therapy, would likely not see much benefit from becoming a member.
Many said they did not see budgeting as a problem, because the low membership costs allowed them room to save for routine health care. Medi-Share, for instance, costs families an average of $282 per month. Christian Healthcare Ministries costs individuals $150 per month.
Karen Grossman, a member of Samaritan Ministries who lives in Annapolis, MD, said her family thinks twice about going to the doctor. The ministry doesn't typically share in dental work, but she was able to send a special request and received some checks from members to help alleviate costs.
James Landsberry, executive vice president of Samaritan Ministries and President of the Alliance of Health Sharing Ministries, said, "People tend to choose us based on not just their convictions, but also on price. The more expensive insurance becomes, the more viable option this is."
Samaritan conducts less oversight of its members than Medi-Share. People have to abide by certain lifestyle principles, but their weight is not taken into account when they apply.
"Our goal is to work together to bear one another's burdens and we work to meet as many needs as we can," Landsberry said.
Many members work in ministries. Todd Bright left his position as CEO of Lifestyle Family Fitness in 2008 to join Kingdom Building Ministries, which teaches Christian principles in the workplace. He soon realized that his new health insurance costs were too high -- he was paying $1,100 a month for his family, in addition to a $6,000 deductible. He and his wife have six children, but over three years they incurred only $1,000 in medical bills. "That's when it dawned on me: 'What am I doing?'" he said. He became a member of Medi-Share this year and has seen significant financial savings.
Yvonne Mitto of Windsor, CT, joined Medi-Share in 2010 when she began working for Compass, a ministry that teaches Christians biblical principles in handling their finances. Her new job didn't provide insurance, so she and her family joined Medi-Share. Since then, the members have shared $9,500 of her family's medical bills, including costs of a sinus surgery and a soccer injury her son sustained.
"It's more than health care," she said. "It's really a community sharing."