2 New Reports on Pesticides in Foods, From Different Perspectives
It's hard to know if the small doses of pesticides we receive from fruits and vegetables are harmful.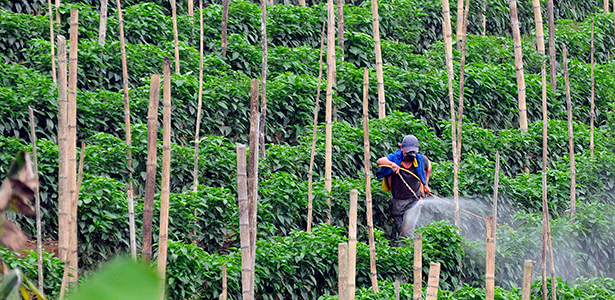 CIAT International Center for Tropical Agriculture/
Flickr
It's hard to know what to say or do about pesticides in foods. They are there and cannot easily be avoided.
Are they harmful in the small doses found on foods? Convincing studies one way or the other are hard to do.
The Alliance for Food and Farming is an industry group with a stated mission "to deliver credible information to consumers about the safety of all fruits and vegetables."
Its new report is called "Scared Fat." It reassures you that pesticides on fruits and veggies do no harm, so relax.
The Maryland Pesticide Network and the Johns Hopkins Center for a Livable Future take a precautionary approach: whenever possible, avoid.
They have produced Best Management Practices Guide for Mimimizing or Eliminating Use of Pesticides for homeowners, farmers, property managers who want to do just that or at least minimize use of these chemicals.
If you prefer to avoid, take a look.

This post originally appeared on Food Politics, an Atlantic partner site.