You're Overtired Because You're Overweight
New research finds that obesity and depression are actually the leading reasons we're yawning incessantly while we're awake.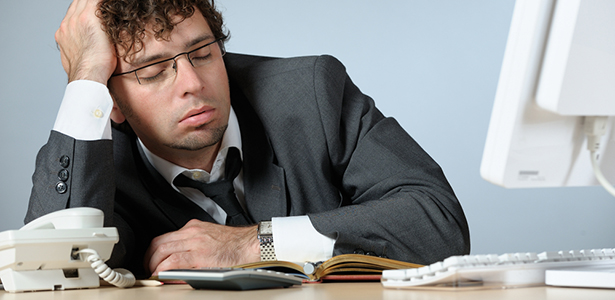 Timurpix/Shutterstock
PROBLEM: Though excessive daytime sleepiness or EDS is rampant and tied to morbidity and occupational hazards, no longitudinal study has examined the factors that could lead to this condition.
METHODOLOGY: Penn State researchers led by Alexandros Vgontzas examined a random population sample of 1,741 adults, 222 of whom suffered from EDS at the start of the study. They conducted a sleep diagnostic test called polysomnography at baseline and again after 7.5 years.
RESULTS: Obesity and depression were the strongest risk factors for subjects who acquired EDS during the study period, while weight gain was the strongest predictor for those whose sleep problems persisted from the beginning. Interestingly, the participants who lost weight were also more likely to go into remission.
CONCLUSION: Putting on the pounds may cause excessive sleepiness during the day. Shedding them may help people stay alert while awake.
IMPLICATION: Since the sleepiness epidemic parallels the obesity epidemic, getting in shape should be our priority to help prevent the medical complications and public safety dangers associated with EDS.
SOURCE: The full study, "Persistence of Excessive Daytime Sleepiness in the General Population: The Role of Weight Gain," was presented in Boston at SLEEP 2012, the 26th annual meeting of the Associated Professional Sleep Societies.