What Medicine Can Learn From Team Sports and Systems Science
Good healthcare is all about working together.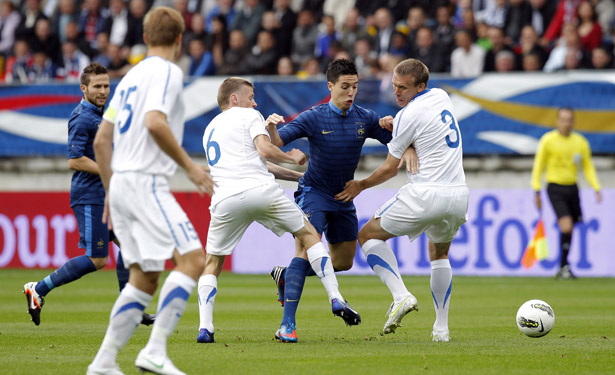 Stephane Mahe/Reuters
The drama and speculation surrounding the Affordable Care Act may well be distracting us from recognizing the front-line changes happening now--a wealth of innovative activity in communities across the country that are changing behavior on the ground and setting a new course for the future.
Despite the intensity of public conversation, there is wide acknowledgment at the grass roots of four major systemic challenges.
First, coordination: health care delivery is a team sport, and being better at combining both professionals and paraprofessionals--physicians, nurses, therapists, health aides, the people at the front desk, and myriad others--into high-performance teams can create the potential for better quality and more efficiency. Applying the same integrative concept to organizations--linking primary care with hospital, post-acute, and community-based care--provides the continuity that is now largely missing. Whether the terms are "medical homes," "accountable care organizations," or "health homes," or "coordinated care" for dual Medicare/Medicaid beneficiaries, the capacity to take responsibility for the totality of care is a key area of improvement.
Solving the nation's most entrenched problems
See full coverage
Second, payment: There's near-universal agreement that paying a fee for each service is outmoded and counterproductive. Medicare moved to prospective payment for hospital admissions three decades ago. Whether we add a per-patient management fee in primary care, combine or bundle related hospital services, or provide full capitation to provider organizations, the idea that payment change should support service delivery change is taking hold. Payment arrangements, including private insurance contracts, can even incentivize and reward improved performance.
Third, health information technology: we may finally be phasing out the "here, fill this out" clipboard that begins most medical encounters. Clinicians can now have total access to each others' insights; the care and outcomes of a patient population--of a medical practice, an integrated system, or a community--can be compared against both experience and expectation. Patients who need special attention can be targeted to get it.
Fourth, patient engagement: the epidemics of obesity, diabetes, and hypertension remind us that, amidst our medical marvels, our population's health is deteriorating. While a genuine change in the human condition requires broad-based attention to our food economy, income disparity, early childhood behaviors, and more, it is critical that the health care community consistently utilize emerging capacities for supporting patients themselves in efforts to alter these trends.
Day after day, in community after community, ingenuity has now taken the ball from theory. More and more we are providing care by teams; we're changing payment systems to shift both risk and responsibility to providers; we're exploiting the information technology investments we are making to ensure meaningful use of electronic records; and we are reaching patients and supporting healthier behaviors in new ways. It's not just about mandates but about demonstrating, through transparent information on performance and outcomes, that a better approach will serve patients, providers, and payers well--well enough that they will adapt innovation as mainstream practice.
What is critical now is not a further meditation on theory but allowing the development of  the infrastructure needed to make a better-performing health care system reality, region by region. Budget debates will continue to be fierce. But cuts in resources need to be tempered by investment in these new forms of service delivery and payment; we can achieve long-term savings, but not by drastic constraints on short-term resources.
Grass-roots changes, in all their diverse manifestations, are already in play. The next three years should be about nurturing and expanding them.