Video: This Amazing Image Filter Lets Doctors See Under Your Skin
A remarkable new project is capable of magnifying tiny movements in human physiology, like heartbeats, blood flow, and breathing.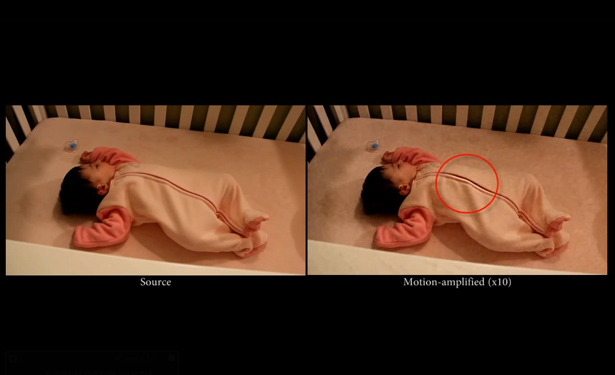 Massachusetts Institute of Technology
It's like a magnifying glass for video: a special image processing filter designed by MIT researchers that lets you see body functions the human eye is too weak to pick up.
From monitoring a baby's breathing to detecting a person's pulse through their skin, the new technology could have far-reaching applications. It's called Eulerian Video Magnification, and it's incredible, reports Talking Points Memo's Carl Franzen:
The system works by selectively amplifying color variation between pixels in the video footage. It can also be applied to a still camera if the images are taken shortly after one another, on "burst" mode.

[...]

"After getting it to work for visualizing the human pulse, we then realized we could also amplify motion signals using a very similar technique," the researchers explained. "We noticed motion amplifications in our amplified human pulse signal, so we went back to understand that, and then figured out how to control and exploit it."
The MIT project has a grant from the Pentagon and also enjoys support from the computer graphics giant, Nvidia.
Watch: