Thanks, Walgreens: Free HIV/AIDS Tests Are Coming to a Pharmacy Near You
The national drug retailer is teaming up with the CDC on a two-year pilot project.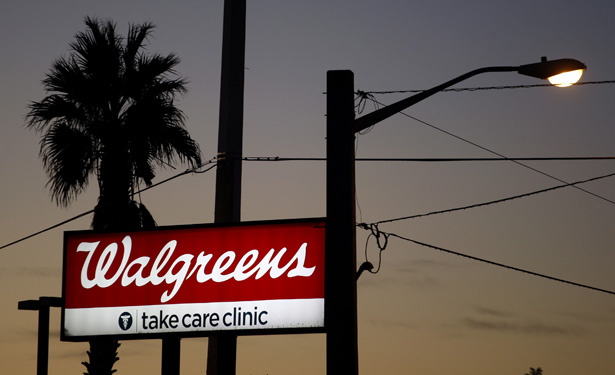 A Walgreens sign in Florida (Carlos Barria/Reuters)
If you haven't heard, today is National HIV Testing Day. To mark the occasion, the nation's largest pharmacy chain, Walgreen Co., is kicking off a two-year pilot program to make HIV tests freely available to the public in its walk-in clinics.
So far, the tests are only available in three locations -- Chicago, Washington, D.C., and Lithonia, Georgia -- but the project, which is being backed by $1.2 million from the Centers for Disease Control, is set to spread. By the end of the summer, Americans from Oakland, California to Billings, Montana and 17 other locations will be able to get themselves tested for no charge at their local pharmacies. Four other drug retailers also plan to get in on the act.
Not only will the tests be free -- they'll be quick, said Jonathan Mermin, the director of the CDC's Division of HIV/AIDS Prevention. Visitors will be asked to give a saliva sample and should have results back within 20 minutes.
"Our goal is to make HIV testing as routine as a blood pressure check," said Mermin. "This initiative is one example of how we can make testing routine and help identify the hundreds of thousands of Americans who are unaware that they are infected."
The CDC believes 1.1 million Americans are HIV-positive, but as many as one-fifth of them don't know they've contracted the virus. Testing for HIV has come a long way in recent years -- what used to take days or weeks can now be accomplished in under an hour. Of course, a positive test result will still mean a battery of follow-up tests and possible treatment. Walgreens clinics that discover positives will refer the patient to local doctors.
If you've been meaning to get tested but haven't had the time or didn't want to front the cost, now's your chance.