Testosterone Decline Isn't a Necessary Part of Aging
Scientists used to think drops in the male sex hormone were simply a normal part of the aging process. Now they're rethinking that hypothesis.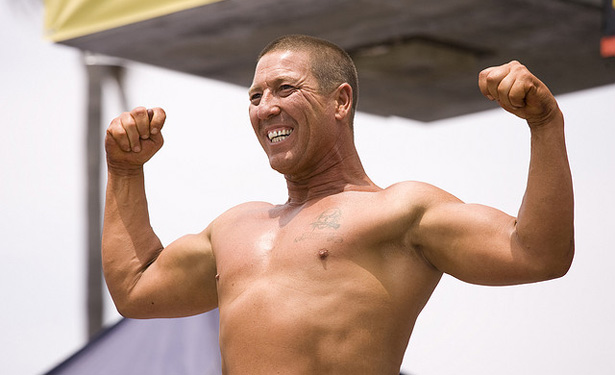 RightIndex/Flickr
We know this much: that as men age, their testosterone levels tend to drop. We've largely taken the observation to mean that aging leads to a natural decline in the sex hormone. Yet there's little evidence to prove anything beyond a coincidental relationship between age and testosterone loss. It's a hypothesis the medical establishment merely accepted as truth over time.
Now, new research suggests a decline in testosterone levels doesn't have to be a fact of life. Instead, it may be the product of lifestyle choices you make as an adult.
In a study of 1,382 men, Australian researchers discovered that individuals with certain traits and habits wound up with lower testosterone levels than their peers. Those with chronic health problems in particular were more likely to see greater declines in the hormone. Participating men in the study ranged from 35 to 80 years of age, and the average age was 54.
The study subjects were tested for blood testosterone at the beginning and at the end of a five-year study period. The passage of time evidently had very little effect on the sample population in the aggregate; on average, testosterone levels declined about one percent per year. But when the researchers examined test subjects in groups, they found greater declines among those who, at either end of the study, had been obese, depressed, or had quit smoking. What this suggests is that the aging process may have only a marginal role to play in the testosterone decline observed in older men.
"Declining testosterone levels are not a natural part of aging," said Gary Wittert, a professor of medicine at the University of Adelaide and a co-author of the study. "They are most likely due to health-related behaviors or health status itself."
Wittert's research still doesn't explain why older men have less testosterone -- just that there's little basis to assume a causal relationship between age and hormone decline. The findings could simply be a function of obesity's greater prevalence among middle-aged men, for instance. Nor does it shed much light on why these factors and not others appear to be predictors for low testosterone.
Indeed, other life-changing events have also been shown to affect men's testosterone levels. Researchers at Northwestern University last year found that new dads experienced a median drop in testosterone of as much as 34 percent. But Wittert's study is one of the few to examine men in general over any lengthy period of time, he said. The results of his team's work was presented at a meeting of The Endocrine Society in Houston today.