Preliminary findings by USC researchers suggest that, the more we indulge in sweets, the more we can't live without them.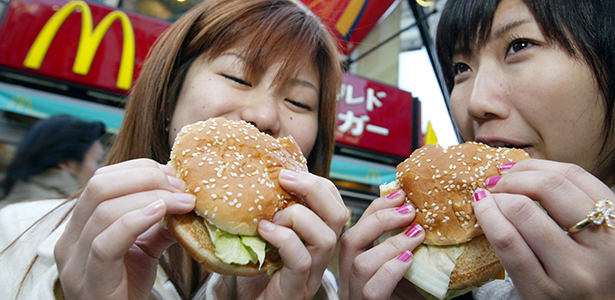 Eriko Sugita/Reuters
PROBLEM: Though previous studies have predictably shown that food advertisements make people think of eating, little research has been done to understand how the brain responds to such visual cues and what feelings they elicit.
METHODOLOGY: University of Southern California researchers led by Kathleen Page used functional magnetic resonance imaging to measure the neurological responses of 13 obese, Hispanic women ages 15 to 25 and see if food reminders trigger hunger and cravings. They chose women for their known responsiveness to food cues and Hispanics because of the high risk of obesity and type 2 diabetes in their community.
RESULTS: Viewing images of high-fat food items stimulated the appetite and reward centers in the respondents' brains. Interestingly, taking in glucose and fructose through sweetened drinks while inspecting the pictures also led to a desire for savory foods.
CONCLUSION: Looking at calorie-rich food or consuming sugary drinks prompts people to crave fattening food.