Study of the Day: 11% of Women Over 50 Have Had an Eating Disorder
New research shows that women ages 50 and above aren't immune from the body dissatisfaction and weight issues that are often only associated with young girls.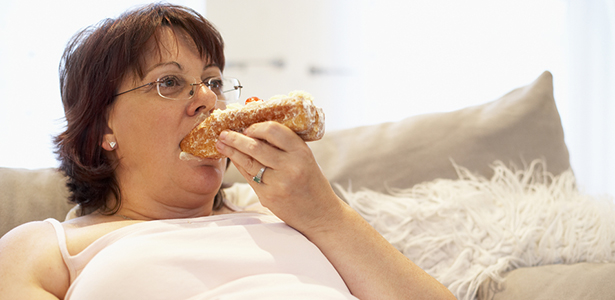 Monkey Business Images/Shutterstock
PROBLEM: Since many assume women eventually grow to accept their bodies and get over their weight troubles, little research exists on the eating behavior and attitudes of women in midlife to older adulthood.
METHODOLOGY: Researchers led by Cynthia Bulik conducted an online survey with 1,849 women in the U.S. to characterize the bodily behaviors and concerns of women ages 50 and above. More than a quarter of the respondents were obese, 29 percent were overweight, 42 percent were of normal weight, and two percent were underweight.
RESULTS: Eating disorder symptoms, body checking behaviors, and weight and shape concerns were common among the participants. About eight percent of women reported purging in the last five years and 3.5 percent reported binge eating in the last month. These unhealthy behaviors, which also involved diet pills, excessive exercise, diuretics, laxatives, and vomiting, were most prevalent in women in their early 50s, but also occurred in women over 75.
Two-thirds of the subjects also shared that they were unhappy with their overall appearance. More than 70 percent said they were trying to lose weight. About 62 percent said that their weight or shape negatively affected their life, 79 percent said that it influenced their self-perception, and 64 percent said that they thought about this issue daily.
CONCLUSION: Women's weight and eating concerns do not discriminate based on age, says Bulik in a statement. "Healthcare providers should remain alert for eating disorder symptoms and weight and shape concerns that may adversely influence women's physical and psychological wellbeing as they mature."
SOURCE: The full study, "Eating Disorder Symptoms and Weight and Shape Concerns in a Large Web-Based Convenience Sample of Women Ages 50 and Above: Results of the Gender and Body Image Study," is published in the International Journal of Eating Disorders.