Q&A: The Culture of Medicine Runs on People Power, Not Tech
Improving global health isn't just about increasing access to tools or technology -- it's cultivating the right kind of people that matters most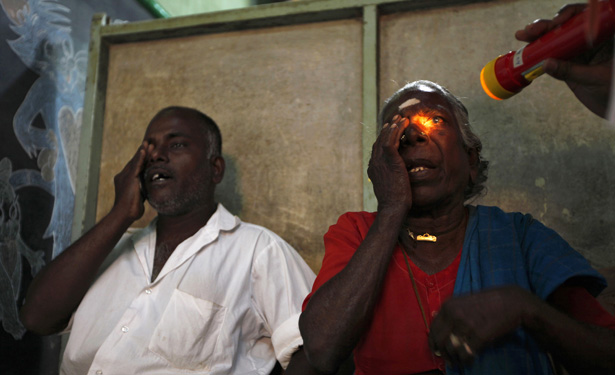 Villagers undergo eye examinations at a camp organised by Aravind Eye Care System in a village outside Madurai, India. (Reinhard Krause/Reuters)
One of the stars in the global health community, especially when the topic turns to affordability of care, is the Aravind Eye Hospital in South India. Founded by Dr. Govindappa Venkataswamy ("Dr. V") in 1976, the Aravind group of hospitals and clinics is renowned for performing hundreds of thousands of sight-restoring eye surgeries each year. The organization has effectively turned certain ophthalmological procedures into assembly line operations, thus delivering fast, high-quality surgeries at a low cost. Surgery to treat cataracts, for example, costs less than US$20 for patients who can afford it; patients who can't afford the fee are fully subsidized by those who pay. In the United States, the same procedure can cost several thousand dollars.
As a result, Aravind is frequently praised not only in discussions of global health, but also when the topic turns to for-profit social enterprise -- businesses that have a social cause. As economies slow worldwide, the international development community has turned to social enterprises as an alternative to donor-funded programs. The reasoning goes that if philanthropic largesse can't be counted on during times of economic austerity, public services must be run on a for-profit model. Fans often suggest that Aravind's methodology could be applied to primary care, or that the model should be exported to the developed world, which is itself struggling with the costs of healthcare.
Our annual guide to the modest ideas that can change the world
See full coverage
The "model," however, is not so easy to duplicate in part because it depends on hard-to-measure qualities that stump technocrats. At the Pacific Health Summit in London two weeks ago, where the theme was technology and affordability, I spoke with Aravind's chief medical officer, Dr. Rengaraj Venkatesh.
KT: How long have you been on the staff at Aravind Eye Hospital, and what is your current role there?
RV: I started at Aravind from almost the beginning as a medical intern. I was drawn to the mission and have remained there ever since, working my way up as a surgeon and medical officer. Today, as chief medical officer, my role is to supervise the training and operations of our medical staff. We have 45 ophthalmologists, 300 nurses, and an array of other staff who support the doctors and nurses. Because of the time we have invested in process and management, most things run themselves on a day-to-day basis. I'm usually called in to handle unusual situations and emergencies. I also continue to perform 60 surgeries a week.
KT: Given the success of Aravind's approach, many people are eager to see it expanded: to other parts of India, to other developing regions, to other areas of medicine, and even to the developed world. What has Aravind done along these lines?
RV: We are always very happy to share our approach with others. There are now successful eye hospitals in Malawi and Nigeria, for example, that we have helped to set up, and a team from the United States is trying to adapt the model there.
But, there are no guarantees. For example, I spent time in the Democratic Republic of Congo, where there was both budget and high-level political commitment to set up a hospital. We were able to get a facility running, but its performance faded as soon as we left. Although we were able to replicate the processes, we were not able to replicate the culture of Aravind in the time we had there.
KT: The international development community eagerly looks to affordable technologies and processes as a means to scale up effective solutions, and Aravind is frequently held out as a case study. But your experience suggests that something more than technology and process is required.
RV: Yes, I think it's critical that the right spirit is there. The core staff at Aravind -- the roughly twelve of us who have been with Dr. V and his family from nearly the beginning -- are committed to the mission of eliminating preventable blindness. We do everything to instill this spirit in the rest of the staff, and to a great extent, our success depends on how well we do that. It's not enough to have the right systems in place if the people aren't committed to the mission.
Our doctors sometimes complain that they are being exploited at Aravind -- we ask them to work 10 hours a day, six days a week, and they are frequently asked to take on special assignments beyond that. But, they also gain a lot as well. In fact, when I meet doctors who have been through our fellowship program but have subsequently left us, they reminisce fondly about what they learned at Aravind.
Our staff is dedicated. Sometimes, we ask them to arrive at 5:30 a.m. for a long day of patient screenings or procedures, and they will all be there at 5 a.m. That spirit is something we work hard to transfer elsewhere, but it is the part that is least amenable to rapid scale. The technology is easy to set up, and our processes can be quickly replicated, but the spirit either has to be there or nurtured over years under dedicated management. Even with our own staff, it is a continual challenge to invest each generation with the right spirit.
The importance of the right spirit is noted even by hard-nosed observers of Aravind who have visited the main hospital in the hopes of taking home lessons of efficiency and innovation. In their book Infinite Vision, authors Pavithra K. Mehta and Suchitra Shenoy quote person after person emphasizing the intangibles. David Roe, a lawyer working with physicians to attempt a related eye-care facility in San Francisco, says, "I learned that it's an attitude, more than just the techniques or the business model." Fred Munson, a professor of hospital administration says, "you might say it only works if people who care deeply about improving the human condition are the ones who are implementing it."
As to how one might end up with people who have the positive intentions and high motivation, I'll leave the last word to Dr. V, as quoted by Mehta and Shenoy: "you don't just find people, you have to build them."