Doctors, Practice What You Preach
"Do as I say, not as I do" just doesn't work in medicine.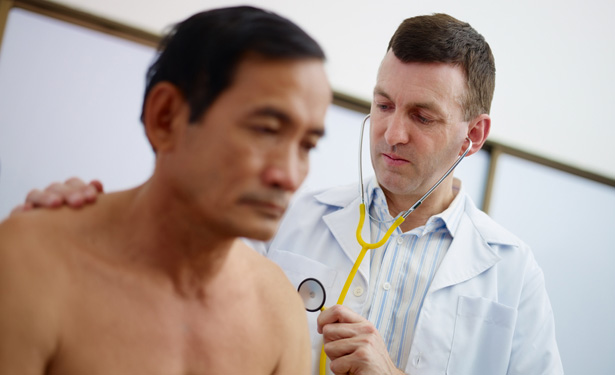 The old adage, "Do as I say, not as I do," has never worked terribly well for parents, politicians or physicians. Not surprisingly, patients treated by doctors, nurses and other healthcare providers who are overweight and stressed out--even smoking--may say to themselves that a healthy lifestyle is just too hard--"If they can't do it, how can I?"
To combat this problem, two Johns Hopkins medical students recently launched a grassroots campaign to urge fellow medical and nursing students, as well as practicing clinicians, to practice what they should be preaching.  They want healthcare professionals to sign The Patient Promise, a personal--and public--commitment "to lead by example and practice healthy lifestyle behaviors comparable to those I would ask of my patient."
"Lots of healthcare professionals, including us, become too stressed and inactive and busy to keep up our end of the bargain. Eventually we would not be good role models for our patients," said 23-year-old Shiv Gaglani, who is completing his first year of med school. "If we can't make changes in our own lives, how can we expect patients to do the same? So much of health care spending and disease burden in society is due to things that could largely be prevented by stopping smoking, losing weight, exercising 30 minutes a day, and reducing stress," he added.
The idea for the Patient Promise project came mid-year, when Gaglani and another Hopkins first-year student, David Gatz, were taking a course on obesity, starting to work with patients in clinics, and studying with faculty who had done research connecting clinician health with patient health. "We want to make patients healthier by making clinicians healthier," says Gatz.
There's ample evidence that the way doctors look, feel and behave may affect the way they treat and advise their patients.  Studies have shown that many doctors and nurses fail to promote healthy behaviors in their patients, particularly if they are themselves poor health role models with unhealthy eating and exercise patterns, as well as stressful lives. The converse is also true: research suggests that if clinicians are healthier, they are more likely to talk with their patients about lifestyle choices and patients in turn may feel more comfortable getting and following their advice.
A recent Hopkins study found, for example, that normal weight doctors are more likely to counsel their patients about obesity, body mass index (BMI, a measure of obesity), and weight loss than those who are themselves overweight. Gatz and Gaglani were "shocked" to learn that, despite their knowledge of the dangers of chronic disease killers from unhealthy lifestyles, roughly 6 in 10 doctors and nurses today are overweight or obese, a level approaching that in the general population.
Since the launch at Hopkins last week (see the video), more than 300 students and clinicians have signed the pledge. The Hopkins organizers hope to get thousands of clinicians to  commit to living healthier lifestyles themselves, to partner with patients in encouraging healthier behavior, and to avoid stigmatizing those who are overweight or obese. Their website lists the signatories, so it is easy to check and see who is on board. And participants can sign up for email reminders about their health goals.
"It makes you accountable to your peers and patients," said Gaglani, who admitted that he had been overweight earlier in his life and had gained the proverbial 10 pounds in the first few months of med school. So, amidst the busy pace of his Hopkins' med school life (I interviewed him by cell phone while he was on a public bus), he's found time to start running and yoga groups with fellow students. At Hopkins, they have offered incentives such as free or discounted gym memberships.
Med school itself can be a risk factor for poor health habits, given the long hours and stressful schedule, with little time for healthy meals. A 2006 study found that by the end of med school, student were less interested in nutrition counseling of their patients than they were when they started. However, those with healthier eating habits and personal physicians who encouraged prevention were more interested in nutrition counseling than their peers. Another study found that students at medical schools that encouraged healthy habits among their student body were more likely to counsel their patients about prevention.
The Hopkins students are taking their new campaign to the annual American Medical Association meeting in Chicago this week, where they plan to reach out to medical students at other universities and hand out lapel pins to be worn on the traditional doctors' white coats. They hope to get the word out through Facebook and other social media tools.
Some cynics might consider the Patient Promise a bit too idealistic, even unrealistic--a medical version of the Boy Scout oath "to help other people at all times (and) keep myself physically strong, mentally awake and morally straight."  But for the Hopkins students, it's a bit more like upholding the Hippocratic Oath (their website motto is "Hippocrates not hypocrisy") or following the inspirational advice of Nobel Peace Prize-winning physician Albert Schweitzer: "Example is not the main thing in influencing others. It is the only thing."
Gaglani and Gatz note that the dramatic decline in smoking rates over the past 50 years is a good precedent for favorably changing doctors' behavior ahead of the general population. About half of physicians smoked in the 1950s, but by the 1980s--when Gaglani's generation was born--the rate had dropped to less than 20 percent. Today, about 3 percent of physicians smoke (smoking rates are still higher among nurses) compared to about 20 percent of adult Americans.
"In the culture of healthcare, being a smoker became unacceptable. Clinicians who stopped smoking were able to practice what they preached. They knew what it took to quit and help patients get over the hump," said Gaglani. "In a way, obesity and inactivity are the new smoking for clinicians."
Unhealthy lifestyles contribute to chronic diseases such as heart disease, cancer and diabetes that are the major causes of death and disability in the U.S., with about 170 million Americans overweight or obese.
The Patient Promise, developed by the Hopkins medical school class of 2015 in conjunction with faculty advisors, provides a personal checklist for current and future health practitioners:
I will engage in regular physical activity.
I will consume a balanced and nutritious diet.
I will refrain from the use of harmful substances.
I will diminish personal stressors and look after my mental well-being.
I will encourage my patient to adopt these healthy lifestyle behaviors. 
I will work alongside my patient as a partner in this journey.
I will identify and guard myself from potential prejudices against my patient based on unhealthy behaviors, recognizing the often complex origins of these habits.
I will respect and seek to understand the beliefs and traditions of my patient that affect his or her health.
I will do my part to promote healthy lifestyle behaviors within my community.
Patients might want to ask their own doctors if they have signed up yet.