Crowdfunding Nutrition: Using Kickstarter to Make Kids Healthier
Can the popular startup make a dent in nutrition education? One school finds it more difficult than expected.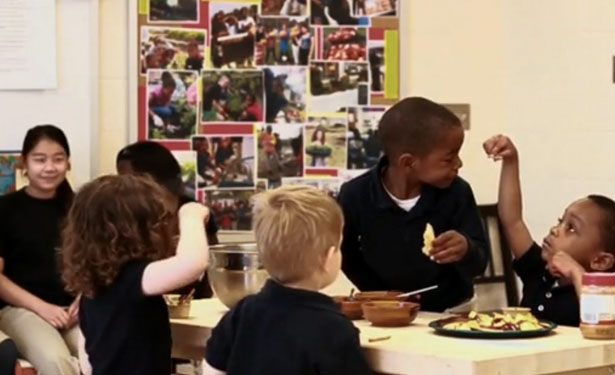 Kristy McCarron/Kickstarter
Childhood nutrition and anti-obesity campaigns are a hot topic these days. Gardens and cooking classes are in demand in schools around the country.
But how much would you, personally, be willing to shell out of pocket to help our nation's kids eat healthier? In a time of tight purse strings, several schools are asking that question with the help of the popular crowd-funding site, Kickstarter.
"My name is Kristy McCarron, and this is where I spend my day off," a young woman's voice tells us in the intro video of one Kickstarter campaign. She's referring to a classroom at Walker Jones elementary school in Washington, D.C., where she teaches kids about food -- where it comes from, why it's good for them, and how to cook it, too.
McCarron is now trying to raise $25,000 to help build a "food lab" kitchen at the school, which she would run as a full-time teacher.
While many of us may think of Kickstarter as a place where tech-savvy 20-somethings raise money to make the newest iPhone accessory, McCarron says it was a perfect fit for her school, too.
"I kind of just took a big leap of faith and quit my job and started this fundraising pitch," she says, confessing that she hadn't even heard of Kickstarter until a friend turned her onto it for this project.
McCarron has spent the past 8 months volunteering as a part-time nutrition instructor at Walker Jones, which is a historically African American, title-one high poverty school where 100 percent of the students receive free breakfast, lunch, and dinner. She worked nights as a chef at Nora, a well-known, upscale organic restaurant in downtown D.C.
A lot of excitement has surrounded her classes, from kids and parents alike, she says, though she had to get creative with the classes for lack of equipment.
"For most of my time here so far, we didn't have a working stove or a working oven. The projects we did were almost entirely raw -- a lot of raw fruits and veggies, which is kind of hard in the winter," she explains. "I brought in a burner oven from work once to help out, but that's really all the equipment we had."
She had students make raw kale salads and healthy granola bars -- both big hits. The kids compared the fat content in different milks, too, and during one opportunity when a local Whole Foods donated a batch of shrimp, the students made ceviche, which gave them a chance to learn about the effects of citric acid.
But now, McCarron wants to make a bigger impact, and what she needs is a stove, for starters.
As broken down on the Kickstarter page, the $25,000 McCarron seeks to raise with Walker Jones would go toward cooking supplies (i.e. food), equipment (induction burners, utensils, and the like), and personnel (McCarron's stipend).
***
Walker Jones is not the first school to turn to Kickstarter for funding a nutrition program, and it probably won't be the last. But the results so far have been mixed.
Just last week , an elementary school in Iowa raised slightly more than its goals of $5,000 to put the finishing touches on their own teaching kitchen. Earlier this month, an educational "truck farm" got the $11,000 it needed to stay on the road, serving Chicago youngsters. A "Home and Garden Economics" project from L.A., however, was not as lucky -- it was able to raise only a fraction of its $11,000 goal, which by Kickstarter rules means it got zilch.
In D.C., just three miles from Walker Jones, another elementary school scored one of the biggest successes so far when they raised over $60,000. But it was not easy, says Bernadine Prince, co-founder and co-director of FreshFarm Markets, a non-profit that runs 11 of the D.C.-area's farmers' markets. FreshFarm, which is also involved in nutrition education programs at local schools, partnered with Capitol Hill's Watkins Elementary to get their "FoodPrints" program off the ground.
"When you first kick-off a Kickstarter campaign, the money starts flowing in, because all those people who already know about the project and have been waiting for you to send the word out to donate, and you start seeing it add up very quickly," says Prince. Eventually that initial flood of enthusiasm and money from friends and family levels off, however, and that's when things get hectic.
"We were down to the last week of the Kickstarter, and we were still about $20,000-25,000 short of the goal," she says. So Prince and another woman who ran the Kickstarter campaign for FreshFarm and Watkins ramped up their pitch with near-daily updates, and even asked many of their contributors to donate for a second time. They has some outside help too in the form of an "angel" donor: D.C. celebrity chef Jose Andres, who donated $7,500 himself. And it all came together in the end.
Watkins ended up surpassing their goal by an extra $400.
***
Generally, extracurricular school nutrition program are either funded by foundation grants, through donations, fundraising, or a mix of all three.
"It takes a lot of scurrying around," says Janet Poppendieck, author of Free for All: Fixing School Food in America and professor of sociology at Hunter College.
Walker Jones' Community Outreach and Development Director Frances Evangelista echoes that sentiment. "We've been kind of flying by the seat of our pants to be quite honest for all of our projects," she says, referring to the large farm plot and rooftop gardens that Walker Jones has spent the past two years cultivating. "When there's not enough money for core needs in a lot of cases, there's no way we're going to get money from the city for the farming and gardening efforts."
But while Walker Jones has had little luck with public funding for their gardening and cooking projects, Evangelista says they have had a lot of luck getting private funds so far.
This is the case across the country, with the exception of a few states like California who have made a concerted push for "garden based education," says Poppendieck. Overall, only modest amounts of state or federal money have been allocated towards nutrition programs beyond subsidized school lunch, she explains. There maybe a few million dollars available here and there for school gardens or kitchen equipment, but that's not very much when spread to schools across the country.
For now, since nutrition is not a required component of most school curricula, public funding streams will remain limited, Poppendieck says. Luckily for schools like Walker Jones, as the popularity of nutrition education grows, private organizations, community supported programs and individuals have increasingly stepped up to help fill the funding gap, though there's increasing competition over those resources at the same time.
"Kickstarter is a really wonderful image for how fragile and vulnerable this funding is," says Poppendieck. While schools with young, web-savvy parents and networks that can reach deep pockets might have a leg up in the online fundraising game, she says, the real-life search for funds works that way too.
***
With just two days to go before the month-long fundraiser is up, the Walker Jones team has only raised $3,217, an eighth of the money they are aiming for.
McCarron concedes that she underestimated how hard it would be to attract funds.
"What I've realized so far is that a lot of successful projects are done through companies, in partnership with organizations, or have some other really strong force to get them rolling. Me doing this as a 24-year-old sending it to my friends and family is just not the kind of network you need -- it's not going to be a big enough push for it," she says.
The experience has helped her connect to supporters and do a bit of networking in the D.C. green scene, however, which is "almost as valuable as the money right now," she says.
Even without the Kickstarter money, the Walker Jones food lab project will go forward, but on a smaller scale than McCarron and Evangelista had hoped for. Without the $25K that would come from the online fundraiser, the program will be left wholly dependent on private grants from a variety of sources, such as healthcare organizations and local grocery stores.
Specifically, the Kickstarter money was meant to buttress McCarron's stipend and diversify the sorts of food available to the students for projects beyond the school's garden. But, more importantly, says Evangelista, "it would also provide for a lot of the duplication of equipment so that the kids can all be cooking themselves at the same time, rather than if you have one induction burner at the front where they're going to watch Kristy doing things."
"We want them to have the ability to cook these things for themselves because the reality is that a lot of them do cook for themselves," she adds.
In this light, Evangelista recognizes that it may sound like the Kickstarter campaign is asking for "extras," but she says they want to make sure the food lab is done right. She hopes that the program can serve as an example to others in the District and beyond. A concrete success would also help down the line, when she has to go back to donors for next year's funds.