An Alzheimer's Researcher Ends Up on the Drug She Helped Invent
When a leading Alzheimer's pharmaceutical developer is diagnosed with the disease herself, it's a kick to the gut.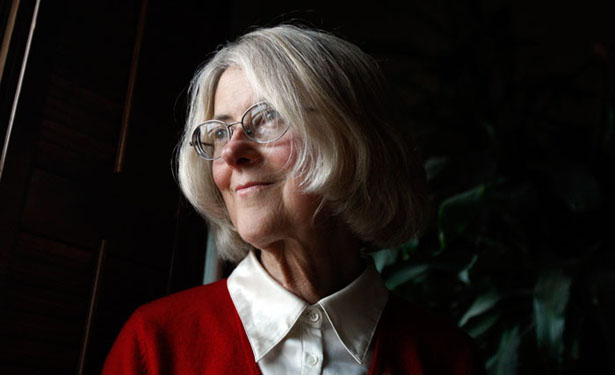 Burke spent years researching treatments for Hepatitis B and Alzheimers. (Rae Lyn Burke)
Given her relatively young age, Dr. Rae Lyn Burke didn't think much about her family history of Alzheimer's disease -- a grandmother and an aunt had suffered from it, but they were much older. Ironically, Burke was just in her late 50s when she started having her own symptoms of early onset Alzheimer's. Even more ironic is that Burke had been one of the key developers of the Alzheimer's drug bapineuzumab, which she now takes herself to reduce the progression of the disease in her own brain.
"My expertise was in vaccine development," says Burke, "so when Elan Pharmaceuticals got surprising evidence that a vaccine approach might be of value in treating Alzheimer's disease they recruited me as a consultant, since this was a new area for them. My particular role was to ask how adjuvants might potentiate the immune response." In other words, Burke figured out what compounds could be added to bapineuzumab, an antibody vaccine, that might help kick the recipient's immune system into higher gear.
But as she was working on improving the potency of the drug, Burke was concomitantly developing her own symptoms of Alzheimer's disease, the most common form of dementia. Her realization hit her quite suddenly while she was driving to work one day, trying to solve a math problem in her head, as was her habit. But this day she couldn't arrive at the answer. "My first symptom was an inability to handle numbers in my head the way I used to," she recalls. "That made me worry because of my family history. But in retrospect the first very early symptom was a sudden loss of my sense of smell a year or more before. At the time the family and I were puzzled. Subsequently we have learned that it is frequently an early sign of Alzheimer's and Parkinson's disease. Only when I started to have clear memory problems did I make the family connection."
Burke got a referral from her family doctor to see a neurologist, but because she had a gut feeling about what the diagnosis might be, she put off the visit for a year. Finally, she asked her daughter to accompany her to the neurologist's office -- she feared her husband wouldn't be able to handle the diagnosis. "I thought my daughter would be more accepting than my husband. I was worried that my husband wouldn't accept the new situation. I had always been very independent. Would he now be willing to take care of me? I was always so very competent. If I lost my competency, how would people interact with me?"
In fact, since her diagnosis, Burke has noticed (and still notices) that people treat her differently once they are aware she has Alzheimer's. "It changes the way they interact with me. Everyone looks at me in a different way. No one knows how functional or capable I am. Therefore there is a tentativeness in their interactions...I feel my friends are looking at me, trying to see how well I am functioning all the time. Most people haven't dealt with someone with Alzheimer's. They don't know what to expect, how functional I will be. In a social situation I always feel as if I am being watched."
Burke's boss was accepting of her diagnosis, but was concerned about losing the large research funds her work was bringing in, if their clients were made aware of it. Therefore, Burke told only a few close colleagues over the year before she retired, but most of her company was unaware of her Alzheimer's status right through her retirement party.
After leaving her job, Burke found herself alone at home, with time to kill. She says she still feels an emptiness that she has not totally figured out how to fill. Her friends and her husband are at work during the day, and she hasn't found a regular volunteer opportunity. "I feel much more isolated now," she says. "My friends and family are all still working and don't have time to spend with me during the day. I go to an Alzheimer Group that I enjoy but that is only once a week. So I feel isolated. People are nice and helpful but the reality is that everyone has a job to go to and I don't... What are my options to deal with my feeling of isolation? One way would be to give up. To say that it is not important to have human contacts. I am not ready to do that."
Burke felt an unexpected push to get active in advocacy when she met some other Alzheimer's patients at a meeting of the Alzheimer's Association. Many of them, she says, talked about their coping methods, which often involved "photography, pottery, or volunteering at the SPCA." These weren't exactly the kinds of volunteer opportunities Burke was in the market for. At the meeting, she says, "I got angry. I said, 'This is ridiculous.' I told them that we needed to be militant; we needed to follow the path taken by patients with HIV/AIDS. I had previously worked on HIV as a researcher. I had watched people in ACT-UP requiring to be heard. I had seen how changes had been forced at the FDA. We too could force change if we were being forceful, visible and demanding. 'This is what we need to do,' I said."
Now, working alongside the Alzheimer's Association, Burke has been a prominent advocate, meeting with legislators about funding and policy issues. "It is much more effective, powerful and poignant message when advocacy teams include a patient," she says.
Burke hopes that the stigma associated with Alzheimer's disease and other early onset dementias will continue to dissolve over time. "It would be good to overcome this stigma, particularly for younger-onset individuals. We educate the public about handling physical disabilities but not so well for people with mental disabilities. We can walk fast, but we think slow. People should know more about the nature of the mental disability. Also, we need to educate the public that this is not just a disease of the elderly. Younger people too can be cut off in their prime."
She urges more people to get involved with clinical trials, because this, she says, is the key to a cure. Her own research depended on clinical trials, and so will drugs of the future. "My knowledge made me aggressively interested in participating in the clinical trial [for bapineuzumab]. I knew that the treatment has the potential to be of value to me. More importantly, I know that it is essential to run these clinical trials because finding a cure depends on finding an effective drug. My research background made me passionate about getting people involved in trials. This in turn has given me a sense of purpose that has helped me cope with the disease and my career loss."
As for the support of her husband, it turns out Burke had nothing to worry about. "In the beginning," she says, "I was afraid that my husband might leave me. He had not signed up for this. My husband has turned out to be a good man. I didn't have to worry. And talking to him and telling him my answers to these questions has brought us closer. It has made me share things that I had not before. I'm very glad I did."