4 Space Shuttles of Insanity: 100 Million Doritos Locos Tacos, by the Numbers
Taco Bell's new sensation has consumers eating out of its hand. Just how much is 100 million Doritos-based tacos, anyway?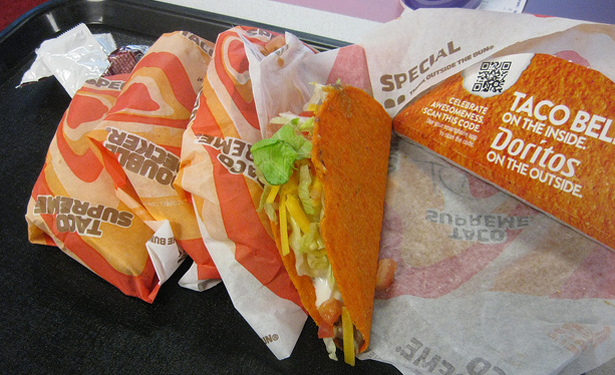 Taco Bell's latest menu addition is selling like hot tamales. In the ten weeks since the company launched its Doritos Locos product -- essentially a standard taco cradled in a shell made entirely of the popular corn chip -- Taco Bell has sold 100 million of the culinary mashups to its fans (and to mildly curious passersby, probably). In comparison, it took 18 years for McDonald's to sell its 100 millionth burger, although the fast food industry back then was only just picking up steam.
The Locos may be a cash cow. But how do 100 million of them stack up nutritionally? Well, according to Taco Bell's own data, this is what a single order of Locos will get you:

Taco Bell
The Locos weighs 78 grams. It carries 170 calories, 9 grams of fat, 25 milligrams of cholesterol and 340 milligrams of sodium. Upgrade to the Supreme version, though, and you'll get an 18 percent increase in calories, as well as a 22 percent jump in fat, and a 40 percent increase in cholesterol. Guilty diners can order the Supreme "fresco style," which replaces the cheese with a slightly healthier mix of chopped cilantro, onions, and tomatoes. Doing so cuts the fat from 11 grams to 8.25 grams.
Assuming for the moment that Taco Bell sold only the regular versions of the Locos, adding it all together means that over ten weeks, the company pushed 17 billion calories, 900,000 grams of fat, 2.5 million grams of cholesterol and 34 million grams of sodium.
Based on a 2,000-calorie diet, at that rate Taco Bell could feed the entire population of Hong Kong for a day, with leftovers to spare. If you combined all the tacos into a single, monstrous taco, it would weigh 17.2 million pounds -- as much as four space shuttles at liftoff.
And that's just if you order the non-Supreme version. The upgraded taco would weigh almost 25 million pounds. It'd be over 20 billion calories, more than a million grams of fat, and 3.5 million grams of cholesterol. A hundred million of these tacos could feed 10 million people for a day.
Of course, you might want to take Taco Bell's nutritional information with a grain of, er, salt. But on the bright side, the Locos isn't nearly as bad for you as some of the other items on the menu. A regular soft taco, for instance, has half again as much sodium as the Locos despite packing the same caloric punch.