You Know Who Else Had a Medical File? Hitler
Turns out Hitler was a healthy guy -- physically, at least.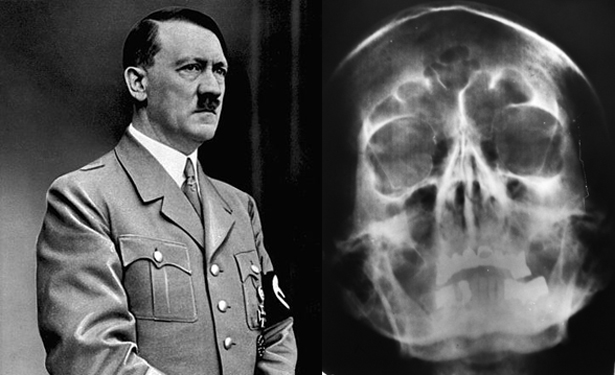 Wikimedia Commons/Alexander Historical Auctions
Someone must want to own an x-ray of Hitler's skull. And it will cost them $2,000. The historical image, along with an original 47-page medical report on the former Nazi dictator, will be going up for auction next week:
A classified report containing a highly-detailed compilation of data obtained from Adolf Hitler's six chief physicians, along with ten x-rays of various views of Hitler's skull and several EEGs. The report is the result of interrogations of doctors Theodore Morrell, Erwine Giesing, Waletr Loehlein, Karl Weber, A. Nissle and E. Brinkmann who each specialized in different areas of treatment. The report opens with a complete physical description of Hitler and his medical history, with neurological data, spinal root functions, psychiatric observations, etc.
Among the report's findings: Hitler used cocaine as a remedy for his throat and sinus problems, and the physician overseeing the treatment was forced to reduce the dose because of the risk his patient might become rather too fond of the drug. The German leader also reportedly received injections of bull semen and suffered from "uncontrollable flatulence."