Trimming the Fat From America's Wasteful Health Care System
Budget hawks in Congress talk a great deal about health care waste. Where does it come from?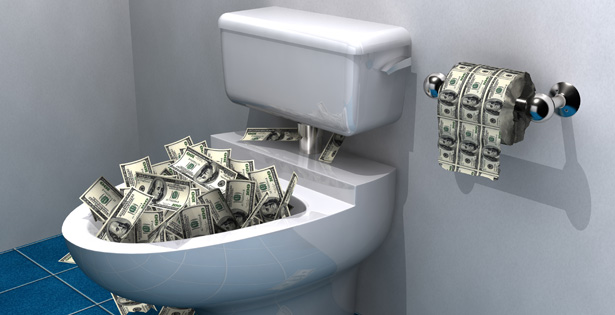 Shuttershock
Health care in the United States is distinguished from the rest of the world by its very high costs, which are caused in large part by exceptional levels of waste and inefficiency in our health care system. Many credible estimates put this level of waste at an astonishing 30 percent or more. With health care costs driving federal deficit projections, as well as higher costs for families and businesses, it's past time that we took a hard look at this waste and take steps to address it in a serious way. We can no longer afford the status quo, nor can we afford misguided efforts to cut costs in one part of the system by simply shifting them elsewhere.
There is no magic bullet that will stabilize health care costs as a percent of the economy. Instead, we must pursue a multi-pronged approach designed to affect those cost drivers that are within our power to change. If we are to succeed, every major stakeholder group -- providers, consumers, and employers alike -- has a key role to play. But before describing what must be done, we need to first understand a few crucial facts about our health care system.
First, much of the trend driving spending today is the result of an epidemic in chronic conditions, including heart disease, hypertension, and diabetes, which has origins in changing patterns of diet and physical inactivity. This is a worldwide phenomenon. Medical science cannot reverse it -- only changes in food supply and lifestyle can. We have a health emergency all around us, and our response to date has been far too tepid to have an impact.
The second reality behind health care costs is that they are often concentrated on a small number of very ill persons. Five percent of patients in any given year account for roughly half of all health care spending. These patients, afflicted with multiple chronic conditions, are the same patients who often receive uncoordinated and ineffective care from multiple specialists, hospitals, and emergency rooms. This lack of coordination hurts patients with the greatest health needs and robs the system of needed resources.
A third reality is that health care costs are not the same in every part of the country. There are major variations in both the price and volume of care that doesn't seem to be related to positive health outcomes or quality, even within the same state or region. In fact, more care and more expensive care turn out not to be better care in many cases. This variation is partly a function of a lack of transparency in health care spending -- too often we don't know what is being done and by whom, at what price, and with what results.
If we are to face up to these realities, changing how providers deliver care and how they are compensated will be vital. The incentives inherent in today's fee-for-service reimbursement system reward volume, not value. Fee-for-service incentivizes distinctly quantifiable medical procedures rather than the more amorphous counseling and follow up consultations, which cannot be billed under the current system but are often the key to improving patient health. It gets in the way of the "team care" approach -- where doctors, nurses, and other health professionals work together -- that is proving most effective at producing the best outcomes for patients in practice demonstrations nationwide.
There are many proposals to move us away from a purely fee-for-service reimbursement system, but they all share a common theme -- tying payment to value. Value is understood to be mostly about achieving optimum patient outcomes, but it also takes into account the relative cost of certain procedures versus alternatives.
Solving the nation's most entrenched problems
See full coverage
Alternatives to fee-for-service reimbursement are in development. Hospitals are purchasing the practices of specialists and moving them to a salaried reimbursement system, albeit with incentives built in to advantage the specialists. Medicare and other insurers are going ahead with "pay for performance" reimbursement initiatives that modify physician fees based on measures of quality and resource use. Likewise, there are now successful experiments in "bundled" payments that set a price for all services related to an entire course of care, such as treating a broken leg.
If we are to enlist America's health care providers in taming health-care costs, we must do more than develop alternatives to fee-for-service. We must implement them on a broad scale. The first step will be replacing fee-for-service payment in public programs like Medicare and ensuring that the value-based approaches we pursue are well-aligned with similar initiatives by private payers. Private insurers and employers are also innovating, but they often lack sufficient market power to be effective on their own
Patients and consumers, as well, will prove crucial to restraining costs and increasing value. The concept of "value-based benefit design" is a conscious effort by insurers and employers to steer patients to high-value prevention and screening services, and away from other procedures that may have a low chance of success. Patients would also benefit from the growing availability of comparative cost and quality data collected on individual practitioners and hospitals. The basic information systems necessary to track costs and outcomes, however, are not yet available to consumers.
The recently announced "Choosing Wisely" campaign encourages patients to talk with their doctors about several widely over-used tests and procedures that have been shown to have little value. It's an important first step in engaging patients more fully in their care.
Finally, patients could lower system costs simply by taking their medications as prescribed. Today, more than 20 percent of first-time prescriptions are never filled, and 50 percent that are prescribed for chronic conditions are not renewed after six months. Non-adhering behavior drives up system costs due to unnecessary emergency room visits and preventable medical complications. Health care providers obviously have a role to play here as well, deploying low-cost follow-up care to ensure that patients don't relapse in to sickness later.
Small steps can make a big difference. Healthier school lunches and community physical activity programs can establish better eating and exercise patterns for the whole family.
Employers are another indispensable part of addressing waste in our health care system. As roughly 160 million Americans are insured through employer-provided plans, employer leadership will be crucial to successfully implementing the provider- and patient-focused reforms I have described. They also have a unique and special role to play in addressing the epidemic of chronic disease. Many employers have started to offer wellness programs and coaching designed to change behavior by those most at risk. Smoking cessation is one of the most cost-effective programs for reducing employer health care spending, along with support for those who have abused alcohol and drugs.
Getting serious about waste in health care is an effort everyone can do something about.