The Anti-Science Streak in Federal Marijuana Policy
The classification of cannabis as a schedule one narcotic is among the least defensible aspects of prohibition.
Dr. Jody Corey-Bloom, director of the Multiple Sclerosis Center at UC San Diego, recently helped run a study that provided multiple sclerosis patients with either a marijuana joint or a placebo that looked, smelled, and tasted like marijuana. After smoking whichever substance they were given, patients were tested to see if it reduced their muscle spasticity -- an affliction, common to MS patients, that causes painful, uncontrollable spasms of the extremities. Spasticity was unaffected among the placebo patients but dropped 30 percent on average among the patients given real marijuana. The side effects? "Smoking caused fatigue and dizziness in some users," says Reuters, "and slowed down people's mental skills soon after they used marijuana."
The UC San Diego study is just the latest to suggest that marijuana has some medical benefits. Sixteen states, thousands of doctors, and tens of thousands of sick people concur in that judgment. It is dramatized by the personal testimony of sick people who are offered much more powerful drugs, but nevertheless insist that consuming marijuana was most effective at helping them. (Don't miss the video at the top of this post, as powerful a testimonial for medical marijuana as you'll find.)
Marijuana is nevertheless classified under the Controlled Substances Act as a Schedule One drug. Under the law, drugs placed in that category must meet all of the following criteria (emphasis added):
The drug or other substance has a high potential for abuse.
The drug or other substance has no currently accepted medical use in treatment in the United States. 
There is a lack of accepted safety for use of the drug or other substance under medical supervision.
Critics of the Obama Administration's drug policy, myself included, have focused on the president's broken promise about federal raids on medical marijuana dispensaries in jurisdictions where they're legal. But an even less defensible aspect of Obama's drug policy is how marijuana is scheduled.
As John Walker points out, the Controlled Substances Act gives the executive branch the power to unilaterally change a drug's classification:
Obama can instruct the relevant agencies under him to take an honest look at the research and reschedule marijuana so it qualifies as having legitimate medical uses. The Obama administration could easily and justifiably move marijuana to, say, schedule III, which happens to be the same schedule that synthetic THC is in, making medical marijuana legal under federal law.

There would be nothing unusual, extraordinary or legally suspect about Obama doing this. The executive branch has often moved certain drugs to lower or higher schedules based on new data without Congressional involvement. In fact, multiple sitting governors have petitioned the Obama administration asking him to move marijuana to a lower schedule, so he should be aware of the flexible authority he has. Obama is not some hapless victim whose actions on this issue are constrained by congressional law. The truth is pretty much the exact opposite. Under current law Obama effectively has the power to unilaterally make medical marijuana legal.

His failure to do so is frustrating and to his discredit because it's what the language of a law duly passed by a bygone Congress and signed by a past president demands. There just are accepted medical uses of marijuana today. Pretending otherwise is every bit as much an affront to science and empiricism as the most ill-informed denial of evolution or climate change. 

Yet here is how the Obama White House touts its drug policy: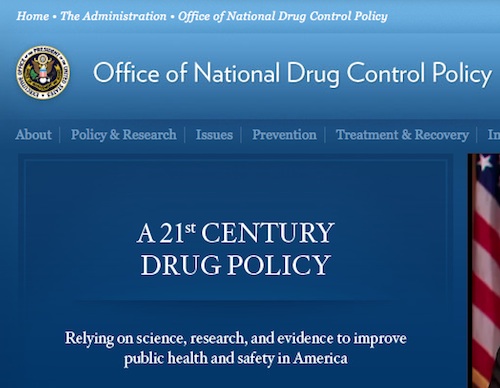 Congress also bears substantial responsibility for the anti-scientific, anti-empirical aspects of American drug policy. If Mitt Romney and Barack Obama are able to define the terms of the upcoming presidential election, this issue won't come up. But voters have consistently shown interest in the subject when permitted to directly question politicians, and Gary Johnson, the Libertarian Party nominee, is eager to challenge Obama and Romney on this issue given the chance. When opportunities for these challenges arise, the classification of marijuana is one of the most vulnerable parts of the status quo to attack.12 states have pending medical marijuana legislation.