The 5 Mega-Trends That Are Changing the Face of Health Care
No matter what the Supreme Court does with Obamacare, the industry that consumes one-fifth of the U.S. economy is already undergoing an overhaul
No matter what the Supreme Court does with Obamacare, this industry, which consumes one-fifth of the U.S. economy, is already undergoing an overhaul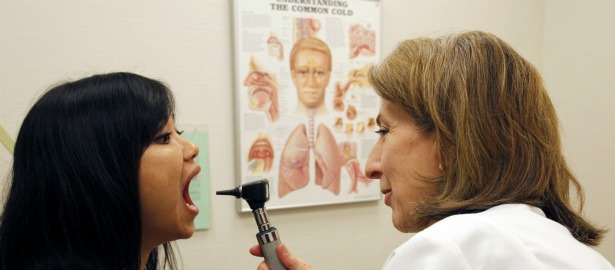 Reuters
As the nation's highest court weighs the fate of President Obama's health care reform legislation, it's important to keep one thing in mind: No matter what the nine justices ultimately decide, significant change is coming to health care -- and the industry's future is gaining clarity.
Indeed, we see five key trends that are solid, foundational, and unassailable:
(1) Strong headwinds will force change. The numbers say it all. Intense funding pressure on Medicare and Medicaid, decreasing commercial reimbursement, flat or declining volume trends, federal budget deficits, and growing uncompensated care--all of which are compelling the health care industry to adapt in a wholesale way.
(2) Employer-based commercial insurance will undergo a shift. Whether it's an employer mandate or widespread exchanges, companies will have an entirely new relationship with employees when it comes to health care coverage.
(3) Commercial payers will alter how they do business. They may be more collaborative in the rapidly emerging new world of health care, but they will also pay less. Some are employing a vertical integration strategy by getting into or enhancing their position in the provider segment.
(4) Consumers will control more of their health care dollars. An increase in individual and high-deductible health plans will force consumers to be more active in their own health care and will lead to more consumer decision making. Providers will be required to adapt to increased demand for evidence-driven medicine and provide greater data and transparency.
(5) Providers will be financially challenged. Quality through coordination and evidence-based medicine, not gatekeeping, is the answer. Put another way, better care will lead to better health, which will lead to lower costs. This transition from fee-for-service medicine will be wrenching--evidenced by recent practice closings and the growing trend toward consolidation.
EMERGING MODELS
As the sweeping transformation in health care takes hold, several models appear to be taking shape. Each has its strengths and weaknesses and each presents opportunities and risks, but the following three deserve serious analysis and represent different points on the risk spectrum:
-- Bundled payments model: calculates total historical payments for the various components of a bundle and then discounts or at least holds constant that amount, placing the responsibility for cost and quality control in the hands of the collective providers.
-- Accountable Care Organization (ACO) model: seeks to tie provider reimbursements to quality metrics and reductions in the total cost of care for an assigned population of patients.
-- Capitation model: sends a fixed per-patient prepayment of premium dollars to a provider in return for medical services.
Let's take a closer look at each.
Bundled Payments. These are largely proven, but their track record in driving significant volumes has generally been marginal. Success is visible more clearly in terms of cost controls. Think of them as a middle ground between fee-for-service reimbursement and capitation. Nonetheless, bundled payments offer several important advantages:
(1) Providers can benefit from cost savings from any payers included in the program.
(2) Providers can derive enhanced volumes from private insurance and cash patients, who are drawn by the cost clarity and discounts. Medicare volume enhancement is driven by physician participation as well as patient desires.
(3) Physicians and hospitals can develop tighter relationships as they seek to collaborate in this new way.
(4) Silos get broken down--enhanced provider collaboration has been noted among specialties that are required to come together.
(5) Greater coordination of care will likely lead to higher quality and more satisfied patients.
(6) All payers will benefit from contracted case savings.
The critical success factors to make bundled payments work, however, include appropriate episode selection, thorough and thoughtful bundle definitions, accurate cost analysis, willing and committed partners, and the infrastructure to manage the process.
ACOs. For their part, ACOs are hardly proven, but in theory they should achieve results. The overarching idea is to get patients who aren't being treated in a coordinated manner into a system that can deliver care more effectively. The upsides to ACOs are:
(1) Physicians and other professionals have an opportunity to reap financial benefits of efficiency driven by quality.
(2) Hospitals that get involved can partially make up for declining volumes associated with higher quality and efficiency.
(3) Patients currently accessing services in a disjointed manner are likely to have a better overall health care experience in a coordinated system.
(4) Quality is likely to be enhanced because of coordination and aligned incentives.
(5) Providers will likely increase collaboration. Existing risk-bearing organizations can increase "membership," and many have already developed at least a portion of the infrastructure and have experience managing risk.
The ACO model, if more broadly accepted, could have a major impact on hospitals, especially because the overall goals here are to reduce unnecessary services and provide better overall health care, which would mean less traditional business for them. A prime issue is that costs--for labor, devices, supplies, equipment, and construction--aren't addressed. And the Affordable Care Act exacerbates this situation by creating additional taxes, such as those levied on device manufacturers and payers, that will be passed through to purchasers.
Indeed, we're already seeing tax and fee pass-through language cropping up in standard language from some managed care health plans. Continued passing of the cost problem from one entity to another isn't the answer, and this reality exhibits a major problem not addressed in the legislation.
For hospitals, the solution lies in changing their business model. That means forging enhanced relationships with physicians; owning outpatient ancillary services, perhaps in conjunction with physicians; employing physicians; creating joint ventures with physicians; and fostering more than a low-level interest in primary care.
To implement some of these changes, hospitals must take advantage of the positive business aspects of the current model while altering their strategic direction by being as efficient as possible now to retain valuable financial resources while they explore innovative options for the future. They should also identify the key physician organizations in their market and start talking about the potential collaboration needed for success. Those in particularly fragmented markets have a special opportunity to enhance their business model.
There are a host of factors critical to an ACO's success, including adequate breadth of network; administrative, clinical, and IT infrastructure; a clinical staff versed in care management; experience managing risk; and strong data that helps with population health management.
Capitation. Deploying this approach requires deep expertise on a number of levels. But the capitation model could be part of the health care solution, because payments remain largely the same, regardless of how many services or what type of services each patient actually receives. Capitation offers a number of other positives as well:
(1) Provider organizations can gain greater sustainability, control over their own destiny, and enhanced business possibilities--all of which complement the accountability this model requires.
(2) Organizations find themselves centering their efforts around proactive long-term health management -- rather than quick short-term bottom-line "wins" -- to realize profitable gains.
(3) It aligns incentives for provider organizations. It fosters coordination, quality, and financial responsibility.
To reap these rewards, however, organizations must grapple with a series of critical success factors. Among the must-haves: a provider network with adequate breadth and depth, appropriate funding, a large enough membership complement, sophisticated care coordination systems, providers vested in the success of the entity or model, sufficient administrative support and physical infrastructure, a culture of high quality, and proper leadership. Not surprisingly, these are the same characteristics a successful ACO will have.
Good business discipline is also required: strategic planning; mentorship and succession planning; business modeling and forecasting based on actuarial projections; IT infrastructure; knowledgeable, experienced administrative staff; and effective contractual relationships and communication mechanisms with outside providers.
A decent measure of risk is associated with capitation too. Health care costs have been out of control for a long time, and as a result many organizations are reluctant to work with finite financial resources to achieve stated goals. That said, the time could be right for capitation.
DECISIONS, DECISIONS
Health care's future is being formed well beyond the Supreme Court's jurisdiction. Sure, the industry is being forced to find new ways to cope with declining reimbursement and other challenges, but it's also trying to deliver better care models, no matter what ends up being decided with regard to the Affordable Care Act.
The industry is clearly changing, and the process can't--and won't--be reversed. Provider organizations now must decide which model makes the most sense for them and take proactive steps to stay ahead of the health care curve.
This is important, because the key trends and emerging models show us that providers, payers, and patients--not judges--will be the players who determine the future of health care in America in the years and decades to come.
><