Teaching Old Chips New Tricks: The Red One Means Stop
Inserting visual markers into prepackaged foods could help us avoid overeating.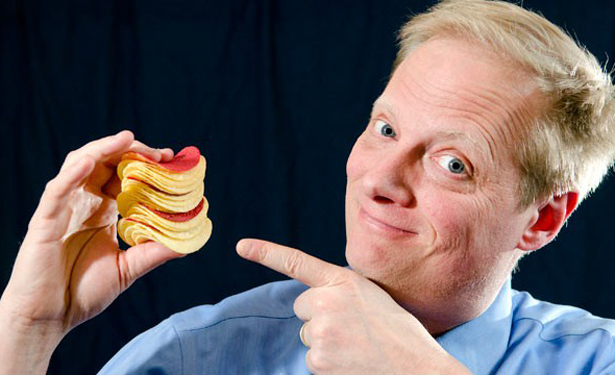 Robin Wishna/Cornell Food and Brand Lab
We've all been there. You start nibbling on some chips -- just a snack, you say to yourself -- and before you know it, you've reached the bottom of the bag. How does that happen? More importantly: how do we stop?
Researchers at Cornell University think they've discovered an answer to the second question. The solution involves colored chips that serve as an approximate visual indication of serving size. By slipping a colored chip every so often into a stack of normal chips, scientists found that study participants not only could report back how much they'd eaten with greater accuracy -- they also snacked less compared to control participants.
Study subjects were divided into two groups. One group was told to snack on a set of unadulterated chips while watching a video; the other group watched the same video but munched on a supply of chips in which one in every seven chips was dyed red. Researchers then repeated the experiment, inserting a red chip for every five normal ones. The subjects weren't told what the red chips meant, but at the end of the study, those who'd eaten the red chips had consumed about half as many as those who were eating from the normal supply.
What's more, the red chip-eaters were better at estimating how many they'd had. Most could guess to within one chip, whereas the normal chip-eaters generally lowballed their estimates by as many as 13 chips.
According to Food and Brand Lab director Brian Wansink, people rely on visual cues such as the bottom of a bowl, or an empty plate, as a signal to stop eating. Giving consumers the same cues in prepackaged foods may help discourage mindless snacking.
"By inserting visual markers in a snack food package," said Wansink, "we may be helping [participants] to monitor how much they are eating and interrupt their semiautomated eating habits."
Why chip manufacturers would ever embrace a technology that encourages people to consume less and not more seems like a mystery. But businesses might be tempted to get on board if they think it could attract snackers who previously avoided chips entirely for fear of eating too much.
The bigger challenge, it seems, is one of design: what do you do about chips that don't like to be stacked?