Study: Want Your Baby to Smile More? Make Music Together
New research shows that interactive parent-infant music lessons improve the social and cognitive development of six-month-olds.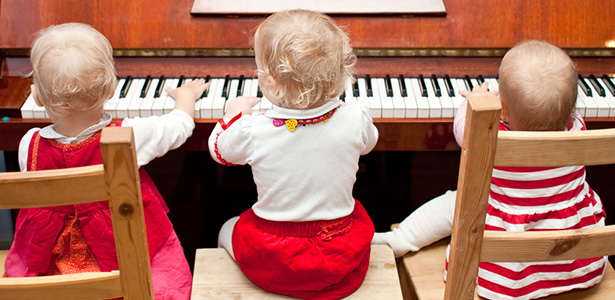 Dmitry Naumov/Shutterstock
PROBLEM: Previous studies have suggested that musical training helps children's development. It remains unknown, however, how early and to what extent this experience can have a positive effect.
METHODOLOGY: McMaster University psychologists led by Laurel Trainor assigned groups of parents and babies, who had shown similar communication and social development, in one of two types of weekly music instruction for six months. One music class involved interactive music-making as well as learning a small set of lullabies, percussion instruments, nursery rhymes, and songs with actions. In the other class, babies and their parents simply played at various toy stations while recordings from the popular Baby Einstein series were in the background.
RESULTS: Compared to the babies in the passive-music condition, the infants who took interactive lessons with their parents exhibited earlier sensitivity to the pitch structure in music by preferring to listen to a version of a piano piece that stayed in key over a less polished version. They showed better early communication skills, smiled more, were easier to soothe, and showed less distress when things were unfamiliar or didn't go their way. Their brains responded to music differently as well, showing larger and earlier brain responses to musical tones.
CONCLUSION: Music lessons for babies as young as six months of age improves their understanding of tonality and accelerates their social and communication development. Trainor says in a statement: "The infant brain might be particularly plastic with regard to musical exposure."
SOURCE: The full study, "Active Music Classes in Infancy Enhance Musical, Communicative and Social Development," is published in the journal Developmental Science.