Study of the Day: Why There's No Love Lost Between Political Enemies
New research in Psychological Science uncovers a deterrent to our ability to relate to other people: our political ideologies.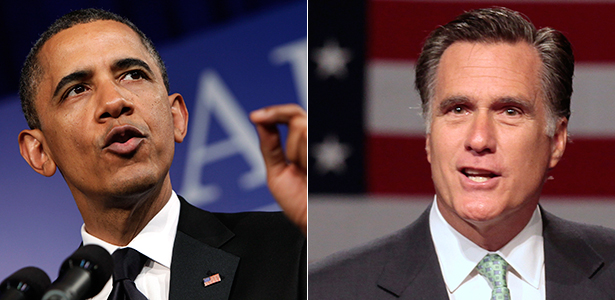 Yuri Gripas and Rebecca Cook/Reuters
PROBLEM: Usually, visceral states, or internal conditions that we want badly to change, can get so overwhelming that we project them onto others. A person who's freezing, for instance, would likely assume that the people around him must be cold as well. But how far does this effect extend?
METHODOLOGY: To see if political rivals can also feel each other's pain, researchers led by Ed O'Brien asked subjects to read a short story about a person who was either a left-wing, pro-gay rights Democrat or a Republican proponent of traditional marriage. This character goes hiking in winter and gets lost with no food, water, or extra clothes. After reading the story, they asked the participants whether the hunger, thirst, or cold was most unpleasant for the hiker and what the hiker most regretted not packing. They were also asked how hungry, thirsty, and cold the hiker felt, and what their own political views were. The researchers then compared the answers of respondents who were warm and comfortable in the nearby library with respondents who were cold and miserable outside during winter.
RESULTS: The cold-condition subjects who had the same politics as the fictional hiker judged the hiker to be cold like them. When the hiker subscribed to different political beliefs, however, they didn't think the hiker was any colder and responded similarly as the warm indoor participants. The scientists saw parallel results in another trial involving thirst.
CONCLUSION: Our tendency to project our visceral feelings onto others does not extend to people who we consider to be very dissimilar from us.
IMPLICATION: Opposing political views may make people seem extremely different and unrelatable. "This as a problem of empathy," says O'Brien. "We don't want to step into someone else's shoes when we disagree with them."
SOURCE: The full study, "More Than Skin Deep: Visceral States Are Not Projected Onto Dissimilar Others," is published in the journal Psychological Science.