Study of the Day: Why the 'American Idol' Judges Should Be Chinese
Forget Simon Cowell. New research suggests that, to effectively critique musical pitch, the aging singing competition needs speakers of a tone language.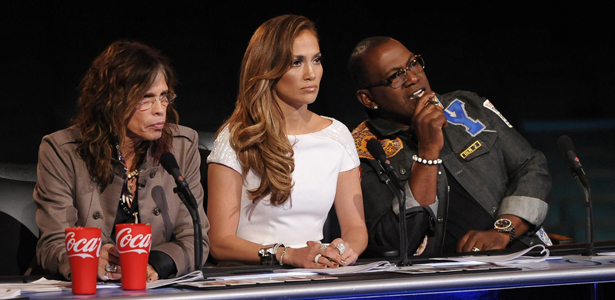 FOX
PROBLEM: Randy Jackson must hate the word pitchy. For over a decade now, he's been misusing this adjective, which is synonymous to 'dark,' to declare that an American Idol hopeful's vocals were off-key, even when they weren't. With the recent addition of Jennifer 'Work the Stage More' Lopez and Steven 'That Was Beyond Judging' Tyler, it's clear that what Idol viewers really need are musical arbiters with more astute pitch perception.
METHODOLOGY: To further explore the strong association between music and speech, researchers led by Northwestern University's Patrick Wong decided to investigate the influence of linguistic background on music pitch processing. They compared French- and English-speaking participants from Canada with subjects in Hong Kong who spoke Cantonese, a tone language in which differences in voice pitch correspond to differences in word meaning (e.g. si means 'teacher' and 'to try' when spoken in a high and mid pitch pattern, respectively). They also tested people with congenital amusia, a neurogenetic disorder that affects the processing of pitch and rhythm.
RESULTS: Even after factors like musical background and age were controlled, the participants who speak Cantonese showed improved musical pitch perception relative to the Canadian French and English speakers. The Chinese amusics fared better than their Canadian counterparts as well.
CONCLUSION: Speakers of a tone language tend to have superior pitch perception.
IMPLICATION: The American Idol judges may be able to better gauge musical talent if they learned to speak Chinese. On a more serious, um, tone, communicative disorders may need to be reevaluated within appropriate cultural frameworks. The authors write in their paper, "Our auditory evidence challenges the common assumption of universality of basic mental processes and speaks to the domain generality of culture-to-perception influences."
SOURCE: The full study, "Effects of Culture on Musical Pitch Perception," is published in the journal PLoS ONE.