Study of the Day: Social Inequality May Foster Distrust, Cheating in School
Places high in income disparity appear to have dishonest students who think they have to cheat to keep up with their unscrupulous classmates.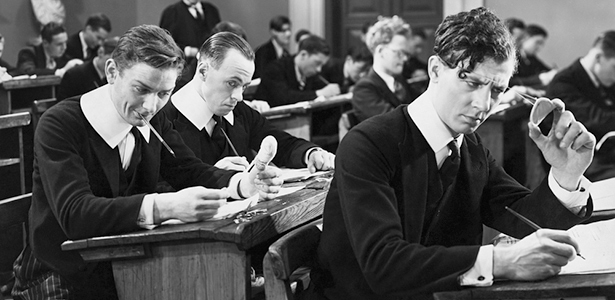 PROBLEM: It's unclear which factors influence how dishonest people. Does the tendency to cheat lie in people's genes or psychological makeup? Or are environmental factors more to blame?

METHODOLOGY: To uncover the roots of academic dishonesty, Queen's University researcher Lukas Neville looked into state-level data from Google searches made between 2003 and 2011 for phrases like "free term paper," "buy term paper," and the names of cheating websites. He compared these to statistics on income inequality and how trusting people are in each state.
RESULTS: Residents of states with more income disparity tended to be less trusting and more likely to make academically dishonest searches. These correlations persisted even after controlling for factors that could influence the quantity of the searches, such as average household income and the number of students in each state.
CONCLUSION: Students in areas with higher economic inequality are less likely to view one another as trustworthy and may think that they have to cheat to keep up with their crooked classmates.
IMPLICATION: Neville's findings support previous research on the effectiveness of honor codes, which may promote trust among students. He says in a statement: "As educators, there's not much you can do about the level of inequality in society, but we do have the ability to help foster trust in our colleges and classrooms."
SOURCE: The full study, "Do Economic Equality and Generalized Trust Inhibit Academic Dishonesty? Evidence From State-Level Search-Engine Queries," is published in the journal Psychological Science.