Study of the Day: Biological Proof That Confronting Your Fears Helps
New research uncovers the lasting changes in the brains of arachnophobes who underwent a two-hour SPIDER exposure therapy session.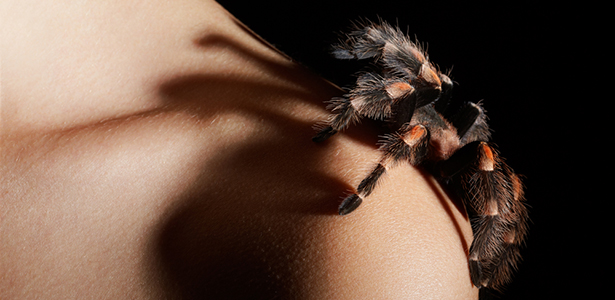 PROBLEM: Psychologists often recommend exposure therapy -- or facing your fears -- to overcome phobias. Does this strategy really work?
METHODOLOGY: Researchers led by Northwestern University Feinberg School of Medicine's Katherina Hauner monitored the changes in brain activity of 12 spider-fearing adults undergoing exposure therapy. They shared information with the participants about tarantulas to show that their catastrophic thoughts about them were false, and then encouraged them to gradually approach the spider in slow steps until they were able to touch the outside of the terrarium. They then asked the subjects to touch the tarantula with a paintbrush and a glove, and, eventually, to pet it with their bare hands. They checked up on the subjects six months later.
RESULTS: The treatment dampened the responsiveness of the amygdala, insula, and cingulate cortex or the areas of the brain associated with fear response, and this decrease in activity persisted even after six months. Interestingly, the researchers also uncovered a way to predict for whom the therapy would be most effective. Participants who registered more activity in brain regions associated with visual perception of fearful stimuli immediately after the treatment were much more likely to show the least fear later on.
CONCLUSION: A short exposure therapy session for people with a lifelong debilitating spider phobia can result in lasting changes to their neurological response to fear. "Before treatment, some of these participants wouldn't walk on grass for fear of spiders or would stay out of their home or dorm room for days if they thought a spider was present," says Hauner in a statement. "But after a two or three-hour treatment, they were able to walk right up and touch or hold a tarantula. And they could still touch it after six months."
SOURCE: The full study, "Exposure Therapy Triggers Lasting Reorganization of Neural Fear Processing," is published in the journal Proceedings of the National Academy of Sciences.