Study: Longer Commutes Mean Larger Waistlines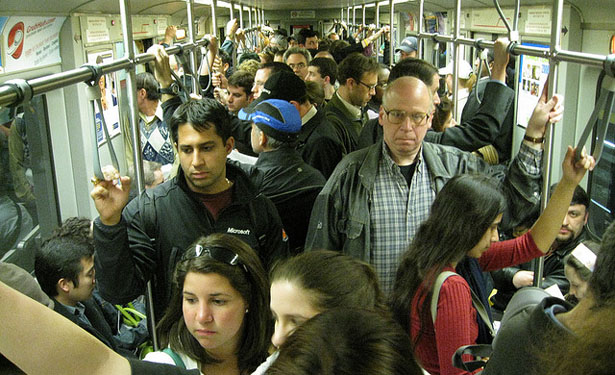 dsearls/Flickr
Fighting through traffic on the way to work is hardly anyone's idea of a good time. Yet millions of Americans put themselves through this torture on a daily basis, which has prompted something of a new cottage industry in research on the health effects of commuting. Among other discoveries, in the past few years, we've learned that traveling to work takes a disproportionate toll on women's mental health; breathing in car exhaust increases your risk for a heart attack for up to six hours after exposure; and the time we spend sitting in traffic may even be gradually eroding our social capital.
Now, add to that a new study that finds people with longer commutes have larger waistlines as well as higher blood pressure. According to a team of U.S. researchers examining 4,300 Texas commuters, traveling more than 15 miles to work each day means lower odds of meeting good physical fitness standards:
Of the almost 4,300 residents from Dallas and Austin involved in the study, researchers discovered that for every 10-mile increase in driving distance, the commuter's BMI (body mass index) rose .17 units. People with lengthy commutes are nine percent more likely to be obese, either because they didn't exercise as much, are eating fast food while driving, or they're not getting enough sleep because their long commute forces them to wake up early.
"It could just be a function of having less discretionary time to be physically active," the study's lead author, Christine Hoehner of Washington University in St. Louis, told ABC News. "Or it could be related to people burning fewer calories because they're sitting longer."