Moving Away From Fee-for-Service
This antiquated model is the culprit behind exponential health-care cost growth.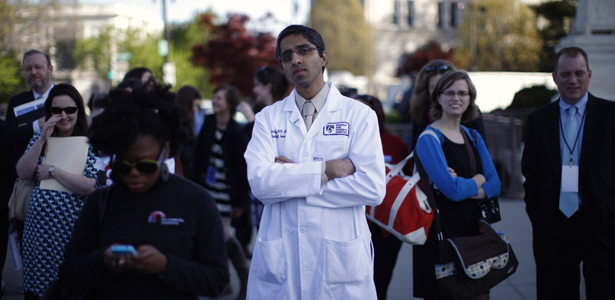 National health care spending reached $2.6 trillion in 2010, a total of 17.6 percent of the United States' gross domestic product (GDP). Though health care cost growth dipped slightly in recent years (largely due to reduced consumption of services during the economic downturn), rapid cost growth is expected to continue in the foreseeable future. By 2020, health care will consume 19.8 percent GDP. At the same time, many Americans are not receiving recommended care and nearly half of all Americans suffer from chronic disease such as diabetes or hypertension.
Many experts point to the outdated fee-for-service (FFS) model of paying for care as a culprit in out of control health care cost growth. In a FFS model, payers reimburse for all services, regardless of their impact on patient health. Little or no countervailing pressure to discourage the delivery of unnecessary services exists in this system. While most patients are shielded from the direct cost of care by insurance, the fear of lawsuits ("defensive medicine") encourages doctors to order any and all tests.
Moving away from fee-for-service requires realigning the care delivery and payment incentives in the health care system. We must reimburse based on the quality and utility of care provided, not just the sheer volume of services. This idea--paying for "value over volume" or "paying for performance"--is now a common refrain in the world of health policy. Some experts even go so far as to say that too much care can be detrimental to health, such as unnecessary or redundant medical imaging scans that expose patients to excessive radiation.
ORIGINS
During the years prior to WWII, fee-for-service originated as "traditional indemnity" health insurance--you get a service, submit your claim, and your insurer covers your incurred expenses. What we now think of as "managed care" emerged around the same time, as prepaid insurance plans. In a prepaid plan, beneficiaries pay a set premium in return for care from a defined network of providers.
Due to wage controls during WWII, employers began offering insurance benefits as a way to attract employees--a trend which continues to this day. Indeed, a number of key trends in health care emerged after WWII: medical and scientific technology advanced dramatically, and more people enrolled in health insurance coverage. As health care costs grew in subsequent years, managed care, which encourages greater control over the utilization of health resources and services, also increased in the 1970s and 1980s.
Solving the nation's most entrenched problems
See full coverage
Unfortunately, managed care ultimately failed to control health care costs, and increasing restrictions on care led to a patient- and provider-driven political backlash in the late 1980s and 1990s. While managed care plans grappled with increasing cost pressures, providers also saw their margins narrowing, and physicians were left with more work and less autonomy. Less restrictive models of health care payment, like the more open-network Preferred Provider Organization (PPO), replaced more restrictive closed-network health management organization (HMO) reimbursement models.
ALTERNATIVES
Today, new models of care delivery which complement the move away from FFS are underway across the nation. To ensure that our health care system is sustainable, transformation must occur across all sectors--a coherent strategy for "paying for performance" means we need a provider structure capable of accountability, coordination, and timely, data-driven, self-evaluation. Accountable Care Organizations (ACOs) and Patient-Centered Medical Homes (PCMHs) are two frequently cited examples, but there are many options for innovative new models of care, depending on the preference of the payer, provider, and patient.
Some examples of payment models that depart from traditional fee-for-service include:
Shared Savings. The Medicare ACOs program from the Affordable Care Act utilizes a shared savings payment model. Shared savings financially rewards providers who come in under a yearly "benchmark" spending goal and adhere to quality standards. Though this model preserves some of the traditional FFS infrastructure, it realigns incentives to encourage quality improvement and cost control. ACOs are moving rapidly in the private sector as well--as of September 2011, approximately 164 ACOs were underway across the nation.
Episodic or Bundled Payment. Instead of reimbursing per service, bundled payments give providers a lump sum that represents expected costs for a particular episode of care, such as a heart attack. Bundled payments encourage providers to eliminate unnecessary tests and services, while still achieving a good outcome for the patient's health issue.
Partial Capitation. Capitated models of payment offer providers a flat, per patient fee. In theory, these models will encourage providers to be more cost conscious and stay within budget. In practice, as demonstrated by capitation models in the 1980s and 1990s, this global budgeting simply encouraged providers to avoid costly patients. Today, increased provider consolidation allows for more effective care coordination, better risk adjustment mechanisms encourage fair compensation to providers who take on sicker patients, and improved health information technology and data sharing enable greater clinical efficiency. These changes, which can help to better link payment to quality of care, make capitation models more possible.
By allowing unrestricted and unnecessary spending on health care services, the fee-for-service payment system is part of what makes our current health care system unsustainable. Incentives to restrict care and withhold services, however, are not going to fix our broken system or make America healthier. To help ensure a healthier and fiscally sustainable future for our nation, we must move away from FFS and realign incentives to promote value instead of volume of care.