Jog 15 Minutes a Day, Extend Your Life by 5 Years or More
Talk about a good value. You don't even need to push yourself that hard.
Talk about a good value. You don't even need to push yourself that hard.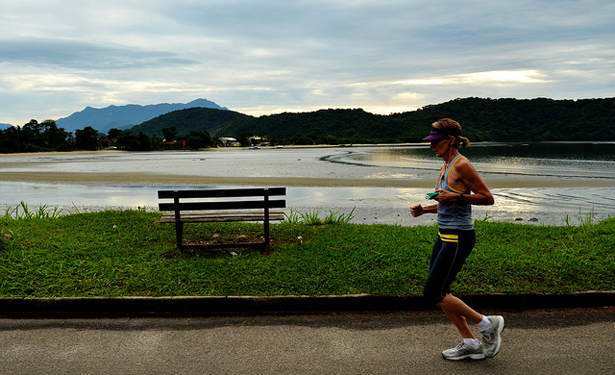 Flickr/Digo_Souza
Springtime is here, and for many of us, that means dusting off those old running shoes that have languished in the closet all winter. Maybe you need some extra motivation to get out the door. Well, try this on for size: just 15 minutes of jogging a day -- at a slow or average pace -- can lengthen your lifetime by more than five years.
That's the latest from a European study of Copenhagen residents, the results of which are being presented this week at a conference in Dublin. Researchers compared joggers and non-joggers from a preexisting database of over 20,000 men and women ranging from 20 years old to 93. They found that an hour to two-and-a-half hours of jogging per week was linked to an increase in life expectancy among men by 6.2 years, and among women by 5.6 years.
Over the course of 35 years, the risk of death fell by 44 percent among joggers of both sexes. And more strenuous activity didn't necessarily result in greater benefits, either.
"The relationship appears much like alcohol intake," said Peter Schnor, chief cardiologist of the Copenhagen City Heart Study. "Mortality is lower in people reporting moderate jogging, than in non-joggers or those undertaking extreme levels of exercise."
According to the study, breaking your runs into two or three chunks over the course of the week appears to yield the best results. Don't worry about going fast, or exhausting yourself, said the researchers. It's enough to feel just a little short of breath.