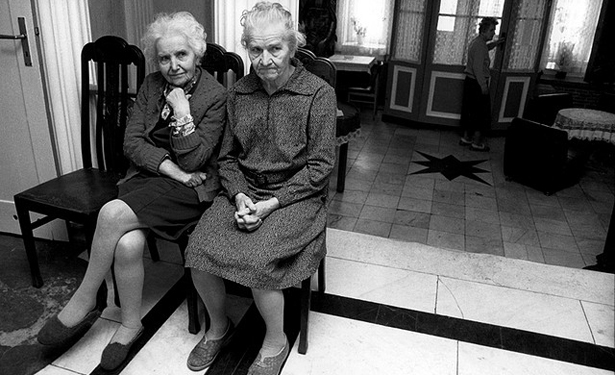 ulrichkarljoho/Flickr
American nursing homes historically have operated and been regulated as total medical/residential institutions -- like asylums. To a large extent, this is still the situation today.
However, the restrictive, regimented atmosphere of nursing homes is slowly beginning to change. According to a 2010 report by the American Health Care Association and the Alliance for Quality Nursing Home Care, over half of our nursing homes are committed to "culture change." The nursing home culture change movement in the United States, which originated in 1997 but has only become popular in the industry in the last few years, is based on a belief in person-centered care, in which the values and wishes of nursing home residents and those working directly with them are seriously considered and honored.
These changes include collaborative decision-making, a more home-like and welcoming environment, a focus on close relationships among residents and empowered staff, and efforts to improve quality of resident life as well as the quality of professional services. Culture change may be reflected in such practices as encouraging the regular presence of pets and children in the facility, incorporating residents and families into care-planning sessions, permitting the residents to voluntarily perform tasks such as maintaining plants, and providing the opportunity for restaurant-style dining and snack preparation.
There is widespread consensus that implementation of culture change has the potential to significantly improve the quality of residents' lives. Nevertheless, several substantial impediments to a more universal and enthusiastic adoption of the person-centered paradigm persist. One of those barriers is provider apprehension about the present regulatory labyrinth that engulfs every facet of nursing home care.
The pertinent regulatory web, with its heavy emphasis on risk aversion, is embodied in extensive federal Medicare/Medicaid Conditions of Participation (running roughly 70 pages), the complicated survey and certification process intended to measure providers' compliance with those requirements (the relevant portion of the federal State Operations Manual exceeds 660 pages), and the separate licensure statutes, regulations, and guidelines of each state. Moreover, the civil law tort (personal injury) system, as enforced through the courts by the levying of monetary damages against defendants, is another form of regulation that may be used to penalize providers for deviation from then-standard practices.
There are some promising developments on this front. In 2011, the federal Centers for Medicare and Medicaid Services promulgated new procedural guidelines to be used in its nursing home survey process -- the Quality Indicator Survey (QIS). The QIS is intended to focus surveyors' attention more on person-centered outcomes -- for example, whether residents are well nourished -- and less on the process of care, such as what time of day the meals are served. The QIS encourages surveyors to interview and observe residents and their families to understand goals and preferences specific to each resident. The problem, however, is that despite a revamped survey process, the underlying protection-oriented regulations and interpretive guidelines that dictate provider behavior remain unchanged.
Examples of the incompatibility between current regulations and meaningful culture change in nursing homes abound. For example, requirements that beds must be placed only within certain spaces in a resident's room make it impossible for residents to rearrange their furniture as they wish. Regulatory prohibitions on open kitchens prevent residents from fixing snacks whenever they wish. If we are serious about making nursing homes more comfortable and homelike, a review of existing regulations and amendment or removal of those regulations that impede culture change must be put into place.
Sometimes, though, the biggest barrier to culture change in nursing homes is not the actual wording of the regulations but rather the often inconsistent, incoherent, and uninformed way that the regulations are interpreted and enforced by government employees who regularly survey facilities and cite them for perceived noncompliance. The new QIS process may help. But it will in no way diminish the imperative for intensive, ongoing education of government surveyors to inculcate them with the principles and goals of culture change and a commitment to performing their quality oversight function in a less punitive and more collaborative mode. Pilot efforts in this regard established by the Rhode Island health department's nursing home survey agency may serve as a useful model for other states.
Finally, we must address the legitimate anxieties of nursing home owners, governing boards, and hands-on personnel about potential lawsuits if a more homelike environment results in  residents' suffering injuries as a consequence of their own choices. Courts and personal injury attorneys need to be educated so that they will embrace nursing home practices that embodying the new standard of care to which providers should be held legally accountable. Compliance with culture change-driven standards of care should be recognized as a defense to claims of negligence. The best way to ensure this would be legislation codifying the legal weight given to these standards.
The traditional total institution approach to nursing home care is no longer desirable in a modern era that values individual dignity, respect, and control. Some of the changes on the road to a more person-centered, homelike resident experience are untested, and their outcomes are uncertain. If we truly want to improve the quality of nursing home residents' lives, then regulations and courts must accommodate necessary innovation--and its uncertain consequences--in ways that reward and encourage rather than punish culture change.